LOY KRATHONG — FLOAT YOUR BOAT
Any visitor to Thailand will soon realise how beautiful many Thai women are. But, they are even more beautiful on November 12th. Today is Loy Krathong, known in English as the "festival of lights." This traditional Thai festival celebrates the end of the monsoon season. Loy Krathong is celebrated annually to honour the "water spirits" and therefore, to show appreciation to Mae Khong Kha, the "Goddess Of Water."  In order to demonstrate proper respect, one should dress to impress for the occasion.  Thai women wear decorative silk dresses and many style their hair beautifully with orchids.  It is one of Thailand's most beautiful and romantic celebrations.  The romantic part is when lovers accompany each other in order to float their boat.  During a brief prayer the Thai women will say, "Kor Kamar Mae Khong Kha."  This is to honour the Goddess Of Water, and to ask forgiveness for any wrongdoing to the water spirits. I find it fascinating, when we delve into the traditions behind these Thai festivals.
Multitudes of Thai women will make their way down to a nearby klong (canal), later this evening and gently float their "krathong" down the river. They will be accompanied by Thai boys and Thai girls alike. This is so evident that beer bars and go-go bars are forced to raise the bar fine to avoid a mass exodus of bar girls. Do not assume that go-go bars are trying to rip you off, the bars have to retain their bar girls. (Be aware that some bar fines might be double the normal rate). If rules like higher bar fines were not implemented, it would be a disaster. There would not be enough bar girls in any of the bars. It would be similar to opening a restaurant with no food available! 
The "krathong" is the homemade boat, decorated with banana leaves, coins, flowers, burning incense sticks and lighted candles.  Myriads of krathongs can be seen all over Thailand, but it is a most impressive spectacle in the ancient capital of Sukhothai (Dawn Of Happiness).  Approximately 700 years ago, during the Sukhothai Dynasty (1238-1376), was when the Loy Krathong Festival originated.  Even the walls of the ruins are decorated with lights.  Sukhothai also host a spectacular firework display. The spectacular display forms a beautiful backdrop to candle-lit krathongs gently bobbing along glistening rivers.  In some places, the traditional Loy Krathong song plays in the background. So guys, come on and get a bit romantic for a change! Grab your Thai girls and float your boats. Enjoy!
BIG MANGO BAR – BEER LAO WEDNESDAYS
The Big Mango Bar on Soi Nana have reintroduced Beer Lao Wednesdays. Lovers of the Laotian lager can enjoy chilled bottles of Beer Lao for just 65 baht. This generous drinks deal runs all night long. In addition, the Big Mango Bar offer a finger food feeding frenzy, which runs from 7:00pm until 10:00pm. Cheap beers and cheers!
AFTER DARK ASIA VOLUME 8
The latest edition of Thailand's most popular go-go girly magazine is on sale now. Here in Bangkok, After Dark Asia Volume 8 is available from both pharmacies located between Bully's Pub and the Petrol Station on the corner of Soi Nana. Volume 8 features 2 HOT go-go dancers from Angelwitch Go-Go Bar in Nana Plaza. Awesome!
AFTER DARK ASIA 2009 CALENDAR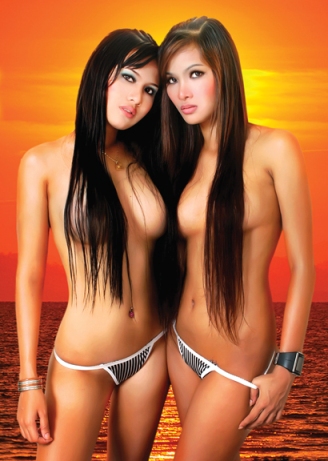 The newly released After Dark Asia 2009 Calendar is available from Angelwitch Go-Go Bar in Nana Plaza and Bacarra Bar in Soi Cowboy. This superb quality wall calendar will cost you a farang friendly 300 baht. The After Dark Asia 2009 Calendars make excellent Christmas, birthday and New Year gifts. Buy one today!
 ANGELWITCH GO-GO BAR T-SHIRTS
While we are on the subject of Christmas, birthday and New Year gifts, why don't you buy an Angelwitch T-shirt? Angelwitch Go-Go Bars now stock sizes – M, L, XL and for the really big boys XXL. They are top quality and both Halloween and standard T-shirts are available. Make yourself or your friend the envy of Farangland!
THAILAND'S ENTERTAINMENT VENUES CLOSED FOR ROYAL THAI FUNERAL
I would like to remind you that most bars and entertainment venues (but not all), are to close for the forthcoming Royal Thai funeral. Out of respect for the cremation ceremony of Her Royal Highness Princess Galyani Vadhana, the Thai government has declared 3 days of national mourning. The dates are as follows — November 14th, 15th and 16th. I suggest that you plan your itineraries accordingly. Although some bars and pubs in Bangkok and Pattaya might open, the Thai authorities insist that music and lighting must be subdued. Her Royal Highness Princess Galyani Vadhana (1923-2008), was highly revered for her unrelenting charity work, especially HRH's kindness to the underprivileged. The Royal Cremation Ceremony is November 14th-19th in Sanam Luang, Bangkok.
THAILAND NIGHTLIFE NEWSFLASH
PATTAYA – Thai authorities in Pattaya have said that beer bars and go-go bars can open on Sunday, November 16th.
BANGKOK – Club Electric Blue and other go-go bars in Patpong will be open on November 14th and 16th. Patpong will close on Saturday, 15th. I just received this Thailand nightlife newsflash. It is literally a last minute update!  
SOI NANA — THE STREET WITH THE BEAT
Where's the Street with the beat? Well guys, we are pleased to announce that popular pub boss Peter Street is back in Chequers Pub. I am sure the regulars in Chequers Pub are happy to see the return of "The Street With The Beat!" Something you might not know is that Peter is attributed much of the credit for the food. I always go for naughty but nice dishes like "Doctors Delight!" For your info, Peter works most days except Sundays and Tuesdays. Check out Chequers!
DATE MATE — DEAN BARRETT BOOK SIGNING
Once again, I'm your mate with that date! Thailand based acclaimed author Dean Barrett will be signing copies of his latest novel Identity Theft. The book signing will take place on Thursday, November 27th. The venue is the Texas Lone Star Saloon in Washington Square, Sukhumvit Soi 22. The event runs from 2:00pm until 4:00pm. Dean is offering Identity Crisis and other books below retail price. I think this is very generous of Dean. I hope the frugal folks are appreciative. Furthermore, the frugal folks should note that there is a free thanksgiving lunch at 3:00pm. I advise you to get there on time, before all the pensioners eat it all. I love going to the Texas Lone Star Saloon, I feel like I'm 21 again!   
DAVES RAVES — COMFORTABLE CLIMATE
Dare I say it – I think the cool is starting to emerge in Bangkok. The monsoon rains have subsided, along with some of the humid tropical heat. The cool night air is as welcome as a long lost friend is. This is my favorite time of year in Thailand, regarding a comfortable climate. The cool season (akart yen), is the time of year when there is the least amount of rainfall and humidity. After a somewhat miserable year overall, I think we need something to cheer us all up! 
NOTE THE QUOTE — RETURNING TO FARANGLAND
For many of us Thailanders, the thought of returning to Farangland is a scary one. Be afraid be very afraid! In this week's "Note The Quote," my mate Nick sums it up in just eight words…
Recently I asked my mate Nick, "Would you ever go back to live in Farangland?" Nick replied, "I wouldn't go back if they paid me!"
(Nick from The Pickled Liver Pub in Bangkok).
LIFE'S A FUNNY OLD GAME!
Years ago in America, 20 plus white men chasing one black man was called the Ku Klux Klan. Nowadays they call it Formula One! 
DAVE THE RAVE UPDATES
Bangkok Pubs Page was updated this week
Email Dave The Rave — [email protected]
As always, thanks for visiting.
Your Intrepid Investigator,
Dave The Rave — Go-Go Guru