LATER CLOSING TIMES FOR SOME BANGKOK NIGHTCLUBS
Despite the Thai capital being quieter due to the ongoing political problems, it is still business as usual in Bangkok's bars, pubs and clubs.  In fact, some bars and clubs have recently been granted later closing times.  This is good news for the nocturnal revellers who want to party on until the wee hours. 
At long last Soi Nana gets a late night disco in the form of Nana Liquid Disco, which took over the old Angels Disco inside nana Hotel.  If you are not aware, it is FREE to enter the recently opened Nana Liquid.  It boasts a mega modern design, so much so, that some farang residents will not recognise the place.  There is more good news, because standard drinks are very reasonably priced at 130 baht, which is much cheaper than the vast majority of nightclubs in Bangkok.  Another bonus is Nana Liquid stays open until at least 5:00 AM nightly.  Already Nana Liquid is building up a crowd of what seems to be a mixture of resident farangs, tourists, bar girls, freelancers and even some trendy Thai girls too.  It is worth a visit and with free entry what have you got to lose?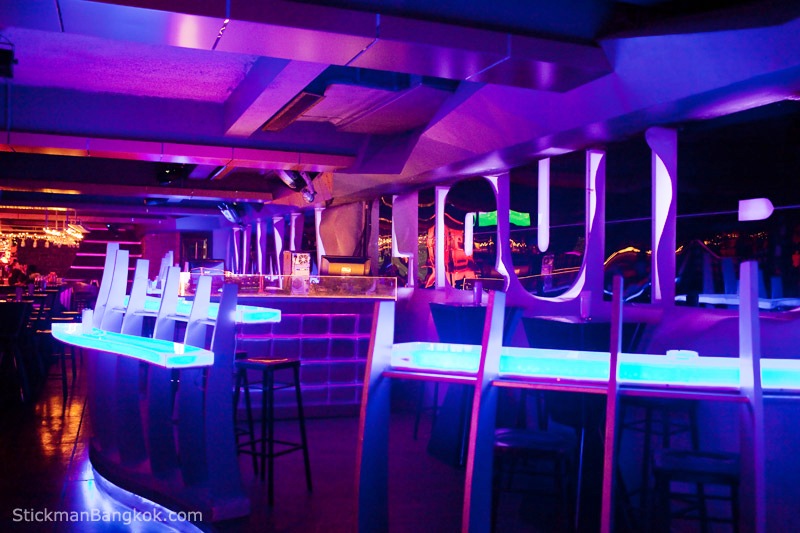 It is also worth mentioning that Hillary 2 Bar located next door to Chequers Sports Pub is now open until 3:00 AM.  This is important, because the majority of party animals on a booze cruise are not coming out early.  The current trend is not to hit the pubs and clubs until later in the evening.  Therefore, clubbers will be further encouraged by the news that Climax Club located in Sukhumvit Soi 11 is currently open until 6:00 AM.  In terms of Bangkok's club scene as a whole, it is still steps forward rather than strides.  Nevertheless, this is good news for clubbers.     
NANA PLAZA – WELCOME TO THE NEON JUNGLE
Rainbow 3 is by far the smallest and quietest of the four Rainbow Bars.  But, in saying that it does have a few hotties, but with the emphasis on the word few.  This tiny Rainbow Bar is located near Cathouse on the middle level.  Rainbow 3 did well for a while, but it has remained quiet for at least the past year.  However, I think it is worth having a look in occasionally, because you might just spot a really HOT go-go dancer.  Next to Rainbow 3 on the middle level is Erotica Pool House.  It has never done much trade since switching format from a go-go bar to a pool bar.  And once again, yet another go-go bar license is history.  I don't think some people realise how valuable these go-go bar licenses are.  Once the format of the bar is changed, a new owner cannot change it back to a go-go bar again at a later date.  This has to affect the value of the bar.  It has happened to a few former go-go bars – Hollywood Inn Hotel, Villa Bar and Erotica Pool Bar are three examples.  Which bar will be next on the chopping block? 
It should be noted that some go-go bars and beer bars in Nana Plaza openly allow smoking, so this is either a hit or a miss, depending of course upon your personal preference.  There are a few cute go-go girls in Sexy Night, which is a pleasant change to the stereotypical single mothers society!
Years ago, Angelwitch was always renowned for having super sexy showgirls and the go-go girls were always secondary on the beauty scale.  Nowadays the roles have reversed and the most attractive go-go girls now surpass the majority of the showgirls.  Over the past few months, Angelwitch has replenished its line-up with some sexy, young go-go dancers.  Also, a bunch of go-go dancers decided to have some enhancement surgery and Angelwitch is now officially declared a booby trap.  They are busting out all over the place!  Incidentally, the vast majority of bar girls with boob jobs have significantly increased their income.  Previously, they were a bit lost amid the line-up, but they definitely stand out in the crowd now.  Armed with WMD or 'Weapons Of Mass Distraction' they can pose a serious threat.  Excuse the pun, but a lot of guys are suckers for big boobs.  The busty babes have literally become an overnight success.  Some of you may say that you do not like breast implants, but you cannot deny the popularity of big boobs.     
KATOYS R US – Some people may class lady boy bars as a novelty, whereas others may think they are a nuisance.  The fact remains that the third gender are accepted in Thai society.  In Nana Plaza, there are a number of katoey or lady boy go-go bars.  On the ground level there is Obsession, which is said to have the most attractive lady boys in Nana Plaza.  Then on the middle level there is Casanova and Temptations.  On the top level there is Cascade, which now does shows from 11:00 PM nightly.  I suspect these shows to be the stereotypical katoey cabaret routines.  The last update is that I have heard a rumour that Carnival Bar, which was a lady boy bar, has changed back to go-go girls.  However, this has not been confirmed just yet. 
WE SAY FAREWELL TO THREE RESIDENT FARANGS
In the space of less than a fortnight, we have tragically lost three long-term resident farangs.  Cigar Bob the founder of After Dark Asia Magazine died of a heart attack, Lee from Noi's Bar in Pattaya was killed in a road accident, and Big Joe from Koh Samui died in a car crash.  Both Big Joe and Cigar Bob were friends of mine and I know they will be missed by numerous people.  I did not know Lee from Noi's Bar, but a friend from Pattaya said that Lee was a nice guy.  He was riding his motorbike nearby Noi's Bar, when suddenly a car wiped him out.  Lee was just 41 years old.  The eccentric Cigar Bob was known to work hard and play hard.  Ole Cigar Bob seemed to know every bar owner in Pattaya and a lot of bar bosses in Bangkok as well.  Bob was 56 years old.  I sincerely hope that After Dark Asia continues its success, so that Bob's legacy lives on.  I know one thing for sure, Cigar Bob will not be easy to replace. 
Big Joe originated from Nottingham in England and he founded Big Joe's Food Factory in Koh Samui.  Big Joe was 61 years old.  His best friend Peter (Billabong Surf Club) said that Joe was larger than life.  Indeed, Joe was a big man with a big heart, who was known for his generosity and endless supply of pies and jokes.  And so, we say farewell to Lee, Cigar Bob and Big Joe, who all will be sadly missed.  Whenever we lose friends, especially too soon, we should all realise how precious life is.     
SOI COWBOY – LITTLE LAS VEGAS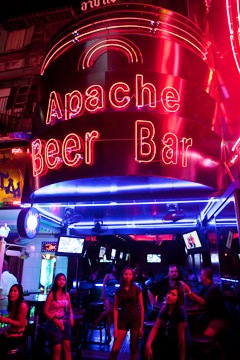 The bar previously known as Apache Coyote has recently changed format from a go-go bar to a beer bar.  Similar to its sister Shadow Sports Bar, the recently renamed Apache Beer Bar has a modern design with an open front.  Newly added TV screens allow you to watch live sports amid a friendly, relaxed atmosphere. 
I have not looked inside Soi Cowboys latest bar Sahara, but a few friends have said it has an impressive interior design.  The Iranian Group now own Spice Girls, Deja Vu, Midnite, Kiss, Rio and Sahara.  Be aware that standard beers and spirits are now 155 baht and lady drinks for coyote dancers are 200 baht.  This group of go-go bars are now the most expensive in Bangkok. 
NEW GO-GO BAR OPENS IN PATPONG
A few weeks ago, The Strip Go-Go Bar in Patpong 2 closed its doors for a remodel.  The renovation job is completed and it reopens on April 1st.  The former name The Strip has been stripped and Patpong's latest addition is renamed Spankys 3.  Ah, so has the penny dropped yet?  Marc, the owner of Spankys in Nana Plaza is a 50% partner in the new Spankys 3 and he will be endeavouring to whip Patpong 2 into shape.  Now, the burning question is where is Spankys 2 and when will it open?      
AFTER DARK ASIA – Buy the After Dark Asia 2010 Calendar and you will get a FREE copy of After Dark Asia magazine worth 195 baht.  In addition, the After Dark Asia Calendar is now available for HALF PRICE at ONLY 150 baht.  Note that this offer is only available from Angelwitch Go-Go Bar in Nana Plaza.
THAILAND TONIGHT & DAVES RAVES – My weekly Thailand nightlife column Thailand Tonight is now published on Wednesdays.  In addition, Daves Raves and other articles will be published throughout the week.  Check the Side Bar on the right-hand side below Review Pages and you will find my daily updates.
JOIN MY EMAIL LIST – Sign up for my New Email Service and be the first to receive Thailand Nightlife Updates.  The sign up box is at the top right corner of the Home Page.  Join today!
Reporting live from the neon jungles of Thailand… 
Join me again soon, thanks for visiting!
This Page is updated for March 2010 – Nana Plaza Reviews
DO YOU WANNA GO HOME?  RETURN TO THE HOME PAGE