SOI COWBOY – FULL OF FUN FACTOR
I don't know about you, but every time I look at BBC World News, it is full of doom and gloom.  I seriously wonder what is happening to this world.  Therefore, at some stage, you just have to escape the insanity by switching off the media machine.  How do we do this?  The answer is simple, you get your glad rags on and hit the Thailand nightlife…
Today, we are down in Soi Cowboy continuing on our journey from last week's Thailand Tonight.  Returning to the nightseeing tour in Soi Cowboy, I decided to check out a few places that I have not visited for a while.  This is in addition to my regular pit stops on the nightseeing circuit.  The fun factor is certainly high in Soi Cowboy and more so than ever, we need to go out and have a good time.  Soi Cowboy has become one place where you can have fun and blow off some steam at the same time.  Having a tough time?  Well, a good solution is to go to Soi Cowboy and you will soon leave your problems behind.  Mind you, then another problem starts – which Thai girl do you choose out of all these lovely dolly birds?  The next thing that happens is an 'analysis paralysis' and you just cannot decide which Thai girl is the one you want.  Mind you, I can think of many more real problems we could have.  Anyway, I digress…
I make a point of adopting a 'hit and run' approach with some bars, because I just cannot drink in them all.  What I do is 'hit' a particular bar and then 'run' if there is not much action going on.  I can get around a lot of bars using my 'hit and run' method.  Even before I moved to Bangkok, I worked in pubs and clubs for 15 years.  OK, I know it is not rocket science, but I only need to step inside for a brief moment and I immediately sum up the bar.  It happens automatically and at times, you can almost forget that you are doing it.  Because I host this Thailand nightlife website, I try to check as many different bars as possible.  I guess you could say it is not so much of a busman's holiday, but more of a barman's holiday!
While my party pal was still in playful repartee with a Showgirl from Raw Hide Bar, I split from my 'wingman' to check out a few other bars.  I walked into Tilac Go-Go Bar and immediately upon entering, bumped into two farang friends who are wild party guys.  They immediately invited me over for a drink and I was soon partying with their go-go gang.  It is not difficult to have a good time in Bangkok, but I am fortunate to have so many great mates.  Tilac Bar is one go-go bar in Thailand that always has customers, no matter what time of night it is.  Currently, with numerous economic problems going on, that is no mean feat.  There are so many go-go dancers in Tilac; it is a vast eye candy store.  Also, on Friday and Saturday nights, additional coyote dancers increase the number of Thai girls even more.

The lads were on a mission and the party in Tilac was in full swing.  There were glasses and bottles being ferried back and forth at a brisk pace.  The lady drinks in Tilac are very reasonably priced at 100 baht.  In stark contrast, some go-go bars in Soi Cowboy charge 200 baht for lady drinks.  In certain go-go bars, it pays to check the drinks menu, or ask the Thai staff.  How can some go-go bars blatantly charge 200 baht and justify it?  Well, they cannot justify that price.  While some bar owners may contest profit margins, I think Tilac has the right approach for a bar of its size.  Tilac is a BIG bar and it houses many go-go dancers.  Therefore, the owners are aiming for volume rather than a higher profit margin per drink.  Also, with lady drinks costing half what some bars charge, all of the go-go girls can get a slice of the action.  There is an unwritten rule in go-go bars; your lady drinks should NEVER EVER cost more than your customer drinks.  With Tilac being consistently very busy, it is proof that Tilac Bar must be doing a lot right.  The lads decided to move on and invited me to accompany them to Country Road.  And so, off we went…
ELVIS LIVES IN COUNTRY ROAD
As you enter Soi Cowboy from the Asoke side, you will see Country Road on the left-hand side.  Usually, you will hear live music as it permeates the airwaves, before you see the entrance to Country Road. Elvis fans will be thrilled to know that the King Of Rock 'N' Roll lives in Country Road.  However, don't get too excited because we are talking about Thai Elvis. The resident artist known as Thai Elvis performs nightly at approximately half way through the evening until approaching closing time.  If I sound a bit vague, it is because Thai Elvis is on Thai time!  He has a broad repertoire of Elvis Presley songs including a range of favourites like Suspicious Minds, In The Ghetto, Teddy Bear, Jailhouse Rock, plus many more.  It was certainly fun watching Thai Elvis sing his heart out.  The language barrier does not make him sound much like Elvis Presley, but we all enjoyed the experience nevertheless.
TO BE CONTINUED – Join me next week as I continue on my nightseeing tour…

SUPER SAVER – The Londoner Pub is located on the corner of Sukhumvit Soi 33 in Bangkok.  Every Tuesday these generous guys offer 50% off all food all day.  In addition, you can enjoy 'Wild Wednesdays' which consists of 2-4-1 on all standard drinks.  This runs all day every Wednesday and it is a terrific drinks deal.  Furthermore, the farang friendly service girls are highly recommended by acclaimed author Dean Barrett.  Don't be shy give it a try!
PATPONG – Club Electric Blue in Patpong are generously offering ice cold Chang Draught Beer for ONLY 35 baht per glass from 7-9 PM.  This is definitely one of the best drinks deals in Bangkok and furthermore, this would be a competitive price in Pattaya, let alone the City Of Angels.  Cheers for the cheap beers!
BIG MANGO BAR – Beerlao Wednesdays are back!  By popular demand the Big Mango Bar has reinstated the Beerlao Wednesdays.  A bottle of Beerlao will cost you just 65 baht all night every Wednesday.  Last Saturday night the Big Mango Bar hosted a Birthday Bash for Daywalker.  The Big Mango guys are renowned for throwing great parties and once again, the Big Mango Bar was packed.
NANA PLAZA – Fans of Tiger Light Beer will be pleased to know that this tasty light beer is available in Angelwitch Go-Go Bar.  Following a temporary drought, the Tiger Light is flowing in Angelwitch again.  Hooray!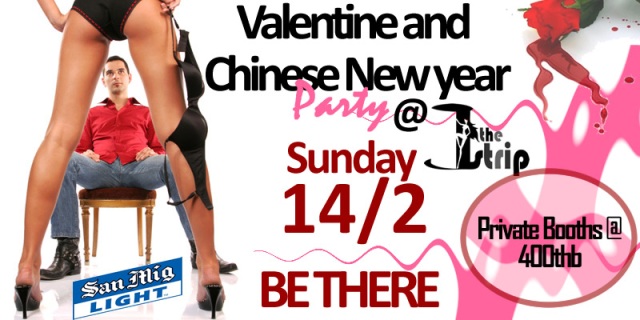 AFTER DARK ASIA – Buy the After Dark Asia 2010 Calendar and you will get a FREE copy of After Dark Asia magazine.  Note that this offer is only available from Angelwitch Go-Go Bar in Nana Plaza.
THAILAND TONIGHT & DAVES RAVES – My weekly Thailand nightlife column 'Thailand Tonight' is now published on Wednesdays.  In addition, 'Daves Raves' and other articles will be published throughout the week.  Check the Side Bar on the right-hand side below 'Review Pages' and you will find my daily updates.
E-MAILING LIST – If you wish to be either added, or removed from my e-mailing list, please email me here – [email protected]
Reporting live from the neon jungles of Thailand…
Join me again soon, thanks for visiting!
DO YOU WANNA GO HOME?  RETURN TO THE HOME PAGE