BANGKOK BOUNCES BACK
Despite what some people may say about Thailand, there is an increase in tourist traffic.  Both the roads and the pavements in Bangkok now have busier traffic.  The number of foreign arrivals into Bangkok is on the rise.  There is definitely a spike in trade for hotels, shops, street stalls, restaurants, bars and pubs.  At the very least, the popular hot spots are seeing a significant increase in business.  Time flies in hustling bustling Bangkok and it is safe to visit.  I have to state this, because the Western media machine spread the fear factor to such an exaggerated level.  As ridiculous as it sounds, people are still asking if it is safe to visit Thailand.  In particular, the BBC and CNN tried to make you think that the whole of Thailand was under siege.  What a load of bollocks!  Only certain parts of Thailand (mostly Bangkok) witnessed violence, while the rest of Thailand went about their daily lives as normal.  It was overkill, plain and simple.  I hope that those days are behind us now and Bangkok can build up to high season.  Has the BBC or CNN reported an update about how Bangkok is recovering?  No!  However, I will report the facts for you.

PATTAYA – PLEASURE PLAYGROUND
Unfortunately, not all of the foreigners arriving in Thailand are desirable tourists.  Although a number of the visitors from the Middle East, Africa and Asia may have money, they are not big spenders.  The Japanese are about the only exception out of the three continents mentioned.  Some stay in Bangkok, but many head down to Pattaya.  Many of them arrange package deals at hotels with buffet meals included.  Furthermore, the vast majority of Arabs, Africans and Indians are unquestionably not party animals, or extravagant shoppers.  Pattaya gets the worst of the bunch and Walking Street during low season could be renamed Looking Street.  They are just walking, talking and looking, but not spending. 
I used to live in Pattaya, so I know the place well.  Bar owners tell me horror stories of 'customers' who sit in their bar, but refuse to order drinks.  Another example is six ethnics will sit in a go-go bar, but only two will order a drink.  Do they want two cokes and six straws?  It does happen in Bangkok occasionally, but nowhere near as bad as Pattaya.  Bangkok is so much more fortunate in that respect.  Pattaya has always presented itself as poor man's paradise and therefore, created its own monster.  There are some fantastic bars in Pattaya, but the most popular bars are in the vast minority.  In fact, I think you would struggle to name 10-20 go-go bars in Pattaya that are very busy on a nightly basis.
PATTAYA BARS – Here are 15 reasonably popular to very popular go-go bars in Pattaya – Airport, Angelwitch, Baby Dolls, Bacarra, Cavern, Champagne, Club Blu, Diamond, Happy, Heaven Above, Iron, New Living Dolls, Peppermint, Teazers and What's Up.  
NANA PLAZA – WELCOME TO THE NEON JUNGLE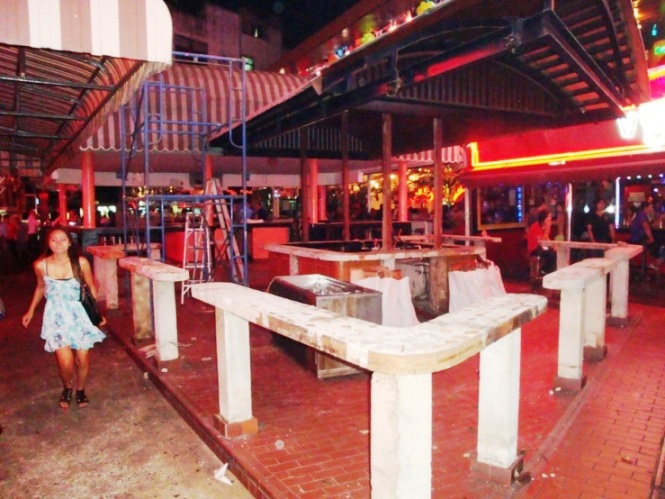 Over the years, the layout of Nana Plaza has remained much the same, but there is change ahead.  The strip of beer bars running up the middle of Nana Plaza has been demolished.  Don't worry, it wasn't a fire, or a terrorist attack!  Pharaohs, Roadhouse and the bar behind those two are history for a specific reason.  This has been on the cards for over a year, but it is definitely happening now.  It is due to a fire safety issue, because fire engines cannot enter far enough inside Nana Plaza.  What if there was a fire at the far end of Nana Plaza?  The strange thing is that Nana Plaza has been like this for decades, so why the change all of a sudden?  Well, I know that the tragic fire at Santika Club in Bangkok (New Year's Day 2009), has influenced certain fire safety measures.  The entrance to Nana Plaza is clear of obstacles such as motorbikes and there is fire extinguishers, plus exit signs in the bars.  We have to be thankful that the exit is clear, because it is the only way out of Nana Plaza.  Well, that is of course unless you are Spiderman, or Batman!
The demolition job brings a very new look to Nana Plaza and you can now see all of the go-go bars.  Nana Plaza was always so cluttered and congested, but this open space adds a different dimension to its appearance.  With the whole of the centre opened up, this three-storey atrium is easier to both view and visit.  It will show first time visitors that there is much more to Nana Plaza than just the ground level bars.
 There has not been much of a police presence in and around Nana Plaza, so some go-go bars have stayed open a bit later until 02:30 on busier nights.  Currently, Nana Plaza is open until at least 02:00 and Soi Cowboy usually stays open until 02:30 on a nightly basis.  I've not had many reports about Patpong other than it is very quiet, but you may want to try Black Pagoda on Patpong 2 for something different. 

BANG FOR YOUR BAHT
The British pound and the Euro have regained ground on the Thai baht.  The British pound (Buy 50.43 – Sell 52.04), and the Euro (Buy 41.87 – Sell 43.13), have both bounced back.  However, the American dollar (Buy 31.77 – Sell 32.42) has hardly moved at all.  This is good news for Brits and Europeans who will literally get more bang for their baht!    
SOI COWBOY – THEY ARE CRAZY ABOUT CACTUS JOHN'S NUTS!
Following several visits to Soi Cowboy, I have visited Cactus Bar religiously.  The co-owner is a colourful character called Cactus John.  There are three things you can say about Cactus John; he is a terrific host, a hell of a character, and people are going crazy about his nuts!  It has to be said that John has great nuts, they are matured to perfection.  Now before you get too worried, I am talking about chilli peanuts that you are given for free.  After chewing chilli nuts, you feel like a cactus in the desert! 
Cactus Bar stocks the widest range of Belgian beers in any go-go bar in Thailand.  I recall that there are at least 18 different Belgian beers.  They vary from 8-13% alcohol volume, so it is best not to down them in one.  Incidentally, Duvel is a particular favourite of many Belgian beer drinkers.  Apart from Cactus Bar, Duvel is available in Toxic Bar (Town Lodge, Sukhumvit Soi 18) and in Hollywood Carousel.  One aspect of Cactus Bar that attracts Americans in particular, is John's American home style cooking.  The other night John cooked battered catfish with chilli corn bread, fish dip, seasoned boiled eggs and black bean soup.  I am not a fish eater, but the black bean soup was delicious!  Perhaps ole Cactus John can start selling burgers, served by a naughty nubile in her birthday suit.  You just have to shout out, 'Cheese with Sleaze!'
THE CHOW BOX – REAL EUROPEAN/USA STYLE CHINESE FOOD
For the first time in Thailand, a full range of authentic European and American style Chinese food is now available.  Two shops called 'The Chow Box' have recently opened; one branch is located inside Sukhumvit Suites on Sukhumvit Soi 13 in Bangkok.  As you walk through the revolving door, The Chow Box is situated on your immediate left-hand side.  It is not your typical Chinese Takeaway, because the venue has a pool table and a stylish bar lounge.  I was impressed by the friendly Thai woman behind the bar counter and therefore I decided to dine in.  I ordered chicken and sweet corn soup, sweet and sour chicken (Hong Kong style) and vegetarian fried rice.  I did not realise that the portions are so large and I could not finish it all.  The vegetarian rice was enough for two people.  The bill for the food was less than 500 baht and as I said, the portions are BIG.  The other branch of The Chow Box is located next to Living Dolls 1 on Walking Street in Pattaya.  You can eat in, takeaway, or order delivery from 17:00 until late.  Call 02-651-3556 for delivery, or for further information.  I have eaten tons of European style Chinese food in Farangland, so you can believe me it is very authentic.  If you are craving some home comforts, then look no further than The Chow Box.   
BLACKBERRY & iPHONE USERS – I have installed a new WordPress application for Blackberry and iPhone users.  It will make viewing my website easier on your mobile phones.  Check it out!
THAILAND TONIGHT & DAVES RAVES – My weekly Thailand nightlife column Thailand Tonight is now published on Wednesdays, but occasionally on Thursdays.  In addition, Daves Raves and other articles will be published throughout the week.  Check the Side Bar on the right-hand side and you will find SEARCH BOX, JOIN EMAIL LIST, REVIEW PAGES, CATEGORIES, ARCHIVES, RECENT COMMENTS, RECENT UPDATES, DAVES RAVES and more.  Check it out!

JOIN MY EMAIL LIST – Sign up for my Email Service and be the first to receive Thailand updates.  The sign up box is at the top corner of the Home Page.  Join today!
FACEBOOK & TWITTER – If you liked this article please share it on Facebook or Twitter.  After all, sharing is caring!
Reporting live from the neon jungles of Thailand…
Thanks and see you again soon,
Dave The Rave – Go-Go Guru.
DO YOU WANNA GO HOME?  RETURN TO THE HOME PAGE