NANA PLAZA – WELCOME TO THE NEON JUNGLE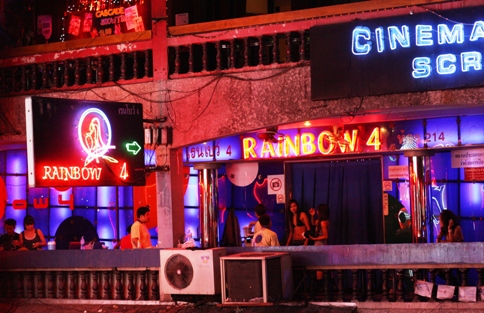 RAINBOW ROUNDUP – Continuing on our journey into the neon jungle, we decided to check out a couple of the Rainbow Bars.  Rainbow 1 was as lively as ever and the line-up remains for the best part very impressive.  Most of the go-go girls were sporting mono bikinis, but I spotted a few who were in their birthday suits.  Yes indeed, things have finally changed in Nana Plaza.  The gang decided to visit Rainbow 2, which is located next to Obsession Bar in the far right corner.  Rainbow 2 was never a favourite of mine, because I felt it never created the right atmosphere for Westerners.  The amount of open space is partly to blame, but the biggest reason is that it has remained a Jap Trap for many years.  However, things have changed and Rainbow 2 has become more farang friendly.  The stage was packed with go-go girls and the majority were facially and physically attractive.  These Rainbow bar girls know they are cute and sexy, I have never seen mirrors get so much attention!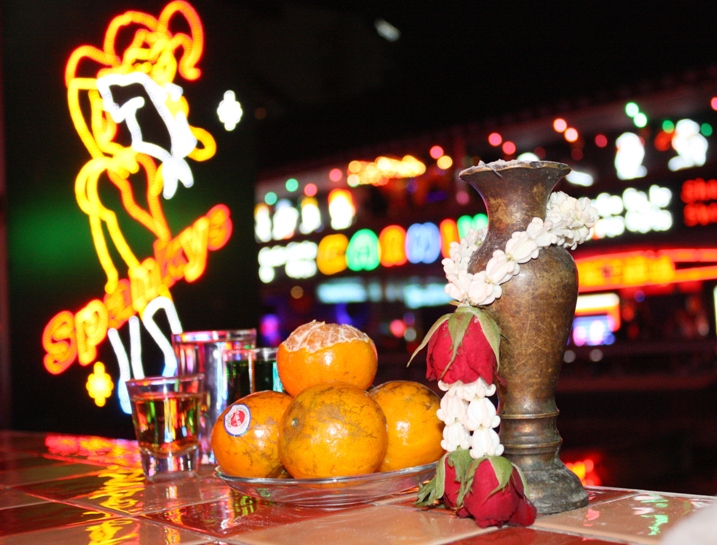 The largest number and mixture of go-go girls can still be found in Rainbow 4 on the middle level.  In Rainbow 4, the go-go dancers come in all shapes and sizes.  They even have the odd porker for chubby lovers!  It is amazing to think that Rainbow 4 can fill not just one, but two stages with dancing dolls.  Again, the format is a mixture of bikinis, mono bikinis and birthday suits.  If you were wondering, the go-go dancers who don bikinis are paid less than those who do mono bikinis, or have birthday suits on display.
BREW REVIEW – More bars around Nana Plaza are now selling two more Thai beers in addition to Singha Beer.  Chang, or Elephant Beer is a bit more widely available and also, the less popular brand Leo Beer is available in small bottles.  Incidentally, Erotica Pool House next to Rainbow 3 has a Happy Hour from 7:00 until 9:00 PM nightly.  During this time, standard beers and spirits are just 90 baht.  The Cheap Charlie Clan will be frothing at the mouth, because Leo Beer is ONLY 79 baht (7:00-9:00 PM).
THAI TIME – In Mercury Go-Go Bar 'Thai Time' means that Chang Beer, Singha Beer, Leo Beer and Thai Whisky are ONLY 90 baht all night long.  (For your information, Mercury is located next to Mandarin Table Dance at the top of the escalator). 

SOI COWBOY – LITTLE LAS VEGAS
Dollhouse in Soi Cowboy is now performing exotic erotic shows from 11:00 PM onwards.  As though it is not hot enough in Bangkok, now it is red hot!
PATPONG – Do you fancy a nightcap in Patpong?  Well, you can get a late night drink in the newly opened Spankys 3 Bar in Patpong 2.
PATTAYA – PLEASURE PLAYGROUND
Sweethearts Go-Go Bar on Walking Street does a steady trade and is worth a visit on your Pattaya go-go bar rounds.  Unfortunately, the friendly farang manager Chalkie has gone back to England.  However, another Englishman called Mick has taken over as manager.  Although I have not met him, I have heard that Mick is a nice guy.  Sweethearts continue to serve standard drinks all night for ONLY 95 baht.
DAVES RAVES – A NICE DROP OF NANA LIQUID
I woke up rather hazy on Friday due to a late night visit to Nana Liquid Disco.  Following a heavy session of drinking in Angelwitch Go-Go Bar, my mate Paul invited me to join him in Nana Liquid for a 'nice drink' as he put it.  I immediately replied, 'Oh, go on then.'  After quickly draining a couple of glasses through a straw, I can assure you they serve a wicked Long Island Ice Tea.  Another one of my mates uses the Long Island Ice Tea trick on the Thai girls he dates.  If a few tall glasses of Long Island Ice Tea do not loosen them up, then you know you have a serious alcoholic on your hands!

NOTE THE QUOTE – A VISIT TO KOH TOW
My mate Sinbad The Scouser went to visit the islands in the South of Thailand.  Upon returning to Bangkok, he looked so pleased to be back.  When I asked him how much he enjoyed the islands, this was his classic reply…  'Koh Tow is the land that time forgot.'
SUPER SAVER – Buy the After Dark Asia 2010 Calendar and you will get a FREE copy of After Dark Asia magazine worth 195 baht.  The After Dark Asia Calendar is now available for HALF PRICE at ONLY 150 baht.  Note that this offer is only available from Angelwitch Go-Go Bar in Nana Plaza. 

THAILAND TONIGHT & DAVES RAVES – My weekly Thailand nightlife column Thailand Tonight is now published on Wednesdays.  In addition, Daves Raves and other articles will be published throughout the week.  Check the Side Bar on the right-hand side below Review Pages and you will find my daily updates and links to breaking news stories. 
JOIN MY EMAIL LIST – Sign up for my New Email Service and be the first to receive Thailand Nightlife Updates.  The sign up box is at the top right corner of the Home Page.  Join today!
Reporting live from the neon jungles of Thailand… 
Join me again soon, thanks for visiting!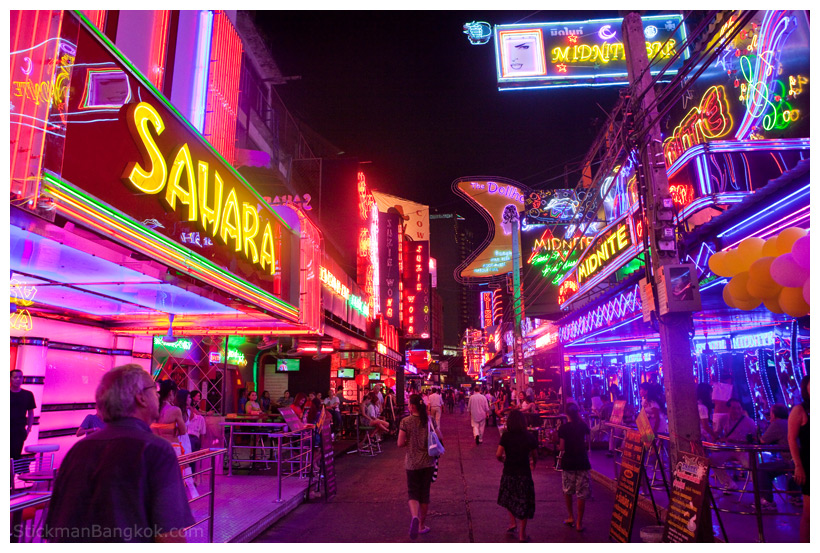 This Page is updated for March 2010 – SOI COWBOY REVIEWS
DO YOU WANNA GO HOME?  RETURN TO THE HOME PAGE