SOI COWBOY NIGHTSEEING TOUR TRILOGY
Today I continue with my Soi Cowboy sojourn.  I said I was going to visit some different bars to my regular haunts and that is what I did.  This is the final part in this particular Thailand nightlife trilogy…
Country Road has always attracted a following for more years than I care to remember.  This live music venue might not be to your liking, because in some ways it resembles an old-fashioned American roadhouse bar, transported in time into the millennium.  But, in saying that it is very different to the norm.  Country Road is something of an institution in Bangkok (with several branches) and it has proved that it is not just for old folks, who like country and western music.
The night was well under way with Thai Elvis in full swing and my two mates were doing a good job of supporting the act.  The makeshift tip box held by Thai Elvis was brimming with baht notes on that night.  My drunk mates, who were doing a good impression of 'Bill and Ben the Flower Pot Men' were dancing, singing and lord forbid, even stripping at one point.  I know Elvis Presley used to have the women throwing themselves at him, but it is downright crazy, when it is drunken men throwing themselves at him!  There was a good atmosphere, but enough was enough and it was time to move on.  Next on my agenda was a return to Raw Hide.
Raw Hide is a long established show bar and a sister to Long Gun.  Years ago, these two go-go bars were the only bars that were allowed to 'show' in Soi Cowboy.  Naturally, this gave them a HUGE advantage over their rivals.  Nowadays, without that unfair advantage, Raw Hide and Long Gun are definitely NOT the busiest go-go bars in Soi Cowboy.  Also, don't forget that Long Gun and Raw Hide are small go-go bars compared to Tilac and Bacarra.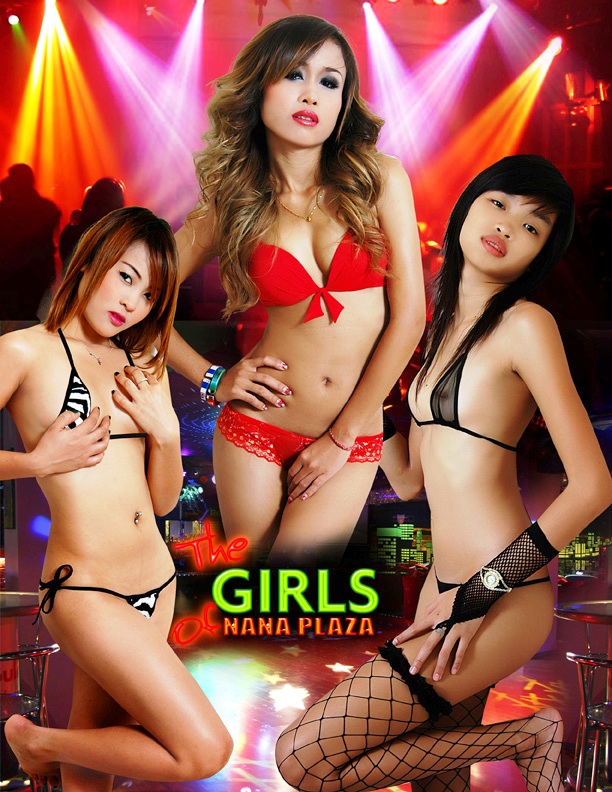 Some guys believe that Raw Hide lives in the shadow of Long Gun, but make no mistake, there are some absolute babes in this go-go bar.  I had visited Raw Hide earlier in the evening, but I wanted to go back to watch some more shows.  As Sanook Sean and I settled into Raw Hide, there was a most unusual show on stage.  The entire show troupe was wearing nothing but earmuffs.  Don't get me wrong, it is great when there is nothing on but the music, but I failed to see the significance of the earmuffs!?  It was extraordinary to say the least.
The interior decoration consists of a psychedelic luminous paint job.  Compared to Long Gun, I prefer the layout in Raw Hide, and even the swirling abstract aquarium is growing on me.  Then we got lucky, because the Rock Show was about to start.  The Rock Show is a very dynamic and acrobatic show.  The Showgirls work very hard through a string of hard rock songs.  After doing backward somersaults, the flying splits, sliding down poles in a reverse crucifix, plus other acrobatic moves, they are perspiring by now.  The sexy showgirls get a deserved road of applause from a small, but appreciative audience.
I passed by Shark Bar a couple of times, which normally draws a fair sized audience.  But, as I walked into Shark Bar, the atmosphere was low energy and I did not like the techno music.  On this occasion, I decided to give it a miss.  After a quick look inside Rio, which was very quiet we went to Spice Girls.  Spice Girls features coyote dancers and they were on stage as we arrived.  The drink prices are higher here, even though it is usually not busy.  I surveyed the scene and there was just a few customers scattered around the bar.  A quiet go-go bar does nothing to inspire the girls on the stage, but the coyote dancers were not exactly putting their backs into it.  I spotted one coyote dancer who was shuffling her feet from side to side with her arms folded.  We decided to make a swift exit…  'Check bin!'  I even left some of my Asahi Beer and I rarely ever do that.
We decided to go into After Skool, because I have not visited this bar for a while.  Tiger Light fans will be pleased to know that this is one bar that sells the tasty light brew.  The 'naughty but nice' girls are welcoming and very hands-on!  After Skool is full of fun and frolics and also, the prices are very reasonable by Bangkok's standards.  It was starting to get towards the end of the evening, we walked into Long Gun and it was very busy.  Long Gun is usually busier than Raw Hide, but overall I think the go-go girls in Raw Hide are younger and sexier.  We stayed for one drink and decided to give the 'church pews' a miss and sat ringside.  Right next to the stage felt like a Grand Prix starting grid and we were definitely in pole position!
I had heard that Cowboy 2 was popular these days, but it was not busy and nothing inside persuaded us to stay for a drink.  Joe's Bar and Tony's Bar are closed for renovations and we did not visit Jungle Jim's, but it is normally quiet and unassuming.  Cactus Bar is limping along as usual and generally, regarding most of the small bars there is no change.  The exception is Coyote Bar (formerly Apache), which is undergoing renovations.  A friendly Thai woman runs Fanny's, which has a few go-go girls and live music videos on the TV screens.  The girls are farang friendly and the drink prices certainly won't put a hole in your bank balance.  In terms of babe hunting, if you are looking for superstars, you had better settle for watching the pop stars on the TV screen.
It was 2:00 AM and the lights were starting to be turned off in the quiet bars. Out of the darkness, a voice whispered across the humid air.  It was a Thai friend inviting me for a drink in the Shadow Sports Bar.  Previously, the Shadow Bar was a rundown old shack compared to the plush, modern sports bar that it is today.  Shadow Sports Bar is not just a place to relax, watch live sports and enjoy a wider range of beers, but it is also another ideal people watching perch.  This was my last pit stop on the Soi Cowboy circuit, before I headed back.  As a final note, Soi Cowboy is overall, the busiest go-go bar area in Bangkok.  Current closing time is 2:30 AM nightly.
NANA PLAZA – Fans of Tiger Light Beer will be pleased to know that this tasty light beer is available in Angelwitch Go-Go Bar.  Following a temporary drought, the Tiger Light is flowing in Angelwitch again.  Hooray!
AFTER DARK ASIA – Buy the After Dark Asia 2010 Calendar and you will get a FREE copy of After Dark Asia magazine.  Note that this offer is only available from Angelwitch Go-Go Bar in Nana Plaza.
THAILAND TONIGHT & DAVES RAVES – My weekly Thailand nightlife column 'Thailand Tonight' is now published on Wednesdays.  In addition, 'Daves Raves' and other articles will be published throughout the week.  Check the Side Bar on the right-hand side below 'Review Pages' and you will find my daily updates.
NEW EMAIL LIST – Join my New Email List by clicking on the box at the top right-hand corner of the Side Bar.  You will be the first to know about updates from my website.  Join today!
Reporting live from the neon jungles of Thailand…
Join me again soon, thanks for visiting!
DO YOU WANNA GO HOME?  RETURN TO THE HOME PAGE