THAILAND TONIGHT – Every Wednesday night in the Bull's Head Pub (Sukhumvit Soi 33/1 Bangkok), there is a pub quiz and live music with Lee Shamrock.  The Bull's Head quiz is free to enter and starts at 19:30 sharp. After the cerebral challenge, musician Lee Shamrock will keep you entertained from 21:00 until late.  In addition, pints of Tiger Beer are only 100 baht all night on Wednesdays at the Bull's Head Pub.  Also on Wednesdays, The Londoner Pub (Sukhumvit Soi 33 Bangkok), offers a drinks deal of 2-4-1 on all standard beers and spirits.  The Londoner's 'Wild Wednesdays' runs all day and all night.  Enjoy!
BLACK IS BACK – Chequers Pub (Soi Nana) are pleased to announce that draught Guinness is finally flowing again.  There was a delay for the guys at Chequers Pub, because they had to wait for a Guinness pump to arrive.  Today 11/08/10 is the last day of a special promotion on Guinness.  A pint of Guinness is ONLY 170 baht and tonight is your last chance at this price!  Furthermore, Chequers Pub is running a super saver on Chang Draught Beer.  A half pint will cost you just 50 baht and a pint is ONLY 85 baht.  Chequers Pub proprietor Nick did say that the Chang Draught promotion would continue for a while.  If you were not aware, legendary landlord Peter Street oversees the traditional British pub grub in both The Queen Victoria Pub (Sukhumvit Soi 23) and Chequers Pub.  It is widely thought by the farang expat community that the British pub grub in the Queen Victoria and Chequers is among the very best in Thailand.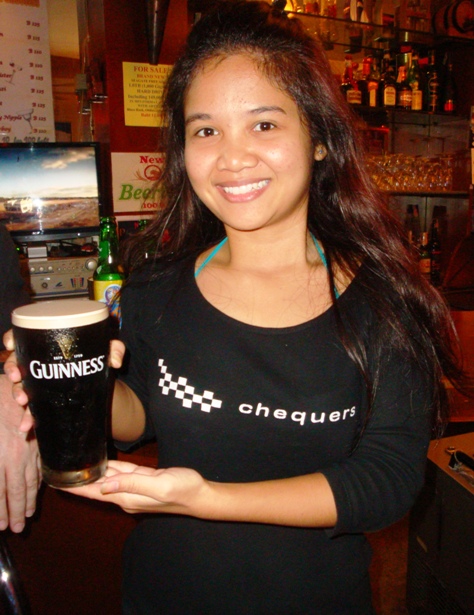 BREW REVIEW – Along with Guinness another popular brew has returned to Thailand.  Lager drinkers will be pleased to know that Carlsberg Beer is back.  Initially, it is only available in draught form, but eventually bottles of Carlsberg Beer are due to follow afterwards.  Unfortunately, I currently have no information about when bottles of Carlsberg will be available in Thailand.  The news about Guinness and Carlsberg returning to Thailand is very good indeed.  Once again, Thailand's bars and pubs will become more popular due to BIG brands such as Guinness and Carlsberg making a comeback.  It is ridiculous to think that these two massive products were temporarily unavailable in Thailand.  This time around let's all hope that Guinness and Carlsberg are here to stay.  The timing is good, as arrivals into Bangkok are  increasing.
PATTAYA PARTY – Tonight 11/08/10 Club Blu located in Soi Buakhao, Pattaya, are hosting a Naughty Nurse Party.  Club blu is the plush coyote bar with glass walls, where tall Darrel is the new manager.  Let yourself be nursed in a night of intensive care!
THAILAND NIGHTLIFE UPDATES – If you missed any editions of 'Thailand Tonight' they are listed on THIS PAGE HERE. 
NANA  PLAZA UPDATE – I have written an update today (11/08/10) about the current situation in Nana Plaza – Nana Construction Not Destruction
BLACKBERRY & iPHONE USERS – I have installed a new WordPress application for Blackberry and iPhone users.  It will make viewing my website easier on your mobile phones.  Check it out!

THAILAND TONIGHT & DAVES RAVES – My weekly Thailand nightlife column Thailand Tonight is now published on Wednesdays, but occasionally on Thursdays.  In addition, Daves Raves and other articles will be published throughout the week.  Check the Side Bar on the right-hand side and you will find SEARCH BOX, JOIN EMAIL LIST, REVIEW PAGES, CATEGORIES, RECENT UPDATES, ARCHIVES, RECENT COMMENTS, DAVE RAVE LINKS, DAVES RAVES and more.  Check it out!

JOIN MY EMAIL LIST – Sign up for my Email Service and be the first to receive Thailand updates.  The sign up box is at the top corner of the Home Page.  Join today!
FACEBOOK & TWITTER – If you liked this article please share it on Facebook or Twitter.  After all, sharing is caring!

Reporting live from the neon jungles of Thailand…
Thanks and see you again soon,
Dave The Rave – Go-Go Guru
DO YOU WANNA GO HOME?  RETURN TO THE HOME PAGE