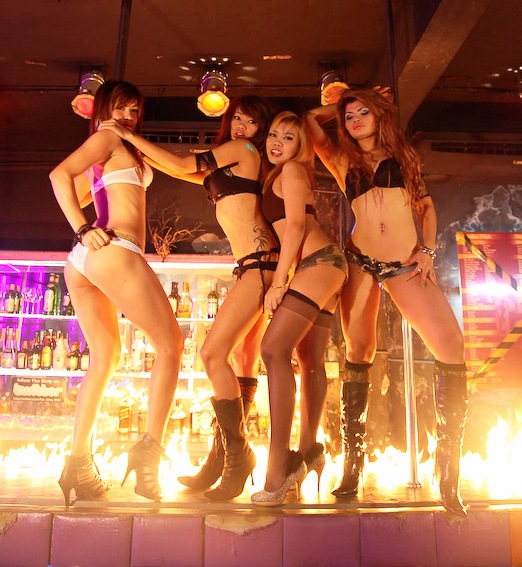 The FIFA World Cup has ended and so has this momentary distraction.  I did take a brief break from writing 'Thailand Tonight' during the World Cup, but it is time to return to the neon jungles of Thailand…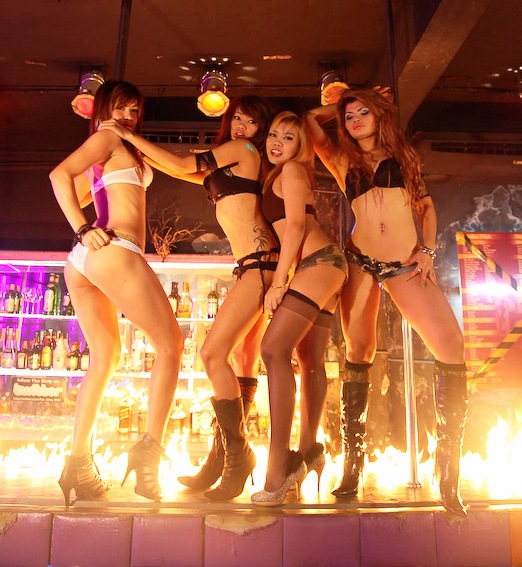 Today I continue my sojourn in Soi Cowboy from 'Thailand Tonight' on 30/06/2010.  It was time to visit more go-go bars and Cousin John was eager to be given a nightseeing tour.  The arrangement suited us both.  I wanted to have a look in Tilac Bar, which is opposite Raw Hide and Long Gun.  As always, it was busy.  During several recent visits, Tilac remains the most consistent go-go bar in Soi Cowboy.  However, John was not at all impressed with the standard of the go-go girls, plus the fact they were clad in tops and skirts.  To a newcomer, I suppose it is an anticlimax after ogling over the lovely young Raw Hide Showgirls sporting birthday suits!  I explained to John that Tilac was where a lot of the resident farangs hang out.  I went on to explain that Tilac is renowned for its cheap Happy Hour.  This is ideal for the penny-pinchers and for those who are genuinely on a budget, but like many guys I know, John has plenty of money.  John could not comprehend why the drinks had to be so cheap.  John commented, 'If they don't have money they should not go to the go-go bars.'  I spontaneously replied, 'Dear John, if you only knew the harrowing tales of the Cheap Charlie Clan!'  I continued my verbal 'n' visual go-go guru guide…

Tilac Go-Go Bar has a unique system, whereby just before Happy Hour ends, the penny-pinchers can get prepaid Happy Hour tickets.  This system does work for Tilac, although cheap drinks can and does attract the undesirables.  Stickman recently reported seeing a group of Arabs in Tilac.  Some of the Arabs refused to order drinks and then, had the audacity to molest the go-go girls as they passed by them.  In certain other go-go bars in Thailand, I know that bottles would connect with heads!  With disgusting behaviour like this, they should not to be allowed to enter Bangkok's go-go bars.  Arabs may complain about racism, but with such bad behaviour, they do nothing to earn our respect.  I am surprised that they got away with it. 
Being a large go-go bar Tilac goes for volume of sales.  Furthermore, Tilac has an additional seating area outside, where the nicotine addicts congregate, while others chat and watch the world go by.  Although cheap drinks and a large number of go-go dancers is the attraction, it is impressive how many customers Tilac Bar constantly attracts.  You certainly cannot knock their success, because in that sense it is an excellent bar business model.  Tilac has large TV screens and they did attract large crowds for the FIFA World Cup.  The music is mainstream dance, played at a sensible volume level and some of the go-go girls do really dance.  The lady drinks are below average price at just 100 baht each.  When you think that a lady drink (tequila for a coyote dancer) in the Iranian Group Bars' is a steep 200 baht, then 100 baht in Tilac is a considerable difference. 

On Fridays and Saturdays, a group of coyote dancers mix in with the go-go dancers from 22:00 until closing.  Some of these coyote dancers are pretty and have sexy bodies, but they are off the menu.  As I said in 'Thailand Tonight' on 30/06/2010, you cannot bar fine the coyote dancers.  This does make it all one big cock tease, unless you want to spend your time and money chasing a coyote girl.  Unless the coyote girl agrees to meet you outside of the bar, then what is the point?  I think it is better to treat the coyote dancers as eye candy.  But, it is a shame that the most attractive Thai girls in Soi Cowboy are not on the bar menu. 
FOR YOUR INFORMATION – The Iranian Group of go-go bars in Soi Cowboy consists of – Deja Vu, Kiss, Rio, Midnite, Spice Girls and Sahara.    
In Tilac, there are no mono bikinis, no birthday suits and no shows of any kind (apart from a bit of up-skirt action).  I know a lot of babe hunters who have never taken a girl from Tilac.  A number of the go-go dancers are formerly from the Rainbow Bars in Nana Plaza.  One friend calls them 'Rainbow Rejects' because they could not compete with the attractive girls in the Rainbow Bars.  Now, that might sound a bit harsh, but the Tilac line-up is deemed by many to be average at best.  As prolific babe hunter Alley Cat says, 'The go-go girls are average at best and that's why I have never taken a go-go girl from Tilac.'  The lads who know Alley Cat will concur that he has collected more beautiful birds than an aviary.  Furthermore, Sanook Sean, Pete Stud, Geordie Stu, Crazy Horse, Nong Nate, plus numerous others, all said the same thing.  Remember, I regularly see these guys with stunners, this is fact not fiction.  While there are a few attractive go-go girls in Tilac, the consensus of the babe hunters is there are no stunners.  (Note that we are talking about go-go dancers and not coyote dancers).  Therefore, if you are not fussy about hot babes and you want to relax amid an amicable atmosphere, Tilac is the ideal place.  The niche that Tilac has created works very well and many of the resident expats are frequent visitors.  However, Cousin John did not want to stay for a drink in Tilac, so we decided to move on…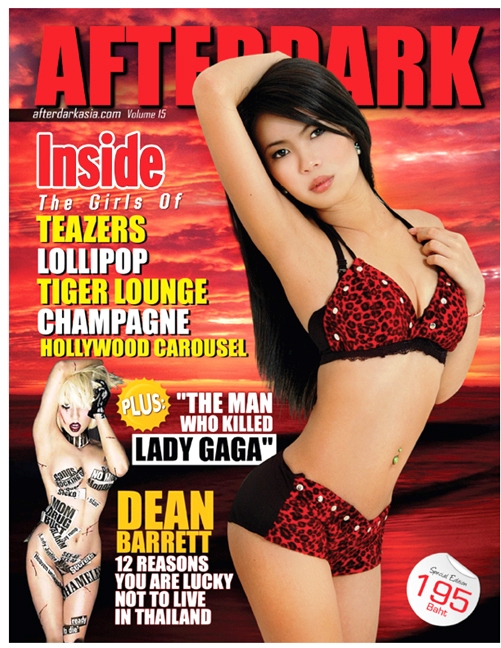 Similar to Tilac Bar, another go-go bar that always has customers is Shark Bar.  The consensus is that Shark Bar has by far the best line-up of go-go dancers in Soi Cowboy.  In terms of attractive go-go dancers, only Bacarra comes remotely close.  Even then, the go-go girls in Bacarra can be too hardcore and on the lower end of the age scale.  A number of mature men would be uncomfortable with a teenybopper.  With Shark being the best choice for hot go-go girls in Cowboy, you are bound to experience close encounters of the prima donna kind.  Furthermore, Shark is a mini 'Jap Trap' to some degree.  This goes with the territory, but does not apply to all of the go-go dancers.      
It comes as no surprise that Shark is ran by the same people who own Mandarin in Nana Plaza.  The downside is that there is a bit of 'showing' through lingerie outfits, but no actual sexotic shows of any kind.  In addition, the trashy techno music drives some people out, but on other occasions, the dance music is tolerable.  If only Shark could get some consistency with their music to at least make it more bearable for farangs.  In many go-go bars in both Bangkok and Pattaya, that trashy techno the Thai DJ's play is horrendous!  Nevertheless, in saying that, if you want some eye candy, or you are babe hunting, Shark is the place in Soi Cowboy.  Drinks are reasonably priced and the service girls are friendly and efficient.
We briefly popped into Long Gun, but nothing caught John's eye, as there was no show on stage at that time.  Again, Long Gun can be deceptive if the lovely Showgirls are not in sight.  I do like the refurbishment job in Long Gun and the new sound system makes a difference to the atmosphere.  Apart from classic rock music, Long Gun has introduced some decent dance music.
We popped our heads into a few go-go bars, but there was not much happening, so I took John to Bacarra.  We walked past the Plain Jane's and headed upstairs.  I was a bit surprised how quiet and subdued Bacarra was that night.  This is not the first time I have seen it like this.  There was a distinct lack of customers and in particular, there were not many Japanese guys.  I immediately noticed that John liked Bacarra and his face lit up when he saw the 'students' dancing.  I joked to John, 'It must be hot in here, because they are loosening their blouses.'  By now, John's smile was really beaming like a model doing a Colgate commercial.  Cousin John eventually settled for a lovely young go-go dancer from Cactus Bar.  Cactus would not necessarily be the first choice for most guys, but John did find a diamond in the rough.  We ended the night with some Thai food at Sams 2000 which is next door to Tilac Bar.  Very good food and at very reasonable prices.  Shortly after that we headed home.    
BLACKBERRY & iPHONE USERS – I have installed a new WordPress application for Blackberry and iPhone users.  It will make viewing my website easier on your mobile phones.  Check it out!
THAILAND TONIGHT & DAVES RAVES – My weekly Thailand nightlife column Thailand Tonight is now published on Wednesdays, but occasionally on Thursdays.  In addition, Daves Raves and other articles will be published throughout the week.  Check the Side Bar on the right-hand side and you will find SEARCH BOX, JOIN EMAIL LIST, REVIEW PAGES, CATEGORIES, ARCHIVES, RECENT COMMENTS, RECENT UPDATES, DAVES RAVES and more.  Check it out!
JOIN MY EMAIL LIST – Sign up for my Email Service and be the first to receive Thailand updates.  The sign up box is at the top corner of the Home Page.  Join today!
FACEBOOK & TWITTER – If you liked this article please share it on Facebook or Twitter.  After all, sharing is caring!
Reporting live from the neon jungles of Thailand…
Thanks and see you again soon,
Dave The Rave – Go-Go Guru
DO YOU WANNA GO HOME?  RETURN TO THE HOME PAGE