CELEBRATING ST. PATRICK'S DAY IN BANGKOK
Tonight the bars, especially the Irish Bars will celebrate St. Patrick's Day right across Thailand.  With the amount of booze that will be consumed, Irish eyes will no doubt be shinning, as well as smiling!  Being the only traditional Irish Pub on Soi Nana, tonight Finnegan's Pub hosts a special St. Patrick's Day Party.  From 9:00 PM until late the talented musicians, 'Collide' will provide the live music entertainment.  Guinness is at the special price of ONLY 150 baht a pint, Jameson's Irish Whisky is 2-4-1 all night, and Heineken pints are ONLY 125 baht.  During the party night Gerry is generously offering FREE Irish stew, FREE Green Jelly Bombers, FREE special shooters and Finnegan's St. Patrick's Day T shirts for bar bills over 500 baht.  Enjoy!     
Chequers Sports Pub is offering Jameson's Irish Whisky at 2-4-1 all night for St. Patrick's Day.  Hanrahans Irish Pub on Soi Nana is also hosing a St. Patrick's Day Party tonight.  Some bars and pubs in Thailand will have green beer on offer, but this is definitely NOT an Irish tradition.  Gerry Finnegan pointed out that this is an American gimmick and you should never dare to water an Irishman's drink down.  Wise words from a true Irishman!
SOI COWBOY – LITTLE LAS VEGAS (PART 2)
Continuing from last week's nightseeing tour of Soi Cowboy, the new kid on the block is Sahara Go-Go Bar.  It has indeed opened as I predicted and perhaps a bit sooner that some people thought it would.  Sahara Go-Go Bar is very stereotypical of the bunch of bars owned primarily, but not entirely by an Iranian.  For your information, the Iranian group now consists of Spice Girls, Déjà  Vu, Kiss, Midnite, Rio and Sahara.      
We visited Raw Hide and it was not busy, but some of the go-go girls and showgirls are RED HOT.  Although Raw Hide and Long Gun are sister bars, Raw Hide does not sell Tiger Light Beer, but Long Gun does.  Why is that I wonder?  Holding that thought, the next stop was Long Gun… 
We sat there in Long Gun with boyish grins on our faces, as we watched seductive go-go dancers in their birthday suits.  Ah yes, what a life we have!  The Tiger Light Beer we just ordered was chilled to perfection and it went down like amber nectar.  Another bonus was that it only cost 130 baht.  All that for the price of a beer and still the Cheap Charlie Clan keep moaning 'n' groaning like old women.  There is no pleasing some people.    

For me, I think the most improved go-go bar in Soi Cowboy this past few weeks is Long Gun.  The lineup was very impressive, with numerous pretty girls sporting among the sexiest figures on the go-go bar scene.  The music selection is now updated and features dance music, some current pop chart hits, plus some classic rock too.  Long Gun proudly displays its new sound system, which certainly compliments the music upgrade.  The place was rocking when Peter and I arrived.  Our senses immediately absorbed the atmosphere and Long Gun is really buzzing right now.  Some of the final touches to the renovation job have helped to polish Long Gun into a classier act.  It is a fact that Long Gun will never win design awards, but I have to say the recently improved lineup and renovations are to be commended.  With a name like 'Long Gun', I guess it is typecast as a point a shoot bar!
SOUND BITES – 'MEALS ON WHEELS'
I had a very tasty and substantial meal from the 'meals on wheels' vendor, who was selling German Bratwurst sausages in Soi Cowboy.  I ordered the special set meal, which comprises of thick sliced up Bratwurst sausage, mashed potato, brown gravy and sour kraut.  It was delicious and all that for just 65 baht.  The photo below shows what a terrific value for money meal it is…
Tilac is still the busiest go-go bar in Soi Cowboy and some guys would say by a wide margin.  It is a big go-go bar, but cleverly designed so that it never looks empty at any time of the night.  It has a suitable layout for its size, because wherever you are in Tilac, you are amid the action.  Some large go-go bars are too open-plan and resemble an empty warehouse during quiet periods.  The open-plan bar designs only work up to so many square meters.  Too much unoccupied space does not evoke any kind of visual effect and fails to create an atmosphere.  If there is a lot of dead space, there is every chance it will be a dead bar.  You would think this would be commonsense, but obviously not to some people.  The space in Tilac is utilized very well with tabletop style islands that interconnect in the centre with stools surrounding them.  The sofa seats spread around the walls are close enough to the action, because the centre of Tilac Bar is specifically designed that way.  In some larger go-go bars it is like being in a stadium – you are too far away from the action.  Therefore, it is difficult for dolly bird watching and impossible to interact with the girls.  This is one main reason why most bar operators prefer to have a medium sized go-go bar.  It is literally a 'happy medium' because it is not too small to make money and not too big, so it looks like a deserted building.  Tilac Bar is proof that big go-go bars can pack the punters in, but of course, Tilac is very much in the minority.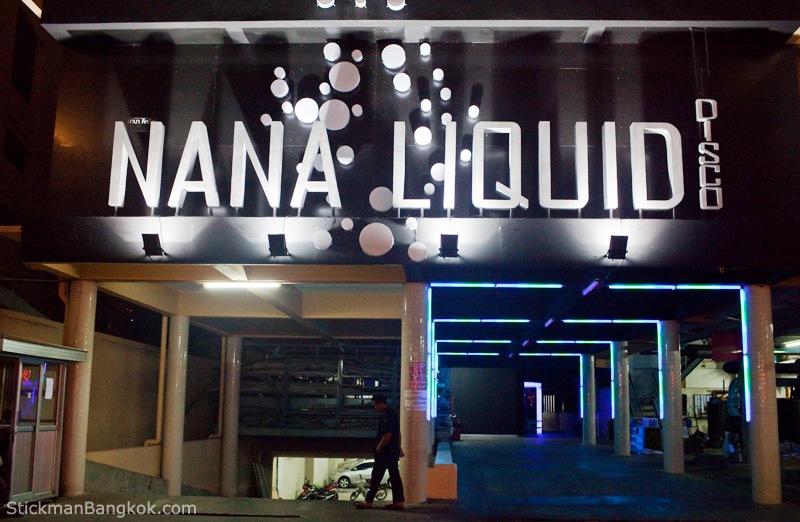 The last stop on this Cowboy circuit was Baccara Bar.  As soon as we entered the top level, we were intercepted by a buxom babe with a huge cleavage.  She was thrusting her boobs out at us and I thought she had better sit down and relax.  Her tight blouse was under such strain that she could blind somebody if those buttons were to fly off!
There were not that many customers in Baccara Bar, making the dancing dolls a bit more farang friendly, but this still remains predominantly a Jap Trap.  Baccara remains one of the busiest go-go bars in Bangkok and although it may not be to everybody's liking, it is undoubtedly a serious moneymaker.  
THE PICKLED LIVER PUB QUIZ NIGHT
Every Thursday night The Pickled Liver Pub host a popular Pub Quiz.  The Pickled Liver is a traditional British Pub located inside the sub soi on Sukhumvit Soi 11.  The friendly English owner Nick has built up a loyal following and has proven to be one of the friendliest landlords in Bangkok.  The Pub Quiz starts at 8:30 PM and it is FREE to enter.  Currently, there is no limit on the size of the quiz teams.  The winning team will receive a cash prize of 1,000 baht and the runners up will receive a cash prize of 500 baht.  There are also other giveaways throughout the night.
AFTER DARK ASIA – Buy the After Dark Asia 2010 Calendar and you will get a FREE copy of After Dark Asia magazine.  The After Dark Asia Calendar is now available for HALF PRICE at ONLY 150 baht.  Note that this offer is only available from Angelwitch Go-Go Bar in Nana Plaza.
THAILAND TONIGHT & DAVES RAVES – My weekly Thailand nightlife column 'Thailand Tonight' is now published on Wednesdays.  In addition, 'Daves Raves' and other articles will be published throughout the week.  Check the Side Bar on the right-hand side below 'Review Pages' and you will find my daily updates.
JOIN MY EMAIL LIST – Join my New Email Service and be the first to receive Thailand Nightlife Updates.  The sign up box is at the top right corner of the Home Page.
Reporting live from the neon jungles of Thailand… 
Join me again soon, thanks for visiting!
DO YOU WANNA GO HOME?  RETURN TO THE HOME PAGE