PAVEMENT PUB PATROL IN BANGKOK'S CONCRETE JUNGLE
Nowadays, taking a late night stroll down lower Sukhumvit Road is very different to what it used to be years ago. A continuous row of makeshift mobile bars set up shop after midnight along lower Sukhumvit, right on the roadside. The pavement pubs stretch from Sukhumvit Soi 3/1, right along towards Sukhumvit Soi 19. Some of the pavement pubs sell booze from around midnight until cockcrow. Most of the pavement pubs charge 80 baht for a standard drink, which is reasonable enough.  However, this concrete jungle is a dodgy place, with various creatures of the night on the prowl. 
Unfortunately, with the limited late night options in Bangkok, some people have to settle for chatting, drinking and eating amid the concrete jungle. Part of Bangkok's problem is that the majority of licensed bars, pubs and clubs are forced to close early. Then, apart from a few late night venues scattered around the city, you are left with little choice. For a country that supposedly encourages visitors to enjoy the nightlife, this is ridiculous. You can party later in the bars, discos and nightclubs in the surrounding countries. Most of Bangkok's bars and nightclubs close quite early, especially for such a big city. For example, in stark contrast the pubs and clubs in Singapore close much later than their Bangkok equivalents. This alone makes something of a mockery of Bangkok's so-called legendary late night scene. There are some late night options such as Climax Club, Spicy and Bossy, but it is a poor selection for a city the size of Bangkok. Many party animals are creatures of habit and they will not come out any earlier. In fact, the crowds nowadays tend to come out later than ever. This inevitably means less trading hours for bar owners to make money.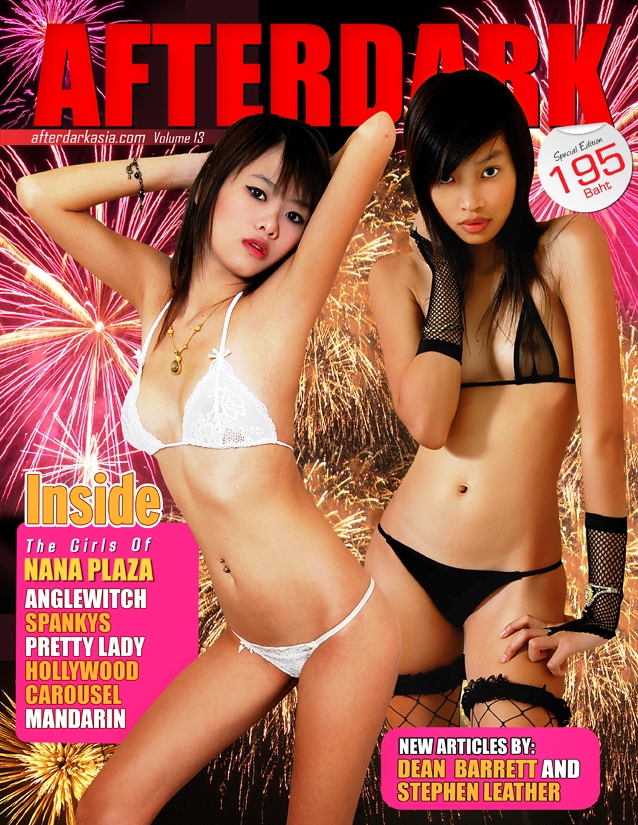 Unlike other surrounding cities, Bangkok suffers sporadic periods of early closing, which damages the late night trade. It is very disappointing, if not downright annoying to visit your favourite Bangkok nightclub, only to see it shut down early. Sometimes the MIB or Men In Brown order the club to close and after just paying the cover charge, you are told to leave. Bangkok is a vast, sprawling metropolis, but a wild late night capital, it is definitely not. It would be much better if the owners themselves could decide when they want to close. After all, later closing times could not possibly do the economy any harm. What I think is that Bangkok needs to open up and not close up.
Following a recent pavement pub patrol, these were my reflections…
In some ways, it is like walking the gauntlet in a ghetto. I feel like a fish out of water. I thought to myself, 'Am I really in the City Of Angels?' There are Arabs openly mingling with street hookers, scary looking African women accosting Caucasian men, there is an infestation of 'katoeys' (transvestites), gangs of dodgy African men engaged in intense conversations, the inevitable Cheap Charlie Clan, bewildered tourists, an evil stench rising from the gutters, 'meals-on-wheels' vendors, street hawkers, crippled beggars, Thais selling good luck trinkets, multinational alcoholics, young children selling flowers and chewing gum, rows of Plain Jane's, elderly Thai women selling sweets, regurgitated techno music blasting out of sound systems, garbage strewn all over the roadside and couples dining at roadside restaurants. And yet, amid all of this, there are Western businessmen who just want to have a late night drink. These businessmen might be staying at the JW Marriott Hotel, or The Landmark Hotel. Not everybody wants to go to a club that constantly plays techno and gangster rap. Therefore, the irony is that these farang businessmen have to sit on the street for their late night entertainment.
At cockcrow, the intense heat of the early morning sun reminds revellers that it is time to go to bed. For some farangs, it is just another late night session of boozing and bonking in the concrete jungle. You would expect to see this in Pattaya, or on Patong beach in Phuket, but not in Bangkok. In conclusion, even considering all the years I have lived here, this is a real eye-opener. A lot has changed in Bangkok over the last decade and sometimes, it is definitely NOT for the better.
NANA PLAZA – WELCOME TO THE NEON JUNGLE
Spankys was very busy for the 1st Anniversary Party under the auspices of the new owner Marc. The pig-on-a-spit was very popular with not just the farangs, but the Thais too. During the night, Spankys launched a series of new sexotic shows, which went down well with the audience. Spankys go-go format has changed to mono bikinis and the theme revolves around fun and frolics. If you are feeling kinky, Spankys spankers (foam whips) are available for 100 baht. If you can't beat them whip them!

VALENTINE PARTY IN ANGELWITCH GO-GO BAR
Valentine's Day is always a lot of fun in Thailand, with the Thai girls handing out heart stickers among other things. All of the go-go dancers in Angelwitch in Nana Plaza were appropriately dressed in red lingerie. Later on in the evening, there were two special shows to celebrate Valentine's Day. The specially created Cupid Show went down well with an appreciative audience. The choice of song 'Stupid Cupid' by Connie Francis was a pleasant surprise, especially with the more mature members of the audience.
Is Erotica Go-Go Bar in Nana Plaza one of the best-kept secrets? The go-go bar itself is a mere shell, but some of the go-go girls housed within are very sexy little babes. Cute faces and firm figures makes Erotica well worth a visit.
AFTER DARK ASIA CALENDAR 2010 
Buy the After Dark Asia 2010 Calendar and you will get a FREE copy of After Dark Asia magazine. This offer is only available from Angelwitch Go-Go Bar in Nana Plaza.
THAILAND TONIGHT & DAVES RAVES
My weekly Thailand nightlife column 'Thailand Tonight' is now published on Wednesdays. In addition, 'Daves Raves' and other articles will be published throughout the week. Check the Side Bar on the right-hand side below 'Review Pages' and you will find 'Daves Raves' which are my daily updates.
JOIN MY NEW EMAIL SERVICE 
Join my New Email List by clicking on the box at the top right-hand corner of the Side Bar. Be the first to receive my Thailand nightlife updates.  Join today!
Reporting live from the neon jungles of Thailand…
Join me again soon, thanks for visiting!
DO YOU WANNA GO HOME?  RETURN TO THE HOME PAGE