PATPONG NIGHTSEEING TOUR – 26/04/2010
Despite the recent bomb blasts at Sala Daeng Skytrain Station, I decided a visit to Silom was long overdue.  I spontaneously felt I needed to go and report what was happening in Patpong. Armed with some Thai baht, my Canon 450D SLR camera, plus a notebook and a pen, I arranged to meet my friend David in Dollhouse in Soi Cowboy.  I intended to spend the first half of the night in Soi Cowboy and then, the second half of the night in Patpong.  However, things did not work out the way I had planned… 
 I met David in Dollhouse during 'Crazy Hour' and I was shocked to see just three go-go girls on stage downstairs.  They were chatting to each other, while they did the infamous skytrain shuffle.  Well, what the heck, I had a cheap bottle of Tiger Light and I could plan the nightseeing tour with my mate.  After one drink, we decided to move on.  We went to Raw Hide next, but there were very few customers and girls in here as well.  I surveyed the scene down a relatively empty Little Las Vegas.  This was a clear indicator of how the night was going to be.  My mate David wanted to have a look in Long Gun.  It was busier than Raw Hide and had some attractive birthday suits on display.  Mother Nature had done a good job!    

Reflecting back on Dollhouse, there is a very visible lack of go-go girls in certain bars.  This all started with the mass exodus for Songkran, which is coupled with the sporadic violence.  No doubt, a lot of bar girls will not return to work until next month.  One of the reasons is some go-go bars have very harsh cuts for not working during Songkran.  Bar girls who do not turn up for work are cut as much as 1,000-2,000 baht per day.  Therefore, a number of bar girls do not think it is worth working for a greatly reduced salary.  Inevitably, the bars lose girls and the Thai girls lose money.  I just wish there could be a better compromise.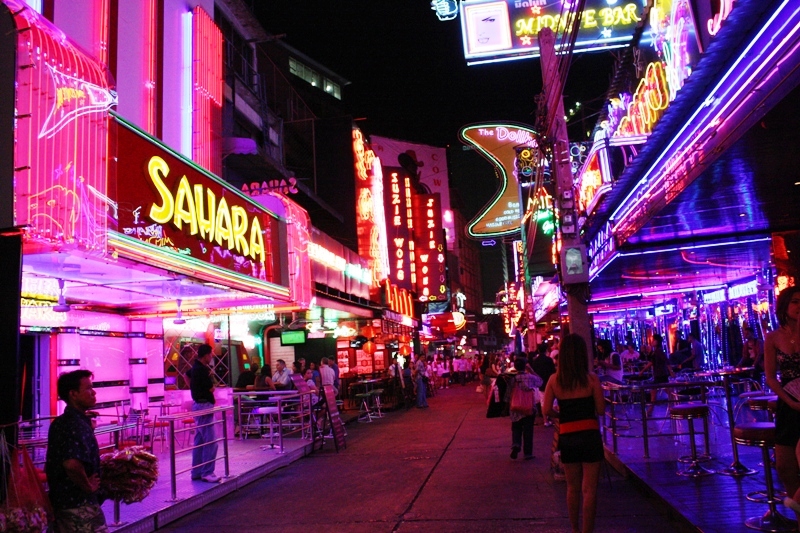 I was thinking about the bar girl shortage situation.  With Dollhouse deciding to open two levels, are they spreading themselves too thin?  The same problem has happened in Mandarin Go-Go Bar in Nana Plaza.  Frankie, the French owner of Shark Bar and Mandarin Bar, told me that he does not have enough go-go girls to open both levels.  I think that is wise, because during these tough times, it is best not to be too ambitious.  Some bar bosses may feel it is a good time to experiment, especially those go-go bars with nothing to lose.  But, the R Factor means that 'recruiting and retaining' go-go dancers is not easy these days.  Mandarin keeps the dance stage full and this is a better idea than opening another dance floor.
I was taking some photos up and down Soi Cowboy and wanted to get a few shots of the new neon signs.  Just then, a Thai woman from Rio Bar came up to me and told me I could not take photos.  All I was doing was standing in the middle of the street, taking photos of the neon signs.  She said in a stern voice, 'Believe me, you cannot take photo!'  I explained that I was outside in a public area and carried on taking photos.  What a horrible woman!  Right at that moment Stickman walked up to me and said hello.  We smiled at each other, because we both had our cameras with us.  It was a bit like Batman and Robin unintentionally bumping into each other at a crime scene!  I explained the situation and Stickman said, 'I'll take some photos.'  Moreover, he did.  Afterwards Stickman told me he thought a ban on all photography in Soi Cowboy might be a possibility in the future.  Let us all hope that the bar owners do not make a rash decision.  I can understand a ban on photos inside the bars, but outside the bars is ridiculous.  I have taken loads of photos of heavily armed Thai soldiers on duty and not received one single complaint.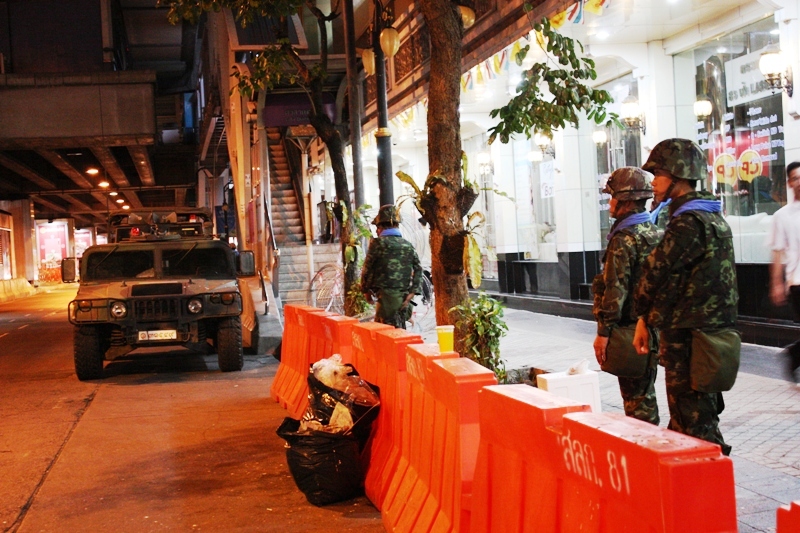 David and I both decided to forget Soi Cowboy and go to Patpong earlier than planned.  It was a quiet night in Cowboy and the photo fiasco had pissed me off.  We walked past the taxi touts directly outside Soi Cowboy and dived into a moving taxi.  We passed a long line of riot police and the taxi dropped us off in Silom.  Immediately, as we started walking towards Sala Daeng Skytrain Station, there were soldiers and riot police deployed at strategic points.  A Thai Army vehicle was parked next to the Sala Daeng BTS.  Razor wire and heavily armed Thai soldiers were positioned close to the footbridge.  There were also Thai Army checkpoints stopping vehicles. 

I remember Patpong in the late 1980's and early 1990's and in those days there was no night market.  I felt a flashback as I entered Patpong, because once again there was no night market.  It could not have been better for taking a stroll and for taking photos as well.  In time, these photos might well become quite historic, as part of Bangkok is nostalgic nightlife.  Patpong may look deserted, but there are guys doing the go-go bar rounds.  Prices have dropped and the bar girls are generally farang friendly.
In all of the ground level go-go bars in Patpong, the Thai girls are fully covered in either bikinis, or other outfits.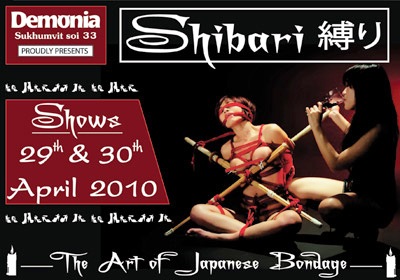 This clearly gives Soi Cowboy and Nana Plaza a big advantage over Patpong.  The first go-go bar we visited was formerly called The Strip.  Since then, it has reopened as Spankys 3 and also with a complete remodel.  Inside there are white sofa seats, a purpose-built shower unit and a Spankys style go-go stage.  They do not have many go-go girls, but being new, Spankys does need some time to gather momentum.  The girls that we did meet were friendly and a couple of the go-go dancers were very cute.  The go-go girls were dressed in sexy nurse uniforms.  Next, we entered Electric Blue and I could not believe the Happy Hour.  Chang Draught Beer was only 35 baht until 10:00 PM.  Now that is cheaper than many go-go bars in Pattaya!  The atmosphere in Electric Blue was upbeat and a few of the go-go dancers were really moving and grooving.
David was keen to visit another fairly new addition to Patpong.  Our next port of call was Black Pagoda, which is located above Foodland in Patpong 2.  Black Pagoda is a stylish go-go club with comfortable sofa seats, friendly go-go girls, and go-go podiums located around the room.  There is a private VIP section on the top level that they appropriately call the stairway to heaven.  I was allowed to take photos in Black Pagoda and along with a warm welcome from the girls; this made the visit very enjoyable.  Another special feature is the reinforced glass windows that make a glass bridge above Foodland.  Black Pagoda are running promotions to encourage people to visit Patpong. 
Some things never change and that is not always a bad thing.  The nostalgic among you will appreciate that Kiss Bar, Thigh Bar and Safari Bar remain relatively the same.  In fact, the interior in Safari is the same, as it was in the 1980's and 1990's.  I am pleased to report that Kiss still plays rock music and the standard drinks are only 110 baht.  According to a Silom resident, anything above 110 baht is considered expensive in Patpong.  One place that has received a complete renovation is Radio City.  This has always been a very good live entertainment venue. 

DAVE THE RAVE IS THE BIRTHDAY BOY
On Friday, April 30th, I will celebrate my birthday at Angelwitch Go-Go Bar in Nana Plaza.  I will be 47 years old, so I am edging closer towards the big five zero.  I hope it will be a good night.  All are welcome.
THAILAND TONIGHT & DAVES RAVES – My weekly Thailand nightlife column Thailand Tonight is now published on Wednesdays.  In addition, Daves Raves and other articles will be published throughout the week.  Check the Side Bar on the right-hand side below Review Pages and you will find my daily updates.
JOIN MY EMAIL LIST – Sign up for my New Email Service and be the first to receive Thailand Nightlife Updates.  The sign up box is at the top right corner of the Home Page.  Join today!
Reporting live from the neon jungles of Thailand… 
Join me again soon, thanks for visiting!
DO YOU WANNA GO HOME?  RETURN TO THE HOME PAGE