FRIDAY FEEDING FRENZY!
It is always important to stoke up your engine, before a bout of 'Friday Night Fever' in Thailand.  A variety of bars and pubs in Bangkok, offer a complimentary buffet to get Friday night off to a good start.  This week I feature Soi 8 Pub on the left-hand side, as you enter Sukhumvit Soi 8.  In my opinion, Soi 8 Pub is a serious contender for best pub in Bangkok.  Soi 8 Pub has a variety of food available, which by far exceeds the pub grub found elsewhere.  Some of the dishes make it an excellent 'meal deal' by any standards.
The 'Friday Feeding Frenzy' is free and usually starts between 7:30pm and 8:00pm.  This 30-minute buffer zone allows the chef to put the final touches to the food.  Also, by not having a set time each Friday, it keeps the Cheap Charlies on their toes!  It does infuriate bar owners that some cheapskates, will unashamedly scoff the free food and not even buy one drink.  Who the hell do these people think they are?  The owner of Soi 8 Pub is the friendly Kiwi Dave and he has a policy that anybody can enjoy the complimentary buffet.  But, each person must purchase at least one drink from Soi 8 Pub.  With the quantity and quality of food that Soi 8 Pub provide, they can't be fairer than that.
Some Cheap Charlies will even try to bring their own drink into the bar from a nearby 7 Eleven.  Do these cheapskates have no shame?  Reports on the Internet are very often one-sided opinions from the customer's point of view.  However, the bar bosses sometimes have more than their fair share of headaches.  Fortunately, for Bangkok, the majority of cheapskates who demand something for nothing either visit, or live outside Bangkok.  The moral of the story is that we should all appreciate this generous offering of free food.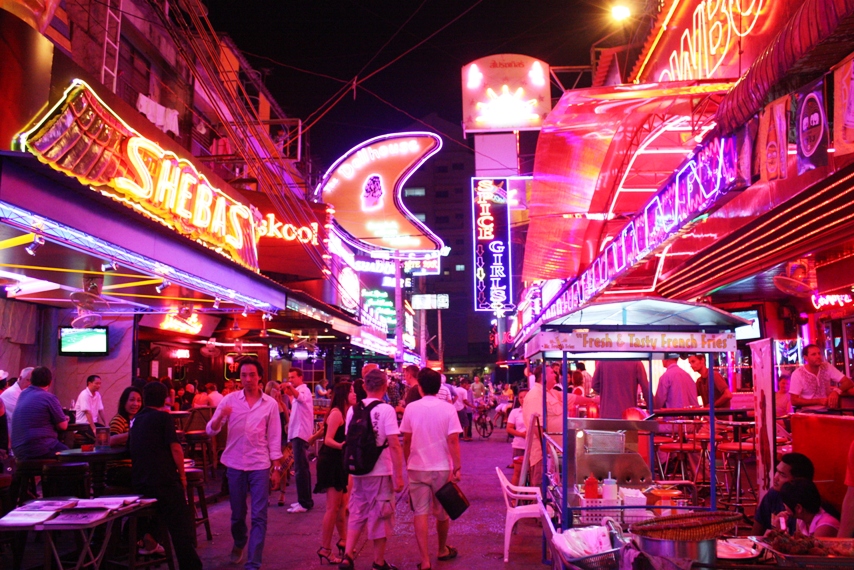 SOI COWBOY – LITTLE LAS VEGAS
Here in Bangkok, Soi Cowboy still commands the title of being the most popular go-go bar area.  Based upon how busy all the bars are collectively, Soi Cowboy attracts more customers than her rivals Nana Plaza and Patpong.  This trend does not look like it will change anytime soon.  Now, I don't want to sound like I'm telling some of you guys what you know already, but I endeavour to write for a wide audience.  During this economic downturn, people are travelling less often and therefore, they are out of touch with what is going on in Thailand.  Friends are telling me that they now visit Thailand once a year, whereas they previously always visited several times a year.  The fact that guys are visiting Thailand less frequently is not to be underestimated.  Believe me it makes a big difference, because a lot can happen in just a short period.  OK, enough said about that, let's move on…
Baccara Bar is located at the Sukhumvit Soi 23 entrance to Soi Cowboy.  There is always a bunch of enthusiastic 'cheerleaders' to entice you into this very popular go-go bar.  Baccara has established itself a niche in Soi Cowboy, in which they have cornered the Asian market.  When I say Asian market, the Japanese make up the vast majority of the clientele.  Baccara can be a bit like Singapore in the 1940's, by that I mean overrun with Japs!  There is a simple solution; you either give Baccara a green or red light.  The management have created their own niche, and they are not shy to show that the Japanese clientele has preference.  Therefore, rather than get angry or upset learn to accept it, and carry on enjoying yourself.  If you really do not like go-go bars that cater for Japanese customers, then don't go to Baccara Bar.  After all, this is the only go-go bar that is a real 'Jap Trap' in Soi Cowboy.  You can choose to vote with your feet, because there are plenty of other go-go bars you can visit.  I don't understand why some guys get so upset; just learn to go with the flow.
Baccara operates on two levels and the upstairs section still blatantly allows smoking.  Those of you who are sensitive to cigarette smoke, should be aware of the Japs blowing up a storm!  On the other hand, smokers who want to sit in a go-go bar are in the right place.  Regarding the music selection, Baccara Bar play pulsating club dance tracks.  This is definitely an improvement on the 'trashy techno' and 'crap rap' played in certain other go-go bars.  Up on the top level the dancing dolls wear student uniforms.  The 'students' tend to have terrible memories, because they forget to put on any underwear.  Baccara has a large number of go-go girls on the books and therefore, highly rated on my Q Factor (a quantity of quality).  There are loads of sexy dolly birds in this place!
SUPER SAVER – Shark Go-Go Bar run a daily Happy Hour 4:30-8:30pm – standard drinks are only 70 baht.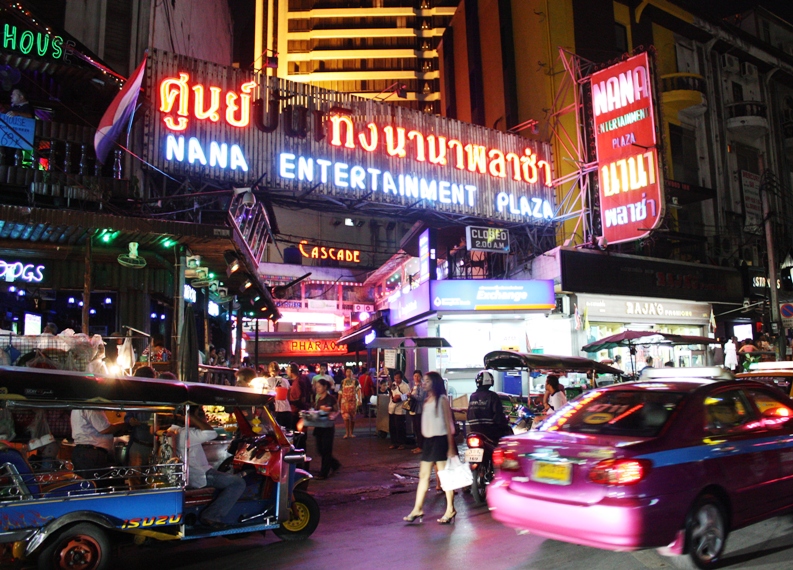 NANA PLAZA – ENTER THE NEON JUNGLE
Nana Plaza has certainly gone through several major changes over the years.  Slowly but surely, some 'showing' has returned to a few go-go bars.  However, it is minimal compared to Soi Cowboy and Pattaya.  The amount of flesh on display in go-go bars makes a bigger difference than some people might think.  If you cast your mind back several years, Soi Cowboy had limited 'showing' and was quiet, but Nana Plaza had a lot of 'showing' and the go-go bars were packed with customers.  Nowadays the roles have reversed to a large degree, but some go-go bars in Nana are bouncing back.
Some people have said that Angelwitch needs reinventing, but I disagree.  I definitely believe that other go-go bars in Nana Plaza need reinventing, but not Angelwitch.  All that was needed was to service the machine and do some fine-tuning.  This has now happened and the management has introduced a bunch of brand new shows.  Angelwitch has also recruited some new Showgirls, changed some of the costumes, introduced new show concepts, serviced the sound and lighting systems, and conducted intensive show practise.  In addition, new go-go dancers have joined the team over the past few weeks.
SUPER SAVER – All bottled beers are only 69 baht all day every day in Cathouse Bar (located above Big Dogs Bar).
THAILAND TONIGHT – My new bi-weekly Thailand nightlife column will be published by 6:00pm Bangkok time on Wednesdays and Sundays, with the exception of unforeseen circumstances.  Also, there will be additional posts from time to time.  These will be in the form of urgent updates, when I feel they are necessary.  As always, thanks for your loyalty and support.
E-MAILING LIST – If you wish to be either added, or removed from my new e-mailing list, please email me here – [email protected]
EPILOGUE – For the new visitors to my website, welcome to the wacky world of Dave The Rave.  The tremendous readership that my website has built up is very much appreciated.  Cheers!
Reporting live from the neon jungles of Thailand…
Until next time, thanks for tuning in!
Dave The Rave – Go-Go Guru.