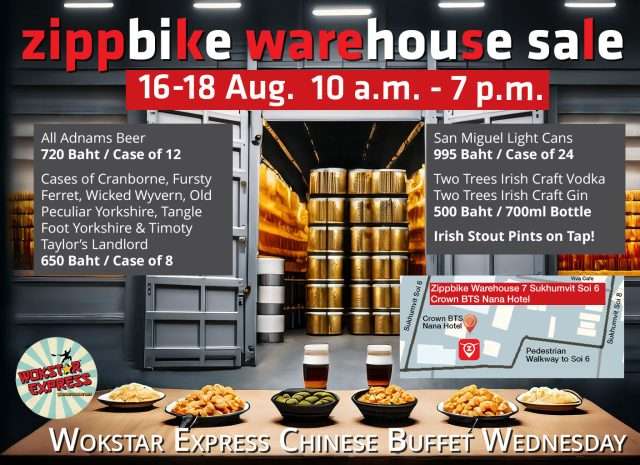 Fan of small-label English beers need to head to the ZippBike warehouse sale starting Wednesday on Sukhumvit Soi 6.
ZippBike, the Bangkok alcohol and tobacco-delivery company, this week will throw a ZippBike Warehouse Sale / Party featuring crazy-low prices on all Adnams beers, plus craft beers Cranbourne Poacher, Timothy Taylor's Landlord, Wicked Wyvern, Tangle Foot, Old Peculier and Fursty Ferret.
Prices start at just 60 baht for 500ml bottles of the imports when purchased in cases of eight or 12 at the ZippBike Warehouse Sale.
The ZippBike Warehouse Sale runs Wednesday through Friday from 10 a.m. to 7 p.m. at ZippBike's Sukhumvit Soi 6 warehouse and features more deals on San Miguel Light for just 995 baht for a case of 24 cans and Two Trees Irish craft vodka and gin for just 500 baht a 700ml bottle.
The ZippBike Warehouse Sale also will have a 350-baht Chinese buffet from Wokstar Express on Wednesday and draught pints of Irish Stout poured each day that will decrease in price each day, until the supply is exhausted.
The English beers also are available at the similar sale prices on ZippBike's website while supplies last.
English Craft Beers Sale at ZippBike Warehouse Sale
Not familiar with those English craft beers on sale at the ZippBike Warehouse Sale? Here's what you can expect:
Cranbourne Poacher: A distinctly British ale, Cranbourne Poacher offers a rich blend of malty flavors and subtle fruit notes. Its medium body and balanced bitterness make it a well-rounded beer, accessible to both newcomers and seasoned ale enthusiasts. The addition of local ingredients provides a unique twist to the traditional English ale style, making it a pleasant and enjoyable drink to explore.
Timothy Taylor's Landlord: Known as one of the classic English pale ales, Timothy Taylor's Landlord boasts a harmonious blend of hops and malt. With a slightly bitter finish and underlying caramel notes, this beer has been a favorite among British beer drinkers for generations. Its refreshing taste and crisp texture make it a perfect companion to traditional pub fare, earning it numerous awards and a strong reputation.
Wicked Wyvern: Wicked Wyvern is an American-style IPA that packs a punch with its intense hoppy flavor and bold citrus undertones. Its high alcohol content and bitter finish are balanced with a pleasant sweetness, making it a hit among IPA enthusiasts. Though not for the faint of heart, this beer offers a thrilling taste experience for those looking for something adventurous and robust.
Tangle Foot: Named for its somewhat deceptive strength, Tangle Foot is a golden ale that combines sweet maltiness with a mild hop bitterness. With hints of fruit and honey, its smooth and easy-drinking quality can catch you off guard. Tangle Foot offers a sophisticated and well-balanced flavor profile, making it a pleasant and unassuming choice for a variety of palates.
Old Peculier: This strong dark ale, brewed by Theakston in North Yorkshire, is named after the unique laws of the local town of Masham. Old Peculier is renowned for its rich malt character, complex flavors of dried fruits, and hints of chocolate and toffee. With a warming finish, this beer is often considered a comforting and traditional English ale, perfect for sipping by the fire.
Fursty Ferret: Fursty Ferret is a well-known amber ale that offers a smooth and balanced drinking experience. With its blend of biscuity malt flavors and a touch of citrus, this ale is both refreshing and satisfying. The gentle hop bitterness complements the sweetness, making it a versatile choice that pairs well with a range of foods. Fursty Ferret's accessible taste makes it a crowd-pleaser for many occasions.
Adnams Brewery, located in Southwold, England, has a rich heritage dating back to 1872. Renowned for its cask ales and innovative beers, it combines traditional brewing methods with modern techniques. Adnams emphasizes sustainability, using local ingredients, and reducing its carbon footprint. Their beers are celebrated for their quality, flavor, and character.