Newsflash! If you missed my last blog post (shame on you!), here is a reminder that Nana Plaza and Soi Cowboy are CLOSED tonight (03/08/12), due to it being a BIG Buddha Day. But, the good news is that the irrepressible Patpong remains OPEN. Hooray!
The Strip in Patpong 2 are hosting LET'S PARTY LIKE IT'S 1999 on Friday, August 3rd and Saturday, August 4th. I am not sure what the connection to 1999 is but more importantly – ALL BEERS ARE ONLY 90 BAHT ALL NIGHT!
Where Is It? The Strip Go-Go Bar is located between Electric Blue Go-Go Bar and BarBar Fetish Club in Patpong 2, which is the lane adjacent to Patpong Night Market, where Foodland is situated. Now you know!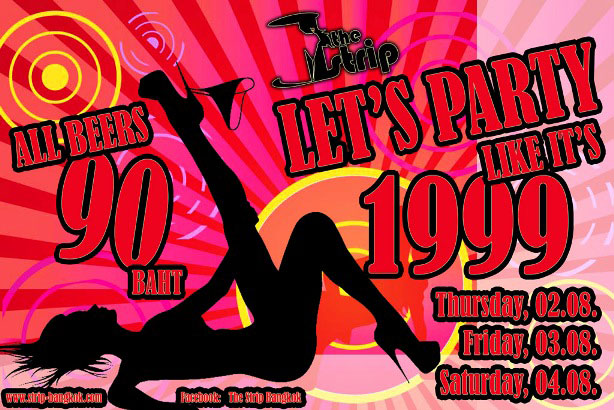 Daves Raves! What were you doing in 1999? I moved to live in Bangkok in 1998, which incidentally is the same year my counterpart Stickman moved to the Big Mango. At the beginning of 1999 I started to manage go-go bars in Nana Plaza and after all these years, I am still here. It is an incredible journey.