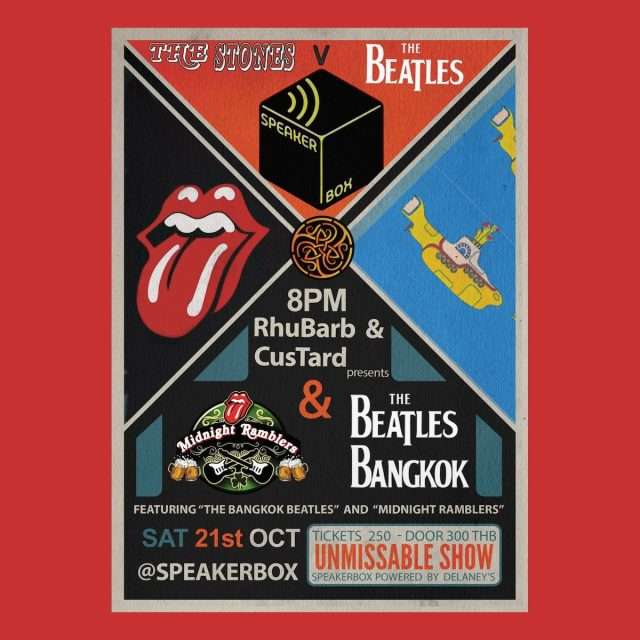 The iconic sounds of rock legends will echo through the streets of Bangkok Saturday with RhuBarb & CusTard's "The Stones vs. The Beatles" battle of tribute bands The Bangkok Beatles and Midnight Ramblers at Speakerbox in Thonglor.
Speakerbox on Thonglor Soi 40, will open its doors at 6 p.m. to welcome fans of rock music's two most iconic bands. The musical journey begins at 8 p.m., where attendees will be taken back to an era that redefined music by the Bangkok Beatles and Midnight Ramblers. For those eager to secure their spot, advance tickets are priced at 250 baht, while on-the-day purchases will cost 300 baht.
And for those looking to complete the evening experience, themed cocktails inspired by Mick Jagger and John Lennon will be on the menu.
From Bangkok's Streets to International Stages: The Bangkok Beatles
In 2010, four musicians set out on a journey to pay homage to the world's most beloved band and formed The Bangkok Beatles. Founders Andy Murphy (John Lennon), Mark Robinson (Paul McCartney), Paul Williams (George Harrison), and Paul Foster (Ringo Starr), The Bangkok Beatles quickly garnered attention with their accurate renditions and powerful performances.
The Bangkok Beatles' lineup has changed over the years, but its prowess has been limited to just their music. The band's stage presence, characterized by Beatles-themed costumes and engaging narratives between songs, consistently captivates audiences.
They've become staples at local venues, including Father Ted's pub in Hua Hin and Mad Bulldog Pub & Grub on Sukhumvit, but their acclaim doesn't end there. Their influence has crossed borders, with successful shows in Cambodia, Laos, and Vietnam.
Midnight Ramblers: Reliving The Stones' Legacy in Bangkok
Differing from the giant stadiums The Rolling Stones frequently played at, Midnight Ramblers often grace smaller, intimate venues, bringing the essence of The Stones closer to fans. Cameron Cooper, the band's bassist, in 2014 shared insights into the band's performances, revealing the unique challenges and joys of playing in both large festivals and smaller venues.
Cooper highlighted the importance of confidence when playing to smaller crowds, where every face is visible and reactions more palpable. He emphasizes that the band's love for The Rolling Stones' music drives them to deliver their best at every performance, regardless of the venue's size.
Speakerbox: Bangkok's Pulse of Diverse Melodies
Speakerbox stands as one of Bangkok's hot music venues. Known for its intimate ambiance, the venue has witnessed performances from an array of international and Thai artists, including names like Outkast and Erykah Badu. Open seven days a week, Speakerbox isn't just a hub for great music but also offers a range of food and drinks for its patrons.
RhuBarb & CusTard: Curators of Thai Culture and Creativity
Established in 2016 by British expat Joe Delaney, RhuBarb & CusTard has consistently spotlighted Bangkok's vibrant cultural scene. Their events, spanning from live music gigs to art exhibitions, have made them a crucial entity in the promotion of Thai culture and creativity.
Past events like "Beat Up My Ballroom" and "CusTard Sessions" bear testament to their dedication to showcasing Thailand's artistic talents. Through their work, RhuBarb & CusTard continues to introduce Thai culture to broader audiences, offering platforms for local artists and musicians.