Two long established venues in Bangkok's nightlife scene have closed their doors. Club Electric Blue Go-Go Bar in Patpong 2 announced that they were calling last orders for literally the very last time.
Club Electric Blue was one of the go-go bars frequented by resident farangs and tourists alike. But, for the local lads it was the place you visited to have a chat with Big Andy, or one of his managers. The guys would gather at the bar counter and enjoy the company of fellow farang residents. On certain nights it was a very interesting congregation of characters.
Alas, all good things have to come to an end and Big Andy decided to pull the plug. One reason is to concentrate on his other go-go bars, namely Club Electric Blue and Dollhouse down in Soi 15 Walking Street, Pattaya.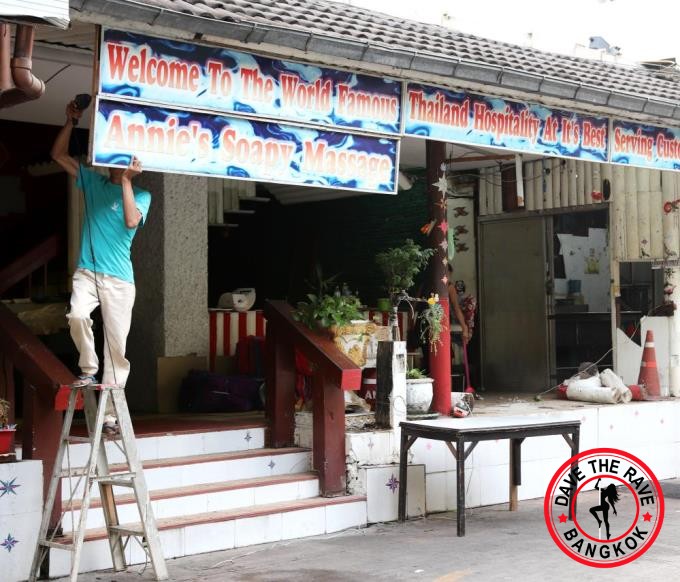 The second nostalgic venue to close is Annie's Soapy Massage. Following an incredible run of 46 years, Annie's Soapy Massage was forced to close. Increasing running costs and especially, the rent increases led to the demise.
However, Annie's lovely ladies have relocated to Chrome Bar, which is situated approximately half way down Sukhumvit Soi 7/1 on the left side.
Speaking of Soi 7/1 the former Bangkok Beat venue is still up for sale. Any interested buyers can email me ([email protected]), or get the contact details from the sign outside. The old Bangkok Beat was a popular venue, especially when my mate Mike was running it.  It's a good location, conveniently sitting near the entrance to Soi 7/1 from Sukhumvit Road.