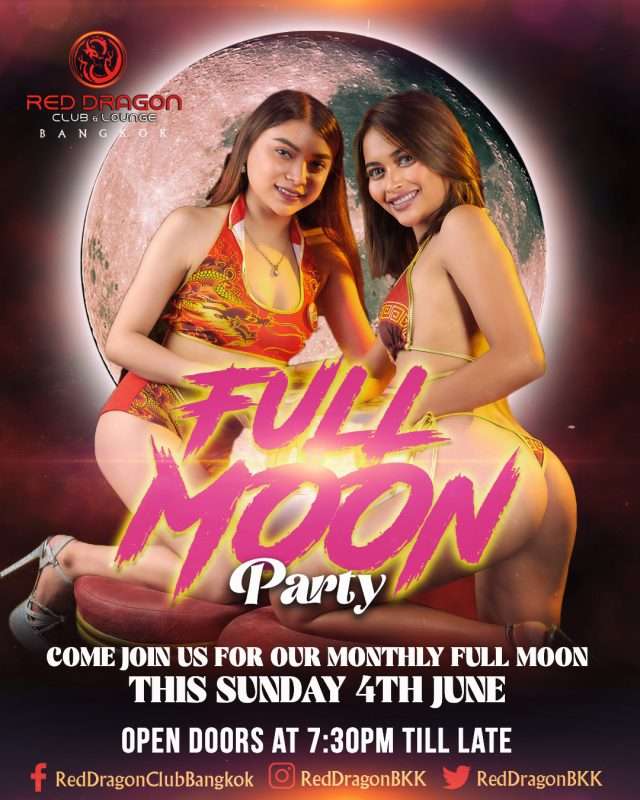 Red Dragon Club & Lounge in Nana Plaza on Saturday will host its celebrated Full Moon Party for June.
This Bangkok nightlife event is usually timed with the full moon. However, due to the observance of the Buddhist holiday, Visakha Bucha, which restricts alcohol sales, the event has been moved a day later.
Origins of the Full Moon Party
Originating on Koh Phangan island in the late 1980s, the Full Moon Party was a modest gathering to admire the full moon. Over time, it has evolved into an internationally recognized celebration, drawing a diverse crowd to Bangkok nightlife.
Bangkok Nightlife Fun: The All-Night Drink Special
The Red Dragon Full Moon Party offers a deal hard to resist: Johnnie Walker Black drinks at just 95-baht all night. This cost-effective feature has become a staple of this monthly Bangkok nightlife event.
A Touch of the Tropics in the City
Taking a cue from the beach parties of Koh Phangan, the Red Dragon Club & Lounge aims to recreate that ambiance. Staff are decked out in festive costumes, complete with glow sticks. Guests also receive glow sticks that can be transformed into a variety of wearable accessories.
The Full Moon Party doesn't just end with drinks and costumes. Post 10 p.m., the venue showcases entertaining performances, providing another dimension to the Bangkok nightlife experience.
A Staple of Bangkok Nightlife
The Full Moon Party has made its mark in Bangkok's bustling nightlife scene, attracting a regular crowd of both locals and tourists. As we approach June 4, the anticipation for another memorable community celebration is building.
If you find yourself in Bangkok this June, be sure to mark your calendar for the Full Moon Party at Red Dragon Club & Lounge.
Experience the vibrancy, the tropical ambiance, and the spirit of community that makes this event a cornerstone of Bangkok nightlife. As the full moon brightens the night sky, immerse yourself in the captivating Full Moon Party, a unique celebration of Bangkok's moonlit nights.