THAILAND –  The Thai people have heavy hearts, as they prepare to say goodbye to their beloved King Rama 9. His Majesty King Bhumibol Adulyadej is deemed by many people, as the King of all Kings.
It is with great sadness that we announce the Royal Funeral dates. Please note, the official days are as follows; October 25th, October 26th and October 27th, with October 26th being the day of the Royal Cremation.
His Majesty King Bhumibol Adulyadej is regarded by many, as one of the world's greatest ever King's in history. His Majesty King Bhumibol had a good working relationship with Her Majesty Queen Elizabeth II. It was reported that Her Majesty Queen Elizabeth flew to Bangkok and personally signed the book of condolences.
Thailand and Britain still maintain a fairly close relationship, as they have for centuries. As historians will know, the Siamese Royal Princes were sent to study at England's finest universities. How many countries have had that prestigious honour?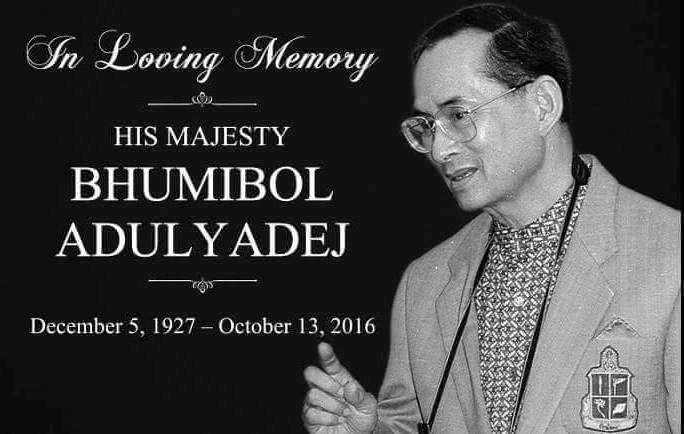 Paying Respects! His Majesty King Bhumibol will be remembered for his tremendous kindness to the Thai people. May His Majesty Rest In Peace.
Daves Raves! Many bars will be CLOSED on October 25th to 27th.
Top Tip! It's respectful to wear black and/or white clothing, from October 25th to October 27th. Of course, it's not compulsory for foreigners, but it shows you're respectful and it will be appreciated by the Thai people.
Heads Up! The "Old City" in Bangkok will be packed full of mourners. It's estimated that at least 250,000 Thais will be attending the Royal Funeral.
RESPECTFULLY THERE WILL BE NO UPDATES OCTOBER 25-27