In Thailand, bars come and bars go. And some stay vacant for a long time, until the Thai owner loses patience and puts up those bars for sale.
It's common that Thai landowners – everywhere, not just in Bangkok – tend to hold on to land or buildings, leaving them undeveloped or vacant, until they get the price they think their asset is worth.
That often runs into the decades, as evidenced by large, valuable tracts of land and bars for sale laying fallow in downtown Bangkok or Pattaya. But, apparently, the woman who owns the shophouse where Lighthouse a-Go-Go used to be on Soi Cowboy is losing patience as she watches every vacant or dark spot on the Neon Alley light up again.
A large "for rent" banner went up last, a year after Lighthouse's owners famously told the landowner to go to hell when she demanded exorbitant key money and rent increases as Covid was ending. They gave back the keys and walked away rather than be extorted.
The same woman was also approached by a female owner of several go-go bars in Pattaya. She, too, was quoted stupid money and refused to reward the greed sought for the bars for sale.
Now the old Lighthouse spot one of the last dark spaces on Soi Cowboy after shuttered building near Tilac reopened last week… as a weed shop. Perhaps Lighthouse will become the next ganja den.
Lighthouse Pattaya
There's another Lighthouse is one of the bars for sale. But Lighthouse Pattaya no longer is owned by the folks who had Lighthouse Bangkok. It was bought out by the owners of Palace a-Go-Go last year and briefly in March before closing down again.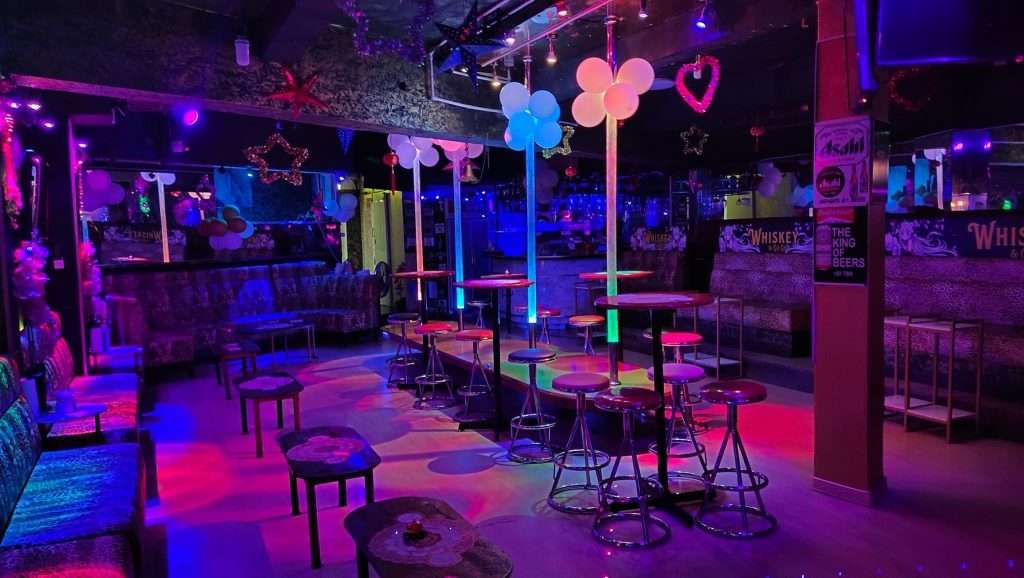 Not Dead Yet, Bars For Sale
Not all bars for sale are closed. Some are zombies, Walking Dead-style outlets whose time is numbered with the owners hoping to get something back from their investment.
One such bar, being openly marketed for a while, is Whiskey & Go-Go in Nana Plaza. Last week one partner posted an ad on Facebook and listed it on a business-sales website. The ad claims Whiskey has "great turnover", which is dubious since, if true, it wouldn't be for sale. And the photos used are not current or of Whiskey at all.
So what do they want to take over the struggling middle-floor bar?
8 million baht to buy this business
200,000 baht rent a month
600,000 baht security deposit
3+3+3 year contract
Striking Out
Also being openly marketed this week: Strikers Sports Bar in the Nana Hotel, for 10 million baht.
"The bar is one of the symbols of Soi 4. One day, the shop will have hundreds of customers visiting!" the advertising copy reads.
One day? Not likely.
Strikers has jumped around Soi 4 until signing its own death warrant by opening upstairs, at the back of the Nana Hotel's parking lot. There are cemeteries more lively than Strikers.