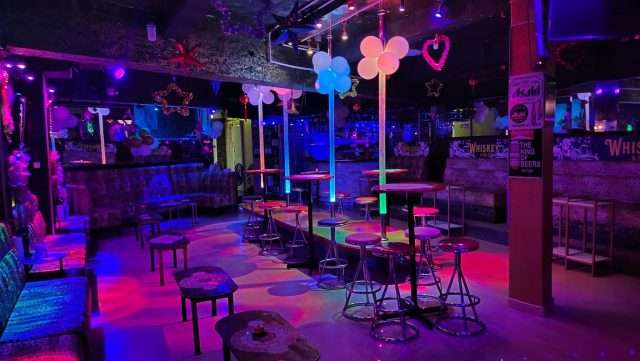 After months of being up for sale, Whiskey & Go-Go in Nana Plaza has been sold.
Whiskey, on the middle floor on the main stairs, next to Random, had been on the market for most of the year and, last month, appeared ready to change hands. But that deal fell through, one owner started advertising again and, finally, was sold, a now-former owner confirmed.
The three partners in Whiskey had been asking 8 million baht for the spot, which measures out at 1.5 units in Nana Plaza. The actual sale price was said to be considerably less.
The new owner now plans to close the bar for a much-needed renovation with plans to reopen for high season with a new name.
Whiskey, the first bar where ladies resumed dancing as the coronavirus pandemic was winding down, had a spurt of good business in early 2022, but never really worked. It's original layout was more like a lounge than go-go bar and it also struggled to attract enough ladies.
Whiskey Long a Problem Location
Many complained that Whiskey also was expensive, with a drink menu at the top end of prices in the plaza.
The bottom line, however, was that no bar featuring female dancers has ever succeeded in that spot, which universally is labeled a "bad location". It once was home to the original Erotica, before the owner flipped it with Chili, located upstairs where Tycoon aGoGo & Lounge is now.
As a ladyboy bar it did well. But despite it being next to the stairs, the bar's small door and long hallway to enter the main bar made it easy to overlook.
While the new owner hasn't stepped forward yet, one thing is know for sure: The new boss is not Tee, the plaza's biggest landlord, which is good for everyone.