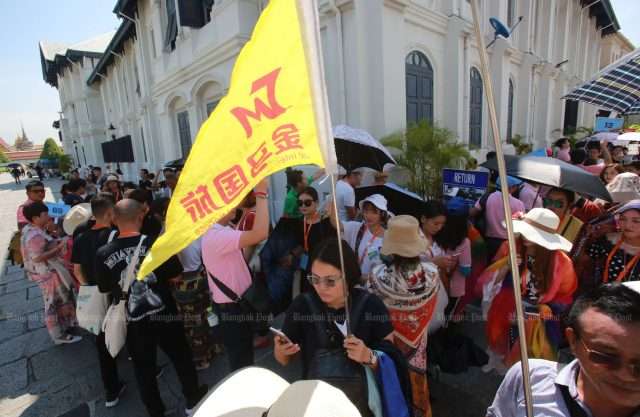 Inbound tourism operators in Thailand are calling for clarity on new visa procedures, which they believe could have significant impacts on travel activities for tour groups and large meetings and incentive groups catering to the Chinese tour groups.
Effective May 8, the Thai Consular Office in China will require every visitor to apply for an individual visa, regardless of whether they travel under the escort of Chinese tour groups. Additionally, the number of applicants per travel agent will be limited, and applicants must submit a hotel reservation document and a financial document showing at least 10,000 yuan. Some agents can only reserve visa applications three days a week with 20-30 applicants per round.
The new visa rules also require travel agents to present a certified document allowing foreign visa applications and a "yellow card" issued by the Chinese government, which must be renewed every one or two years. However, many Chinese agents' cards expired during the pandemic, and the slow renewal process caused by a lack of officers made it impossible to renew them.
Chinese Tour Groups Concerns
There are concerns that these new regulations could prompt Chinese tour groups to opt for other destinations like Vietnam, Hong Kong, or Macau, affecting Thailand's target of attracting 5 million Chinese visitors this year.
The Association of Thai Travel Agents also reported that Chinese tour groups have been overcharged by taxi drivers in Thailand, noting that the issue could further compound concerns over the new visa procedures that have been introduced for the Chinese market.
Thailand Expects 25 Million Visitors This Year
Outside of Chinese tour groups, the Tourism Authority of Thailand expects at least 8 million foreign tourists to visit Thailand in the first four months of this year and is confident that the country will meet its target of welcoming 25 million visitors in 2023.
TAT Deputy Governor for Asia and the South Pacific Tanes Petsuwan said that the agency expects at least 8 million foreign arrivals between January and April this year, with tourists from Asia and the South Pacific accounting for more than 62% of these visitors. TAT forecasts that 3.5 million to 4 million Malaysian tourists will visit Thailand this year, with visits from India and South Korea set to surpass 1 million visitors.
TAT also anticipated at least 5 million Chinese tour groups and individual visitors to visit the country in 2023. The estimation is based on the upward trend of about 10,000 Chinese tourist arrivals per day, which is expected to increase to 20,000 tourists per day in the second half of the year.
Meanwhile, the hotel industry is optimistic about the tourism sector, citing a strong average room occupancy rate of 80%, despite a twofold increase in room rates before the pandemic. The Thai Hotels Association (THA) said that the recovery of the tourism sector has also allowed certain hotels to raise their room prices as hotels gain confidence in the increasing number of foreign travelers.
TAT Gov. Yuthasak Supasorn has also advised tourism business operators to refrain from price wars and urged them to capitalize on the spending power of foreign tourists who were unable to travel due to the Covid-19 lockdown and restrictions.