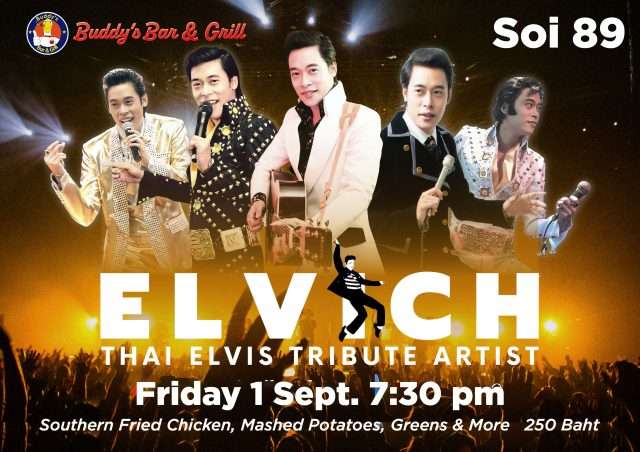 Get ready to twist and shout Elvis fans! Elvich Phatihatakorn, often hailed as Thailand's own Elvis, will be performing at Buddy's Bar & Grill's Soi 89 location Friday.
The night promises to be one of music, memories and mouth-watering Southern Fried Chicken, all for just 250 baht a person. The event starts at 7:30 p.m. and it will be an experience you won't want to miss.
Who Is Elvich Phatihatakorn?
While the name Elvis Presley needs no introduction, you might be wondering, "Who is Elvich Phatihatakorn?" Elvich has carved out his own niche in Thailand's bustling Elvis impersonator scene. He's a testament to the King of Rock 'n' Roll's enduring global legacy.
Elvis impersonators are a phenomenon all over the world, but Elvich brings his unique Thai flair to the iconic role, blending in the cultural nuances that make Thailand so special. It's this talent and passion that have made him a local favorite.
A Global Phenomenon Meets Local Flair
The tradition of Elvis impersonation is a global affair. Whether you're in Las Vegas, London or even Bangkok, you're likely to encounter a pompadoured performer belting out "Hound Dog" or swaying to "Love Me Tender." What sets Elvich apart is his ability to blend universally loved classics with local charm, embodying the kind of cultural fusion Thailand is renowned for.
Elvich's act is more than just mimicry; it's an homage to an artist who himself was a blend of various musical influences. And just as Elvis drew from blues, gospel and country to create his distinctive style, Elvich infuses his performances with nuances that make it truly Thai.
Why Elvis and Why Thailand?
The popularity of Elvis impersonators in Thailand may seem surprising, but it makes perfect sense when you consider the nation's history of synthesizing foreign and native influences. The late King Bhumibol Adulyadej and Queen Sirikit even met Elvis Presley during their state visit to the United States in 1960, symbolizing the reach of American pop culture and the mutual respect between the two nations. Just as HM the late King, an accomplished saxophonist, had a love for music, so too does the Thai population.
The Buddy's Experience
Now, what about the venue? Buddy's Bar & Grill Soi 89 is not just any bar. It's a place known for its authenticity and warm atmosphere. On this special night, they are offering a Southern Fried Chicken meal, complete with mashed potatoes, gravy, bread rolls, and greens. Imagine enjoying this hearty American fare while listening to Elvich channel the King of Rock and Roll. It's not just a meal; it's an experience—a culinary and musical journey back to the golden age of rock.
Wrap Up: Save the Date!
The lure of Elvis's music and the promise of delicious Southern cuisine make Buddy's Soi 89 the must-visit spot this September 1st. Elvis may have left the building years ago, but his spirit lives on, especially in performers like Elvich who keep the legend alive. The meeting of American rock 'n' roll and Thai culture promises an exciting, memorable evening.
Put on your blue suede shoes, mark your calendars, and prepare to be "All Shook Up!" Whether you're an Elvis aficionado or new to the King's music, this is a night you won't want to miss. See you at Buddy's Soi 89 on Sept. 1 at 7:30 p.m.. It's now or never!