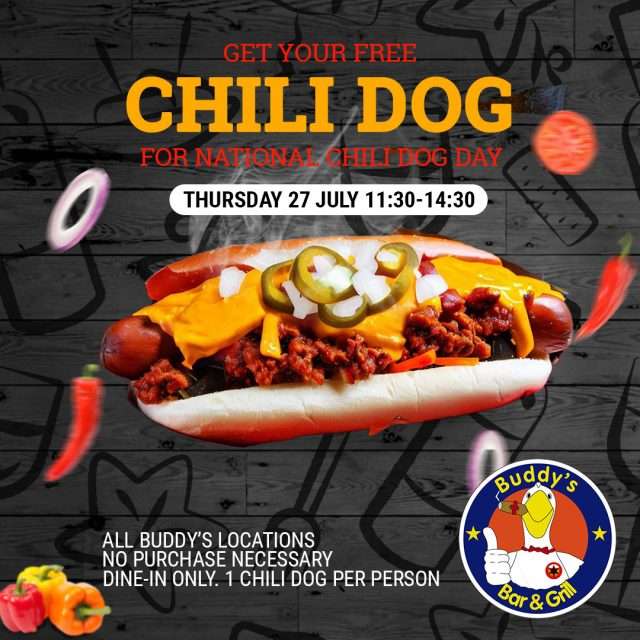 Howdy Cowboys! Saddle up and ride on down to Buddy's Bar & Grill Thursday. Why, I hear you ask? Because it's Chili Dog Day!
Buddy's is where all your buddies hang out. They have got little ole Dave 'Ravin' because y'all can get one Chili Dog free of charge. Now that is a mega-generous Real Meal Deal for you sharks to enjoy a feeding frenzy. Even the Cheap Charlies are foaming at the mouth. 
If y'all know what is good for cowboys, then spice up your life with a few Chili Dogs. It's just what a Lone Star Texan needs to put some fire in his belly. So, dig your spurs in and get moving Cowboys!
National Chili Dog Day, celebrated the last Thursday of July every year, is dedicated to a truly iconic dish – the Chili Dog. Let's journey into its flavorful history and appreciate the story behind the creation of this beloved fast food staple.
What's a Chili Dog
First things first, what are chili dogs? For those unfamiliar, they're a scrumptious blend of a traditional hot dog nestled in a soft bun, slathered with robust chili, and often sprinkled with cheese or onions. But how did this beautiful combination come into existence?
The story of the chili hot dog is wrapped up in the tale of two key components – hot dogs and chili. The former was brought to America by German immigrants in the 19th century, while the latter, chili con carne, has its roots in the southwestern United States, with many attributing its creation to the Lone Star State, Texas.
Fast forward to the early 20th century. The marriage of hot dogs and chili occurred when enterprising vendors began topping hot dogs with chili. This innovation quickly spread across the United States, morphing into regional variations. In fact, in some parts, particularly the Midwest, the chili dog is famously known as a "Coney." Over time, it has gained such popularity that we now dedicate an entire day to celebrate its deliciousness.
#NationalChiliDogDay, celebrated on the last Thursday in July, was established to honor this mouth-watering creation. Its origin isn't pinpointed to a specific date or person, much like the food it celebrates. However, its influence can't be understated. Many restaurants across the country offer special deals or new chili dog variations in its honor, and enthusiastic home chefs flex their culinary muscles by concocting their own renditions.
Chili dogs are more than just a combination of two beloved foods; they symbolize the blending of cultures and the evolution of American cuisine. This National Chili Dog Day, whether you relish a chili dog at your local diner or create a homemade masterpiece, take a moment to appreciate this delicious piece of American culinary history.
Don't forget to join the celebration by popping into any Buddy's location from 11:30-2:30 p.m. on July 27 for a free dog. And share it online using the hashtag #NationalChiliDogDay.