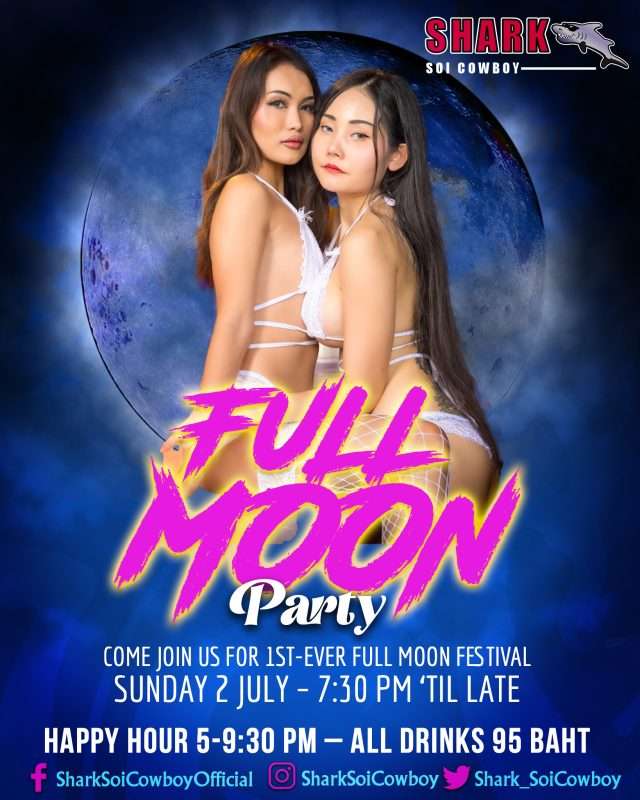 Thailand's big Full Moon Party is tomorrow, but there's no need to hit the islands: Hit the go-go bars in Bangkok and Pattaya instead!
Red Dragon in Nana Plaza began full moon parties a few months ago and, tomorrow, Red Dragon's owner also is spreading the Full Moon Madness to their bars on Soi Cowboy and Walking Street Pattaya.
Shark's Full Moon Party
Shark begins serving outside on the patio at 5 p.m., with all drinks only 95 baht for Happy Hour. The party starts inside at 7:30, with the same 95-baht deals running until 9:30 p.m.
Charlie and Ou, the papasans who created Red Dragon's parties, are now helming the ship at Shark and are sure to bring their dramatic flair to Shark's first party. Expect glowbands for girls and customers alike, saucy shows after 10 p.m. and plenty of hijinks. Red Dragon has proved the girls love the Full Moon theme and are all in great spirits all night.
At Nana Plaza, the party starts at Red Dragon at 7:30 p.m. with the same 95-baht Happy Hour until 9:30 p.m. and Johnnie Walker Black drinks 95 baht all night.
Down in Pattaya, the Full Moon Fever spikes at Fahrenheit on Walking Street starting at 8 p.m. There you'll have special islands-themed costumes, sexy shows and, unique to Pattaya, a lucky draw for customers.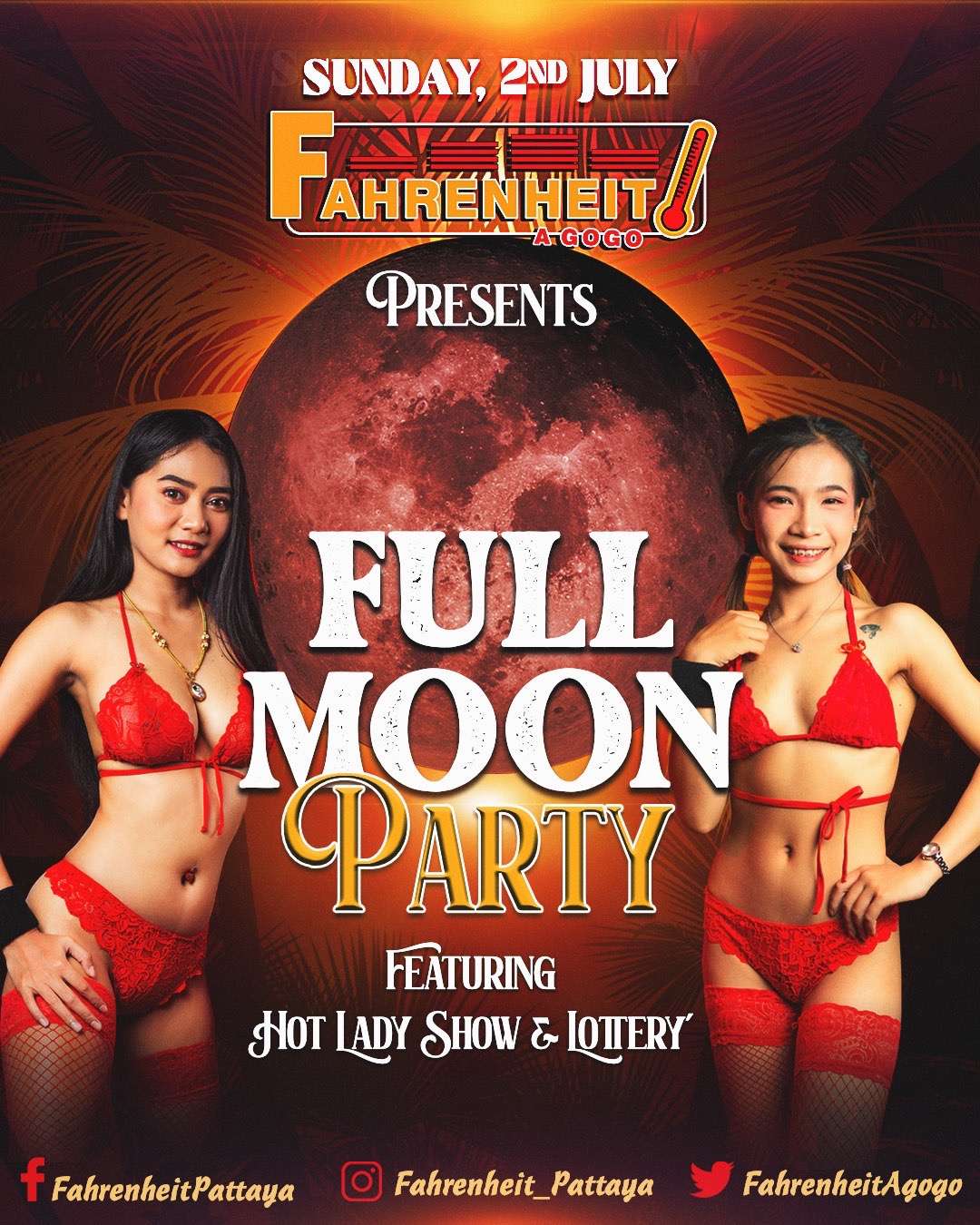 Full Moon Party: Thailand's Global Fiesta
Thailand's Full Moon Party, hosted on Haad Rin Beach on Koh Phangan, has become a global phenomenon due to its unique concept, stunning location and vibrant atmosphere.
An epitome of a paradisiacal festival, it's held under the natural illumination of a full moon, with the shimmering ocean on one side and tropical palm trees on the other. Revelers from all around the world converge there, creating a sense of universal camaraderie.
A riot of colors and sounds, the party boasts an impressive array of music, from reggae to techno, played by various DJs, thus catering to diverse tastes. Fire dancers and jugglers add a sense of awe and visual spectacle, while local food and drink stalls provide authentic Thai flavors.
The FMP is a testament to Thailand's ability to blend tradition with modernity, offering a unique experience that's part beach party, part cultural event, and wholly unforgettable. Its worldwide fame draws curious travelers, making it an essential part of the global party circuit and a must-see for any avid adventurer.
While there will be no fire shows, the Full Moon parties at Red Dragon, Shark and Fahrenheit will bring the same spirit, color and flavor to your favorite go-go bar.