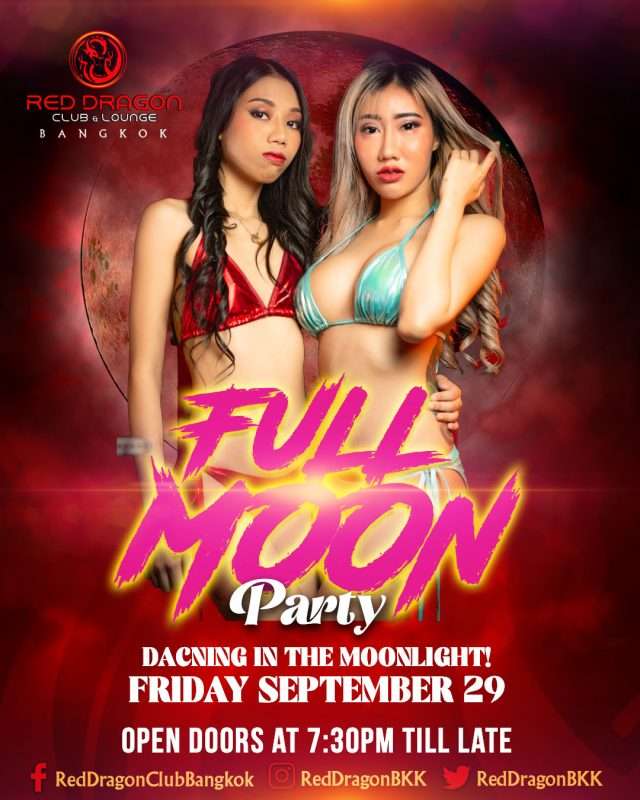 It's Full Moon Party time again at Red Dragon and Shark, so get ready for tropical delights again in Nana Plaza and Soi Cowboy Friday.
Clubs Buzzing with Energy
Red Dragon and Shark are not just any go-go bars: They're where the Full Moon Party atmosphere is supercharged with vibrant lights, pounding beats and the infectious buzz of a big crowd. They're the kind of place where the energy hits you the moment you walk in
Nestled in the renowned Nana Plaza, Red Dragon is smack dab in the middle of the action. It's not a tranquil beach, but it's a wild, spectacular spot in a world-famous entertainment complex known for its lively spirit and thrilling allure.
Red Dragon and Shark are magnets for guys from every corner of the globe, all flocking there for the company of young, dynamic Thai go-go dancers. It's the diversity that adds that extra sprinkle of spice to the party vibes.
Drinks that Won't Drain Your Wallet
Ready to get your drink on without breaking the bank? Full Moon Party night at Red Dragon and has you covered. At Red Dragon, Smirnoff vodka drinks are up for grabs at just 95 baht all night, and if you roll in early, every drink is 95 baht until 9:30 p.m. during happy hour.
The same happy hour is on at the Shark Full Moon Party with draft beer on at just 95 baht all night.
Full Moon Party Entertainment Overload
Beyond the norm, party night is brimming with extra pizzazz! Expect not just the usual stage dancers, but special Full Moon0themed shows that promise to elevate the night to another level of awesome.
Whether you're into bouncing to hip-hop, swaying to dance beats, or rocking out, the DJs at Red Dragon and Shark spin a mix of everything for the Full Moon Party.
Heading to Red Dragon is a breeze! Whether you're a local or a traveler, finding your way is easy-peasy, thanks to its prime location near the Nana BTS Skytrain station. And, of course, Soi Cowboy is right at the Asok BTS or Sukhumvit MRT.