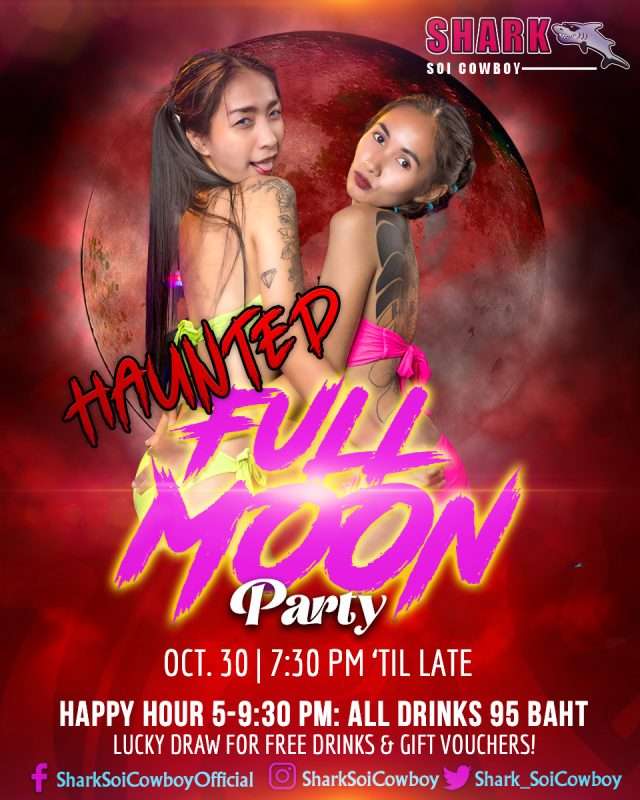 Soi Cowboy's turning it up a notch Oct 30 with Shark Club's Haunted Full Moon Party.
Haunted Full Moon Magic Only at Shark
Party peeps need to imagine the iconic Shark Full Moon nights, but with a splash of Halloween enchantment. Stepping into Shark, you'll be met with that Thai-style Full Moon energy, but amplified with eerie Halloween vibes. Glowing in ghoulish lights, pulsing with haunting beats, the Haunted Full Moon spirit will be unmissable.
Drinks to Quench Every Ghost & Goblin
Alright, here's the tea: Shark's drink deals are off the charts! The draft beer will be flowing at 95 baht all night long, not just during our bewitching happy hour. And for the early ghouls ready to kickstart the spooky, tropical night, every drink is 95 baht until 9:30 p.m. Cheers to haunted hydration!
Entertainment That's Full Moon-Certified
Get ready for a sensory overload. On top of Shark's signature go-go dancers setting the dance floor aflame, the Haunted Full Moon night promises an extra layer of spine-tingling thrill. We're talking captivating, eerie performances that blend seamlessly with those beloved Full Moon Party beats. There also will be a lucky draw for free drinks and gift vouchers.
Soi Cowboy: The Haunted Full Moon Runway
Soi Cowboy on Halloween? Think of it as a wild, colorful and slightly haunted runway. With bar workers and patrons turning the street into a Halloween fashion show, costumes and makeup galore, the vibe is infectious. It's like a Halloween pre-game, setting the stage for Shark's main event!
But Wait, There's More: The Double Trouble!
Who doesn't love a good back-to-back bash? After the Haunted Full Moon spectacle, brace yourself for Shark's very own Halloween party the following night. Yup, that's right! Two nights of unadulterated fun and a chance to flaunt those costumes twice. It's the Halloween dream!
Finding Shark: Your Full Moon Destination
Lost amidst the Halloween chaos of Bangkok? No worries. Shark is a glowing beacon in the heart of Soi Cowboy. Whether you're a local or in town for some Haunted Full Moon fun, Shark is your spot. And hey, if you're navigating the city's web, the Asok BTS or Sukhumvit MRT will drop you right into the action.
Why Shark's Haunted Party Is Your October Highlight
October's calendar might be brimming with events, but here's the spill: Shark's Haunted Full Moon Party isn't just another blip on the radar. It's where the Full Moon's allure and Halloween's spookiness collide, creating an otherworldly experience. It's the story you'll tell over and over, the memory you'll cherish forever.
So, ready those costumes, gather the squad, and get set for a legendary evening of dance, drinks, and Haunted Full Moon delight. It's your chance to make some magical, haunted Thailand memories.