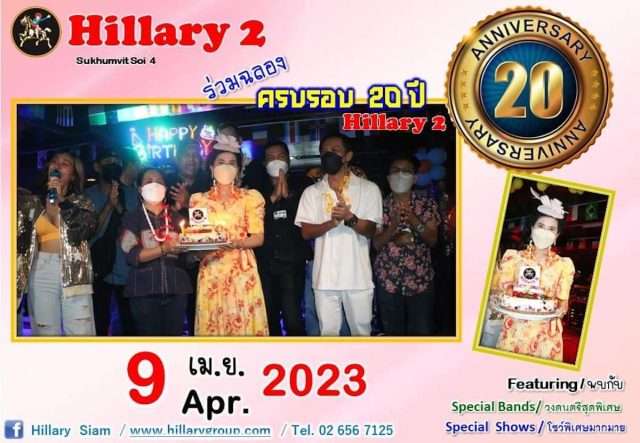 It's been 20 years since Hillary 2 opened its doors on Sukhumvit Soi 4 and on Easter Sunday the popular nightspot will celebrate its 20th anniversary with a monster party.
Hillary 2 is a classic spot on Soi 4, a close walk from Nana Plaza. Although not known for being classy – nearly all the women are on the game – the bar offers a club-like, high energy feel with lively music, some room to dance and a local-looking atmosphere.
There is no entry free, but you will be forced to buy a drink immediately after entering, even if non-alcoholic. There is a pool table and usually live music. If you start dancing with a few friends, it could easily get the whole venue dancing, which is usually full.
Hillary 2 Took Over From Climax
Taking over from the closed Climax Club on Soi 11, Hillary 2 stays open "late" with music that suits both Thai and Western tastes.
I was friendly with the security staff at Hillary 2, so I was allowed to take some photos of the band in action while there. What I like about the live bands there is they interact with the audience. This makes the crowd feel part of the entertainment. Why don't more live bands do this?
Sunday night there will be live bands and special shows, as well as the requisite monks blessing and photos early.
It's a great place to have a nightcap and soak up the lively atmosphere. You are encouraged to party, dance, sing, drink and enjoy!