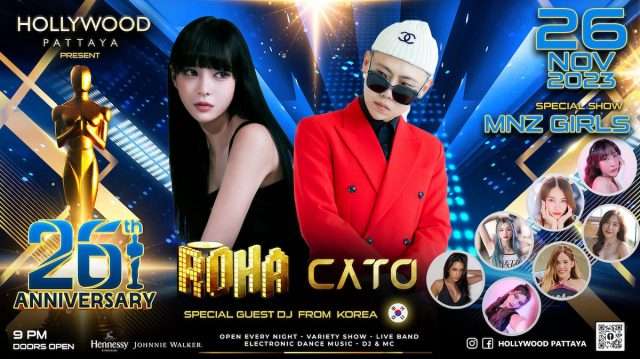 Hollywood Pattaya celebrates 26 years at the top of Pattaya's entertainment industry with a party featuring music, dance and prizes.
Sunday's event at Hollywood Pattaya kicks off at 9 p.m. and features renowned Korean DJs Roha & Cato, alongside performances by the MNZ Girls, a group gaining popularity in Thailand as net idols. The club, a staple in sinc City's entertainment landscape, is also offering guests the chance to win the latest iPhone models among other prizes.
Hollywood Pattaya VIP Access
For attendees seeking an upscale experience, Hollywood Pattaya is providing VIP and floor table reservations. These exclusive bookings promise a more intimate setting to enjoy the performances and are available through direct contact with the club or via the Line app.
Resilience Through the Years
Hollywood's history of overcoming adversity includes navigating the challenges of the Covid-19 pandemic. The club temporarily modified its business approach during the health crisis, demonstrating adaptability and commitment to health and safety. The Pinitakan family-led venue has since reopened, continuing to serve as a premier destination for nightlife enthusiasts.
In 2004, Hollywood survived a significant fire at its original South Pattaya Road location. The blaze caused substantial damage but, due to the venue's effective safety measures, all patrons were safely evacuated.
As it celebrates 26 years, Hollywood Pattaya not only looks back on its storied past of providing top-notch nightlife but also eagerly anticipates the future.
The anniversary is a testament to the club's long-standing tradition of entertainment excellence in Pattaya.
For more information about the anniversary event and to secure reservations, please contact Hollywood Pattaya through Line, Facebook or Instagram.