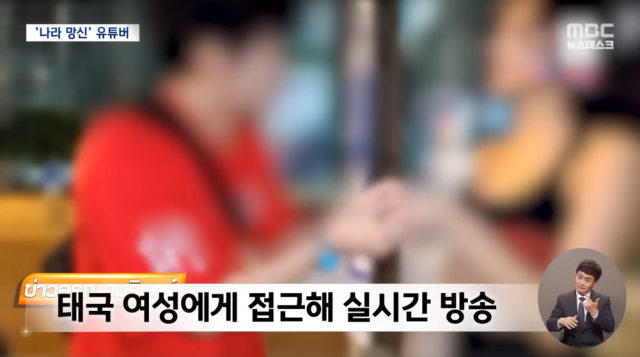 The South Korean embassy in Bangkok warned Korean YouTubers from the North Asian country against uploading "inappropriate" content while traveling in Thailand.
The embassy specifically warned against content on YouTube that includes the sexual harassment of local women.
The warning came after Thai news outlets, including Bright TV and Amarin TV, reported earlier this month about a male South Korean YouTuber who was accused of filming Thai women in the streets without their consent and sexually harassing them. The embassy's warning was prompted by these reports.
A Thai woman who was interviewed Thai media said she felt "scared and uncomfortable" when the man, holding his camera, approached and asked her out for a drink.
She rejected him multiple times, but the YouTuber did not leave and continued to film her without permission. The woman also said when she visited his channel, there were dozens of videos of him harassing other Thai women.
The videos also featured vulgar and obscene content in local hostess bars and the sexual objectification of Thai women including a hotel staffer.
The YouTuber's videos have been taken down, but there are still other male Korean YouTubers with similar content on their channels.
In response to the criticism from Thais, the South Korean embassy issued a warning to its citizens to refrain from such behavior, which violates Thai law.
"Asking random people out for drinks in the streets or visiting local hostess bars for video content may be offensive to Thai people. Also, filming people without consent may be punished on charges of breach of personal information and privacy," a statement issued by the embassy said. "We ask our citizens who visit or live here to be cautious not to cause any harm to the country's dignity."
Korean YouTubers Scandalous at Home, Too
Both the South Korean news media and online users condemned the YouTuber for "disgracing the nation."
"The Thai police should arrest him immediately. He is an ugly Korean," read a comment on Naver's news section.
Another commenter wrote, "I've seen other YouTubers doing similar things in Southeast Asian countries. It's a disgrace. The government should revoke their citizenship."
The criticism at home came fast and furious against the YouTuber:
"Wow, you guys are doing that s#it overseas as well? Don't you guys have any f@cking shame? You guys don't know how to act in public…"
"Ha… this pisses me off so much."
"They make me want to throw up."
"What is their problem?"
"Please send them to jail."
"Ah, what is there problem?"
"They are a national disgrace."
"Please just kill them."
"To the Thai people, please just arrest them (YouTubers) and send them to prison in Thailand."
"These days, anti-Korean sentiment is rising overseas, but I have nothing to say, LOL. I'm so embarrassed to be Korean.