Nana Plaza hidden videos used to be a big problem, for both bar owners and customers, but strong action by management and security stamped it out, until recently.
The strict "no Nana Plaza hidden videos" policy was begun under the Plaza's first marketing manager seven years ago. At the time, YouTube was full of secret-cam videos by the likes of Bangkok112 and others. There were also lots of (mostly Japanese) taking photos and videos in bars like (the old) Rainbow 1 and 2. Recently, Nana's largest tenant was alerted to a regular customers taking photos illicitly and posting them to Twitter.
The marketing manager "went to war" against all the sleazy YouTubers and their Nana Plaza hidden videos and managed to have most of their channels "demonetized", meaning they no longer could make any money off their Nana Plaza hidden videos because Google wouldn't serve ads on them. So most gave it up.
In some cases, the manager got YouTubers banned from the Plaza entirely.
Nana Plaza hidden videos disappeared
In the years since, Nana ownership and security embraced the former manager's philosophy and now it's very hard to stand in the open and take a photo. And most the sneaky-cam videos have disappeared as well, which made the publication of one particularly vile hidden video a month ago particularly jarring.
One millennial sleazeball, who runs a minor YT channel (1,800 followers) devoted to "secret" erotic vacation videos, was apparently wearing "spy glasses", a camera mounted in his eyeglass frames like Google Glass, which Google finally stopped selling and supporting earlier this year.
He and a mate shown and identified as Mark on the video walked the floors of the Plaza, gawking and commenting (and hysterically failing to realize some of the "girls" they were oogling were ladyboys). Then they walked into a bar which that remain nameless here. That's where it got really bad.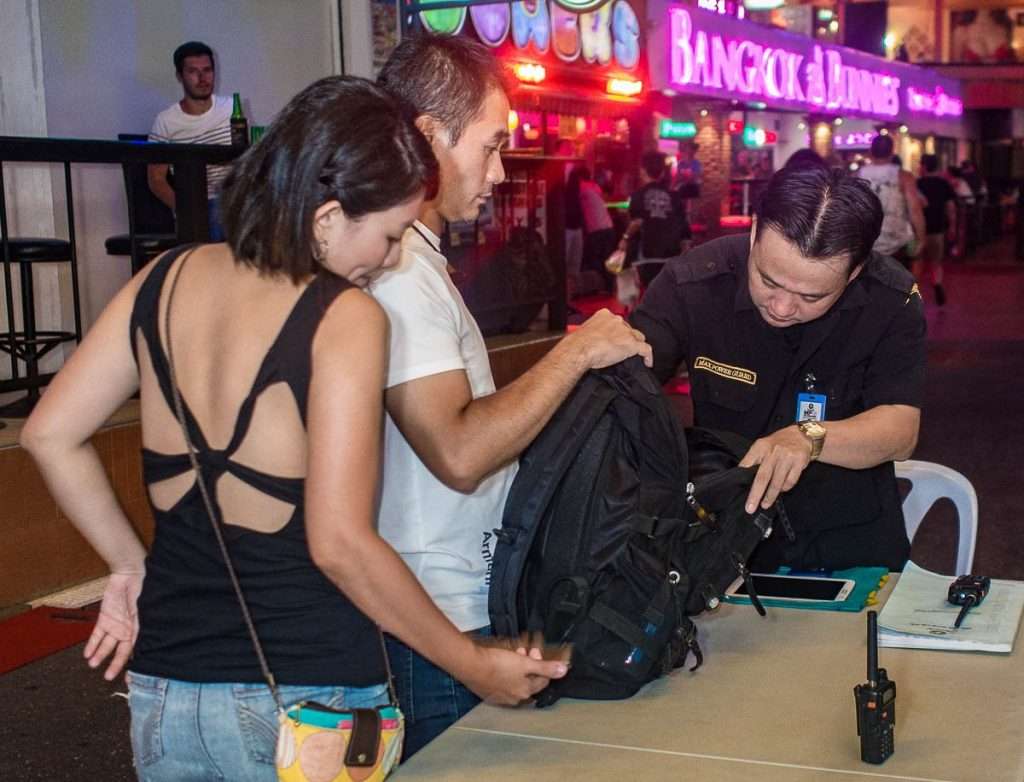 There was no nudity shown – because the slimeball knows he'd have his "big earner" taken down – but he did sit and "interview" an unsuspecting go-go dancer, whose face and voice are both crystal clear.
She has no idea she was being filmed. A mamasan is shown listing bar fine and girl prices, a straight-up violation of YouTube's policies against promoting prostitution. It's also potentially very troublesome for the bar, Nana Plaza and red-light districts in general. Of course, it's humiliating for the girl involved. He didn't care. The camera kept rolling.
The scumbag then kept filming his Nana Plaza hidden videos as the took his barfine to his hotel and rode up in the elevator with his buddy Mark and the girl he also barfined from the same go-go.
The video blatantly violates Thailand's strict Computer Crime Act and, if the lowlife is still in the country, exposes him to arrest and jail time. He has posted similar videos in soapy massages, Soi Cowboy and other nightclubs, often accompanied by Russian hookers.
Privacy, copyright and legal complaints have been filed against the channel and video and here's hoping this lowlife gets banned from YouTube.