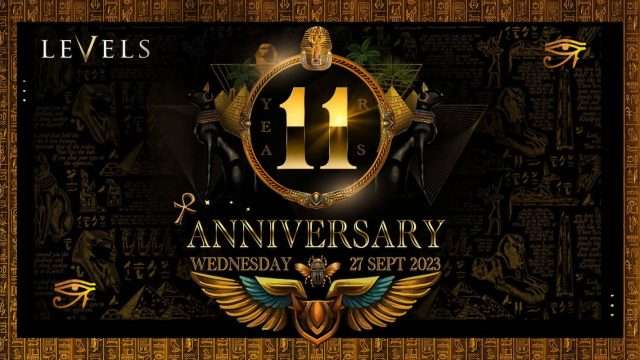 In a city where nightclubs come and go, the Levels 11th Anniversary on Wednesday celebrates 11 years of a club powering nightlife on Soi 11.
The 11th Anniversary Party at Level marks more than a decade at the pinnacle of the city's vibrant nightlife scene.
Levels 11th Anniversary
Levels is inviting patrons, longtime supporters and anyone looking for an unforgettable night to the Soi 11 club at 10 p.m. Sept. 27.
It's not just about marking another year for Levels, but celebrating the ever-evolving and innovative spirit that has made the club legendary.
In a city where nightclubs often fade into obscurity, Levels has remained steadfast. That's no small feat in Bangkok's competitive nightlife scene.
The club's longevity is a testament to owner Panthera Group's commitment to excellence, the fantastic experiences Levels offers and the unwavering support from its dedicated guests.
Step into the Land of the Pharaohs
For the Levels 11th Anniversary, the club decided to do something uniquely grand, and what could be more regal than the mystique of ancient Egypt? This year, as the neon lights of Sukhumvit blend with the shimmering sands of the Nile, Levels is inviting guests to a party fit for the Pharaohs.
The Levels 11th Anniversary will include performances and attractive dancers in Egyptian attire. Participants are also invited to dress in Egyptian-inspired attire, adding to the evening's charm.
Exclusive Preview
While the grand doors of our Egyptian palace swing open for the Levels 11th Anniversary to the public at 10 p.m. There will be an exclusive hour for a select few. The 9 o'clock hour is strictly invite-only.
At Levels Club and Terrace, it's all about bringing the thrills and ambience of Europe's nightclub scene to Bangkok, perfectly matched with high-quality entertainment, luxury table service and the best in dance and drink.
Whatever your taste, Levels has the night you're looking for with its wide range of international resident DJs, star guest DJs and themed event nights.
For bookings, see the Levels website, or call 082-308-3246 until 1 a.m.