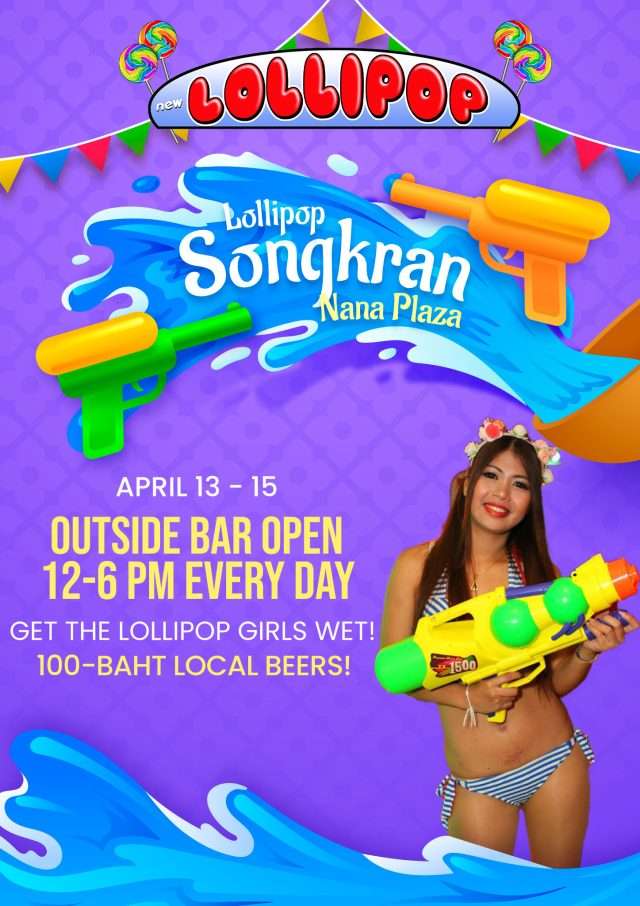 In a surprise, last-minute decision, Nana Plaza Songkran will return epic water wars, with Lollipop leading the bars opening in the afternoon April 13-15.
The last time water fighters were allowed inside the Sukhumvit Soi 4 bar complex was 2018, before Nana Plaza got its roof. There was no Nana Plaza Songkran inside during 2019 and there was no Songkran from 2020-2022 due to Covid-19.
But all the restrictions are off this year and Thailand is set to have its biggest Songkran in memory. Soi Cowboy will go full-tilt, with Suzie Wong, Shark, Baccara and Dollhouse all opening early as tourists and locals descend upon the Neon Alley for a full-day of watergun madness.
Nana Plaza Songkran is Crazy!
Not to be left out, Nana Plaza's owners had a last-minute change of heart and will join the Soi 4 Songkran party.
Lollipop, the first bar on the left as you enter the Plaza, will open its patio bar from 12-6 p.m. Thursday, Friday and Saturday, with 100-baht Singha, Chang, Leo, San Miguel Light, Heineken and Asahi all day.
Check out the gallery of photos below from 2018 and you'll see Nana Plaza Songkran is crazy!