Bangkok's red-light areas have cracked down on cameras and mobile phones, making their loudest case yet against illicit photos and hidden video.
While some will feign ignorance, it's all but impossible now to not know that photos and video anywhere in Nana Plaza, not just inside the go-go bars, are prohibited. Patrons' bags are searched as they enter the Plaza's Soi 4 entrance and, after passing through security, they are greeted with a new red-and-white "no photos and video" sign directly in front of them.
In case they somehow miss that sign, meter-wide vinyl no photos and video banners have been glued to the tiled floor of the Nana Plaza courtyard at the start of each corridor next to the Nana Beer Garden.
Upstairs, affixed to the safety barrier on the top of the outside-counter railings, are the same "no photos and video" signs. The smaller signs are placed at spots between bars where people would gather and snap photos and video of the goings-on below and across the plaza.
Photos and Video Crackdown
The photos and video crackdown comes in the wake of two young Americans used Google Glass eyeglass cameras to film outside and inside Nana Plaza go-go bars, including footage of prostitution and rates openly discussed. Efforts to have the video – which blatantly violates Thailand's Computer Crime Act – removed so far have been unsuccessful.
While, over the years, countless hidden photos and video have been taken inside Nana Plaza and posted online, none have been as damaging or humiliating as the low-quality video posted by the two slimeballs. Each took a lady out of a bar and continued to video them even inside their hotel rooms. Their faces and voices are clearly visible and heard, causing both women devastating embarrassment.
The owner of the go-go bar and Nana Plaza's owner were furious, as the video is just the type of ammunition a crusading Thai politician or a hopelessly corrupt Thai police commander could use to shut down Nana Plaza entirely, revoke its coveted Entertainment District designation or extract even more bribes from business owners.
If the worst happens, you can blame two idiot millennials in search of likes and ad-click money.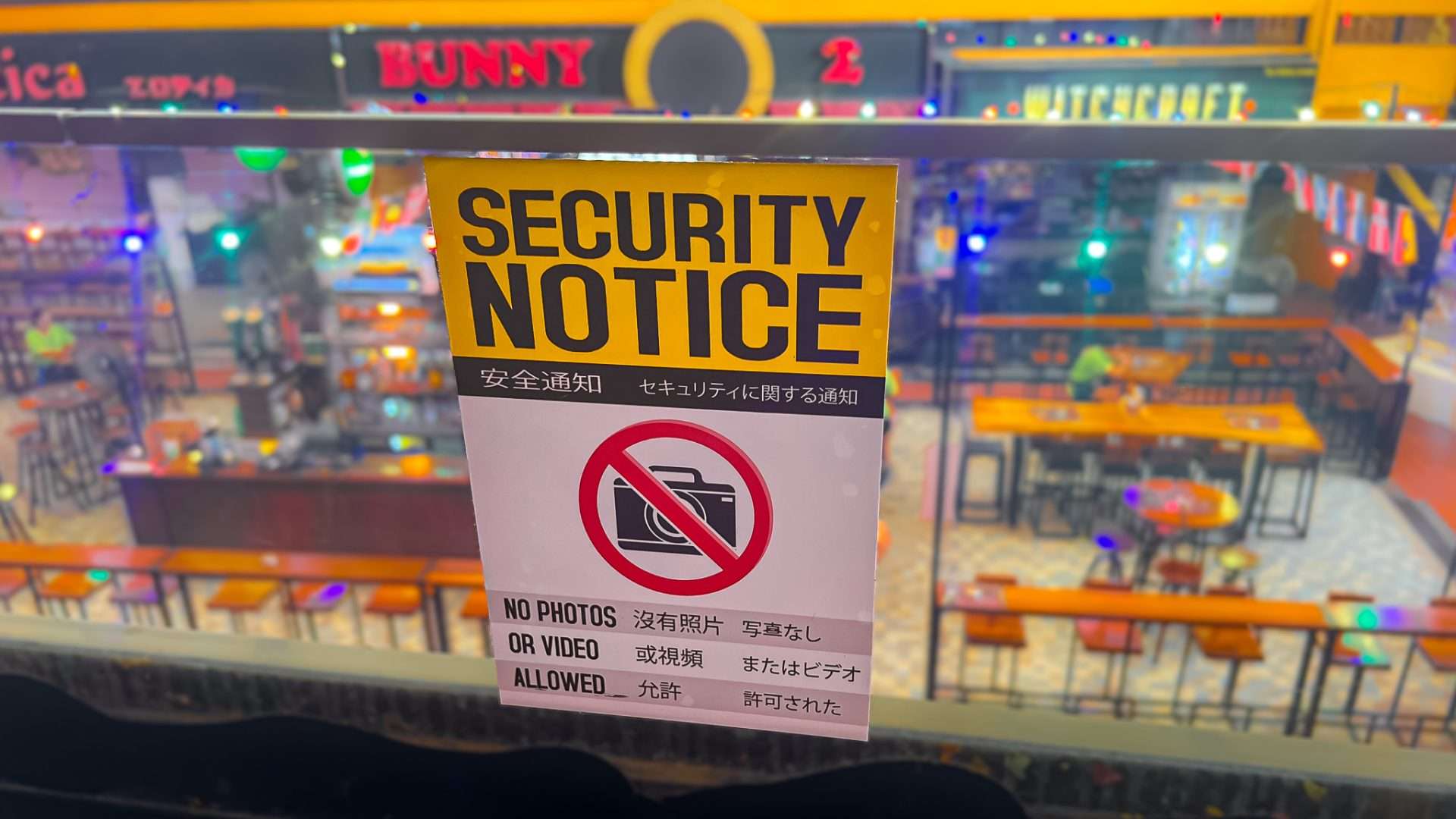 Hidden-Photo Tweeters
Dumb and Dumber weren't alone in violating the no photos and video rule that has been the norm for decades, however. While the outside signs in Nana went up because of them, the crackdown inside the bars is due to self-entitled expats and tourists who think the rules don't apply to them. And not just in Nana Plaza.
"What part of 'Do Not Take Photos and Video' don't you understand?" manager Dennis of The Dollhouse on Soi Cowboy tweeted recently. "Respect that ladies."
In the tweet, Dennis included photos of staff putting up another "No Photos" banners … directly next to large, fluorescent lettering saying the same thing.
Back in Nana Plaza, Billboard, which always has had A4-sized "No Photos" signs around the bar, put up movie-poster sized signs right above the Jacuzzi.
"It's a constant problem. Almost every night we catch someone trying to take photos and video," Billboard's owner said.
At Whiskey & Go-Go, where a large contingent of former Patpong go-go girls recently migrated, ownership came down on Patpong groupies who had followed them, mobile cameras in hand.
"Those aren't authorized. We can't have that and we don't want that," one of Whiskey's American owners said earlier this month. "If we let one guy get away with it, then other guys will then they can do it too."
Tee, Nana Plaza's largest tenant, also was alerted by Nana Plaza's ownership company to similar hidden photos taken inside Twister BKK and published on Twitter. Tee first put up more signs and ordered staff to stop anyone playing with their mobile phones in the expansive bar.
When that didn't work, Tee instead came down on the girls, suspending one dancer and threatening to fire others if they posed for unauthorized photos while in the plaza.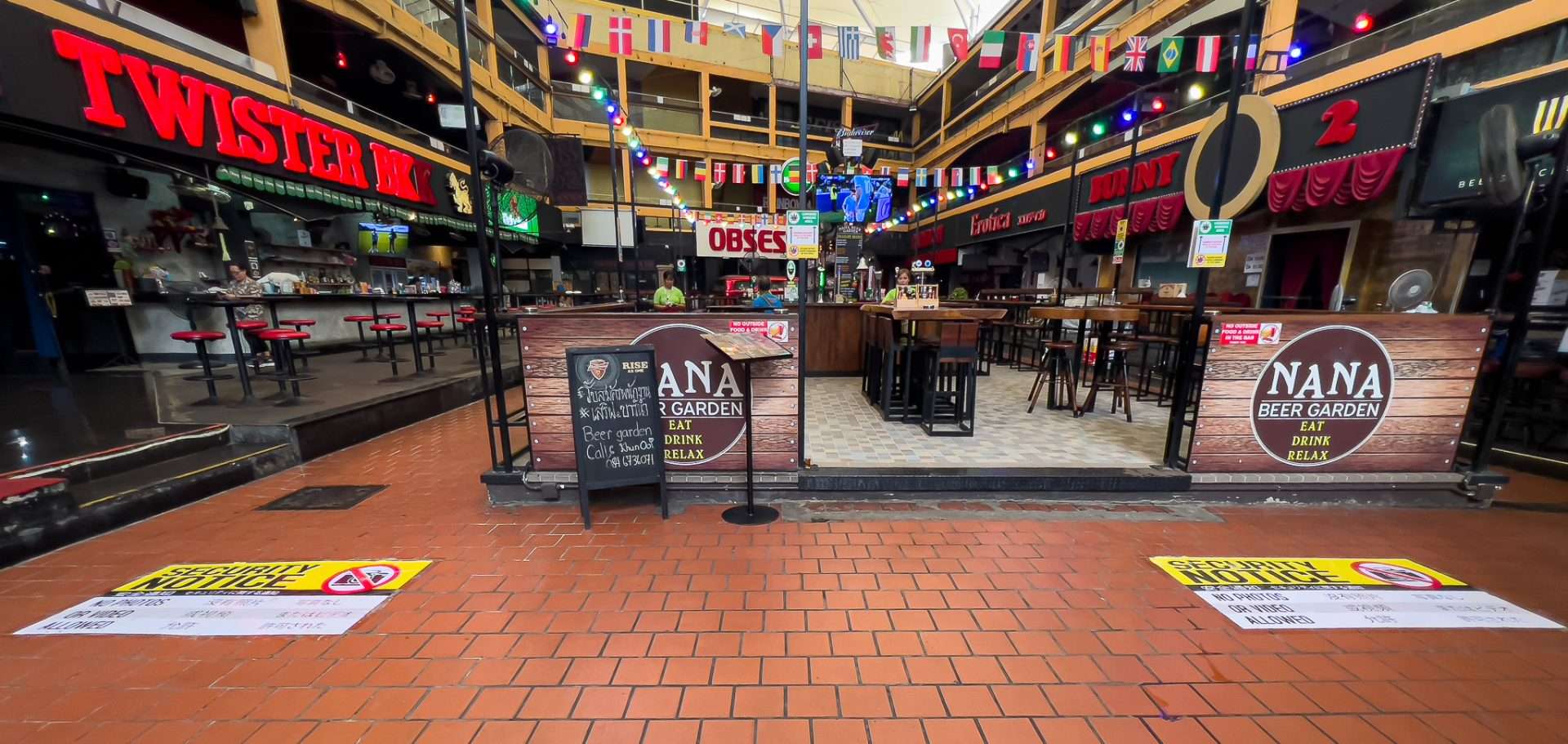 Authorized Photographers Allowed
The key word there, of course, is "unauthorized". Bar owners don't want customers taking phots because they don't want any illegal activity or nudity being published online. Furthermore, many ladies don't want to be in photos published online. Of course, there's also the basic business logic that crappy mobile photos inside go-go bars make the girls look bad and don't convey the image bar owners have invested in.
None of that logic seems to register with the thick-skulled pea brains who rant online about how their freedoms and privileges have been violated. To them, it's all a personal crusade against them, perpetrated by people who, in fact, had no say in the policy.
To be clear, the "no photos" policy at Nana Plaza applies to customers, dancers and service staff. Digital a-Go-Go, which has been shooting photos in Nana Plaza since 2016, is unaffected. In fact, Digital a-Go-Go was in Nana shooting photos at Mandarin and Red Dragon this week. Other approved photogs, such as Stickman Bangkok and Cambodia Jim, also are allowed.
Digital a-Go-Go is hired by Nana's tenants and their owners. The plaza's parent company collects rent from them, but has no say over any (legal) activities inside the bars, including how they choose to market their businesses.
Furthermore, Digital a-Go-Go is authorized by Nana Plaza's ownership to shoot photos anywhere inside the plaza and often is accompanied by security guards as photos are taken, such as recent shots outside Geisha.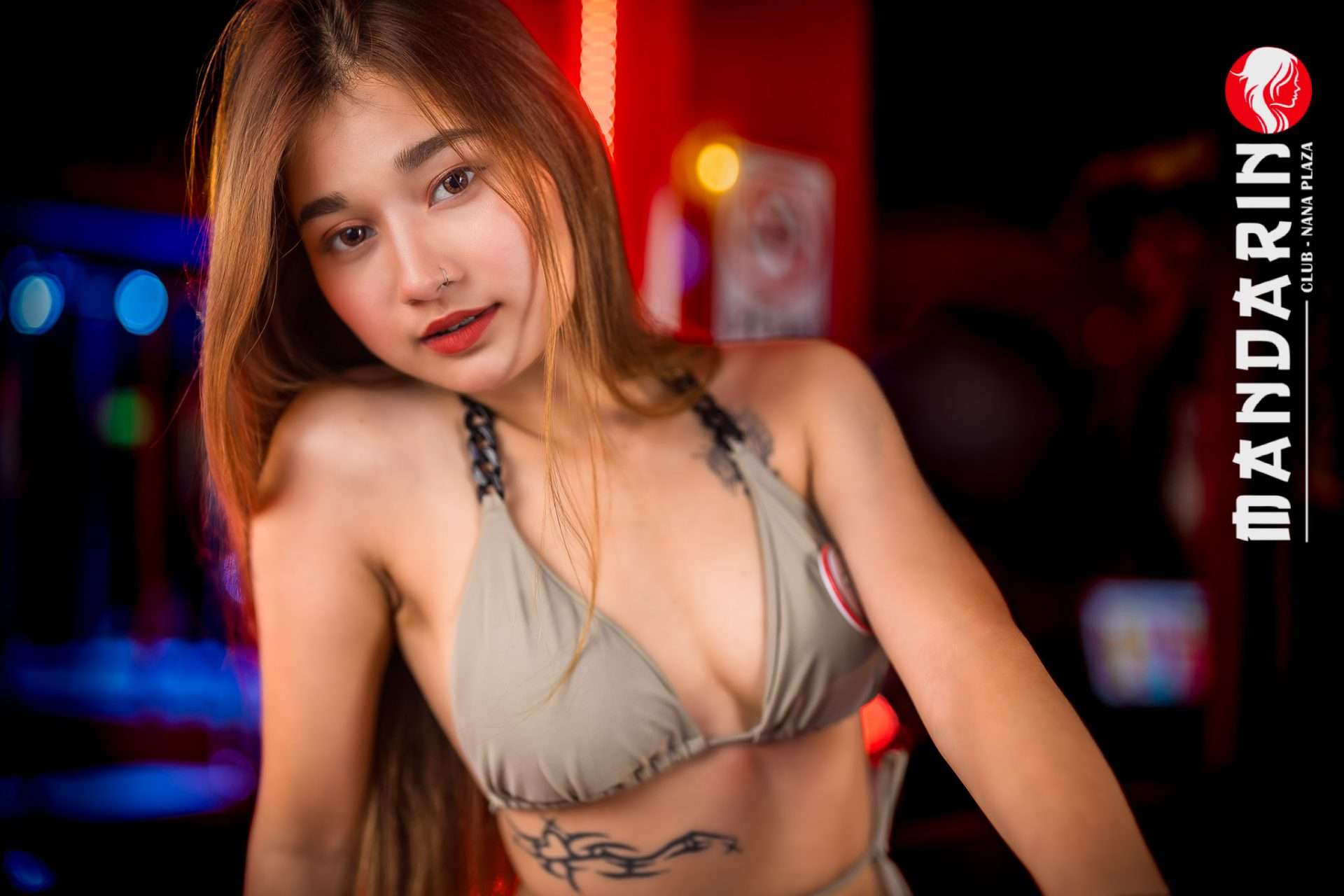 No Photos Make a 'Safe' Environment
Nana Plaza's ownership and bar managers – and this holds true for Soi Cowboy owners as well – want people to feel safe and comfortable coming out and enjoying themselves in an environment and doing things they likely would be criticized or "canceled" for back home, if their faces somehow ended up in a YouTube video or tweet.
"I think guys in their 20s and 30s would still love to take trips here … but they're terrified," wrote a Stickman Bangkok reader in a May 28 letter. "The problem is the use of phones and video.
"Younger people know exactly how fast they can be cancelled for just being seen near a red-light area. One recording now and it could end their way of life 30 or 40 years from now."