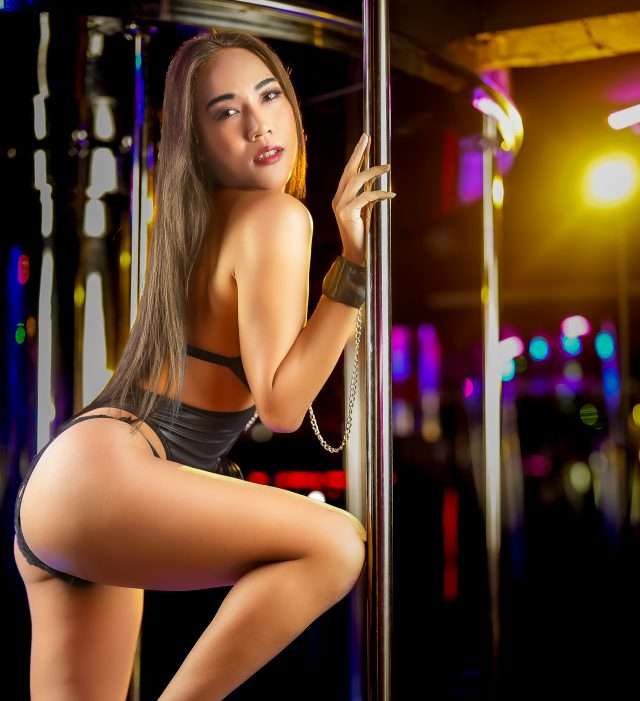 Would you or wouldn't you? That was the question Stickman Bangkok asked when he published this new photo from Digital-a-Go-Go.
In his Sunday column, Stickman didn't state where this sexy strumpet worked. But Dave the Rave is here to educate you. But, before I do, let me repeat the question:
Would you or wouldn't you?
If you're drooling and nodding your head yes, then, congratulations, you fell for a ladyboy. (Or, perhaps you knew that and ladyboys are what you're after…)
This dancer works the pole at Obsession bar in Nana Plaza, which hired Digital-a-Go-Go to come in and do the first paid photos there since, well, I did them years ago!
Obsession, from the outside, looks like a big bar, as it stretches along Nana's back end on the ground floor from the stairs to Rainbow 2. But step inside and you'll be shocked to see how small it is. The stage is quite large for the space (and has a rotating carousel that no longer rotates) and the space between the stage edge and stadium seating is not big.
Obsession opens at 8 p.m. and quickly starts filling up with ladyboy lovers, most of them Japanese or Korean. The Wednesday night Digital-a-Go-Go did his shoot the bar didn't open until 8:30 p.m. and the Japanese punters were nearly kicking in the doors!
Don't be concerned if you guessed this hot dancer was a natural-born woman. It's a gorgeous shot and the pose hides the usual ladyboy hints. In fact, I was tempted to make her the Dolly of the Day but decided in the end to reserve the Dolly feature for real girls.
Dolly of the Day and other lady photos are shot by Digital-a-Go-Go, Bangkok's No. 1
photography and marketing agency for the nightlife industry. Follow them on Facebook, Twitter & Instagram.
And, remember, you can get photos of Dave's Dolly of the Day on Instagram. Just follow the image stream
here. I might even include this one on my IG. Check it out.