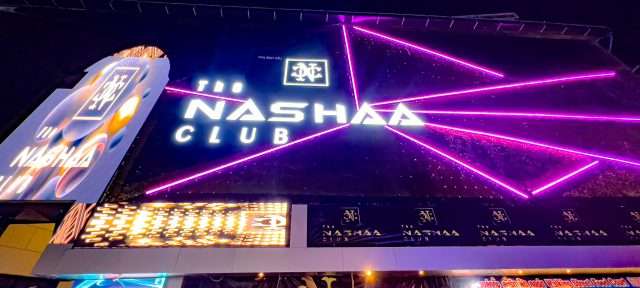 The closure of Pattaya Marine Disco brought down the curtain on one era. Now it's about to rise on another: Pattaya Indian Nightclubs
Marine Disco closed in April (and briefly reopened, only to close again), but make no mistake. It's gone forever. In fact, the entire Marine Plaza, which once house two versions of the Peppermint go-go, fabled ladyboy hangout Jenny's Star Bar and the tourist-trap Muay Thai boxing ring, is now demolished and fenced off. Only the original Marine sign remains.
Going up behind the tin fencing is an icon to what Pattaya has become: India's vacation destination. Pattaya Indians nightclubs are multiplying and a new one – bigger than all the others – is rising. Standing four stories tall, the multi-level club also will have retail and possibly even hotel rooms, making it the most developed Pattaya Indian nightclubs.
Not a great deal about the project is public, so little is know about the developers or the money behind the project. But it marks the largest swell amid the waves of Indian investment, particularly in Pattaya Indian Nightclubs on Walking Street.
Pattaya Indian Nightclubs Galore
Nashaa, Tony's by Nashaa, Jannaat, Raas, Cavalli, Rajah, Leela and the coming JC Jalwa all are big, glitzy and high-end Pattaya Indian nightclubs, all aimed at the Indian market. Indians clubs now outnumber farang clubs like Insomnia, Myst, Lucifer, 808 and The Tunnel. And there are more like Banaras in other parts of town.
More than anywhere else in Thailand, Pattaya has benefitted from the Indian invasion that began during the coronavirus pandemic. And now that the government has removed the requirement for Indians to obtain tourist visas in advance (or 15-day visas on arrival at the airport), the floodgates truly have been opened. Now all Indians need to visit Thailand is their passport. Expect full planes from Mumbai.
Of course, Indian male tourists visiting Pattaya (and Nana Plaza in Bangkok) have horrible reputations for being odiferous, cheap and exploitative.
"Oh that's bad!" one Billboard Bangkok go-go girl said this week when told of visa waiver, which also was done for Chinese and Russian tourists. "They touch, touch, touch and want to go for 2,000 baht including barfine and room!"
"Some are pretty bad," said one Nana Plaza bar boss this week. "But there are also a lot of good ones with money who are good spenders. I think (the visa waiver) is good. Good for business."