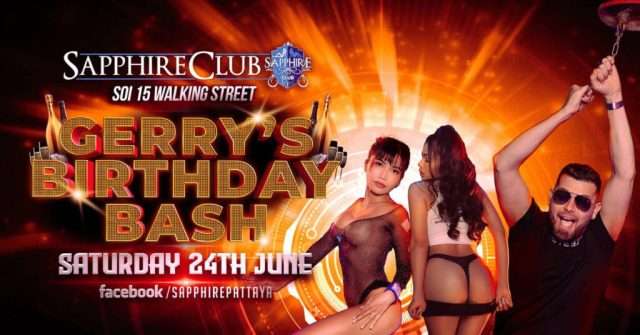 In what undoubtedly will be a bittersweet occasion, Gerry, the owner of Sapphire Club, will celebrate his birthday Saturday, just 10 days after the passing of the Pattaya go-go bar's beloved manager.
The poster for the June 24 bash makes it look like Saturday night will be another wild, crazy night at one of Pattaya's most-popular bars, but the shock loss of Jason Roche June 14 still hangs heavy over Sapphire Club.
Roche died of undisclosed causes suddenly, leaving a hole in Pattaya's nightlife community. He had been a fixture at Sapphire for years after helming Sweethearts and other popular go-gos in Pattaya.
Sapphire Club Parties Legendary
Many a toast will be raised Saturday night to Roche, but don't expect Gerry's birthday party to be a wake. There will be 100 gorgeous Sapphire sweeties on-hand, great DJs spinning the best music and plenty of drink.
If you're in Pattaya this weekend, Gerry's birthday party is one you don't want to miss.