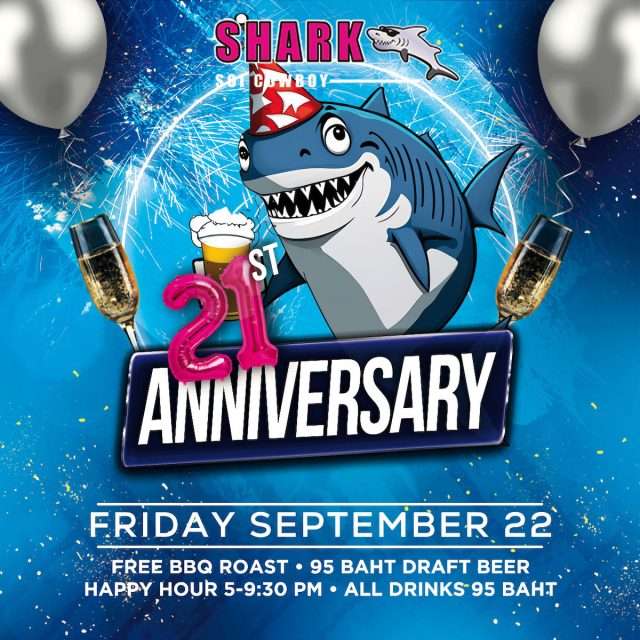 Shark Club celebrates 21 years on Soi Cowboy Friday with a French-themed barbecue party.
Shark opened its doors on Sept. 11, 2002 – a curious choice of dates, for sure – adding momentum to transformation of the sleepy expat bar strip into the Neon Alley we know today.
Baccara had opened in 1999 and Suzie Wong in 2000, but Dollhouse had not yet moved from Clinton Plaza.
Fast forward 21 years and Shark has recaptured and surpassed its pre-Covid magic, now competing for the title of Soi Cowboy's most-popular bars.
Shark Anniversary Party Details
Friday's Shark Anniversary Party will begin with happy hour at 5 p.m. on the patio, with all drinks just 95 baht. During that time a pig will be put on the spit and roasted for a few hours. There also will be a buffet of finger food and Thai dishes, including som tam.
Happy hour lasts until 9:30, but draft beer is just 95 baht all night.
Entertainment-wise, Shark now boasts about five dozen dancers, all of whom love to party. The talent bosses – who recently came up with the super-popular Barbie theme for this month's bosses' birthday party – are planning a "French Can-Can Dancer" theme for the night.
Thai girls doing French Can-Can? It's something that needs to be seen to be believed.
Anyone wondering why a French theme was chosen should understand Shark's owners are from France.
One boss explained that the intent was to hold the Shark Anniversary Party on Shark's 9/11 anniversary date. There hasn't been a party since 2019 and, this year, one owner wasn't in the country, so the 11th was possible.
Sept. 22 was chosen as it also is a significant date for the brothers behind Shark: It's the birthdate of their late father who started the Shark/Mandarin group.