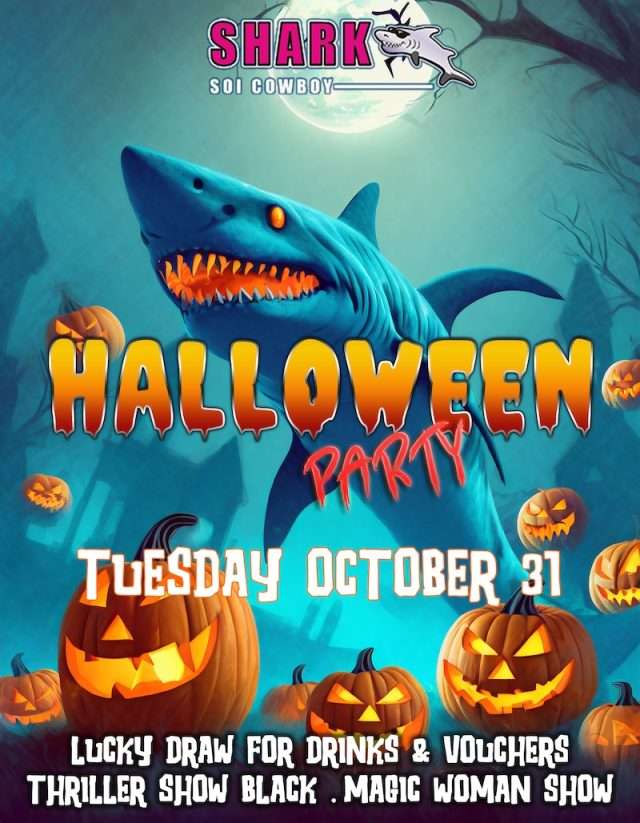 Free drinks and sexy/scary shows highlight a big night on Soi Cowboy at the Shark Halloween party.
Shark Club already will be in party mode, having hosted its Haunted Full Moon Party on Monday. But things really will get monster-sized Tuesday when the Shark gets possessed and the girls turn into ghouls.
All drinks will be just 95 baht until 9:30 p.m. with draft beer that price all night. But guys can win free drinks in the Shark Halloween lucky draws that run all night. The jar also will have gift vouchers to find.
Shark Halloween Shows
After happy hour, stick around for the Halloween shows. Michael Jackson will be reborn for the "Thriller" show and the Shark sirens will go full-tilt Elvira for the "Black Magic Woman" show.
Shark Halloween has a long tradition of its many hostesses dressing up for the occasion and this year will be no different.
The Shark Halloween festivities begin at 5 p.m. on the outside patio. It's the perfect place to watch Soi Cowboy Halloween insanity. Not only do bar staffers go all-out with makeup and costumes, but the Neon Alley draws plenty of dressed-up tourists and expats.
There are a lot of places you can go in Bangkok for All Hallows Eve, but Soi Cowboy may be the most colorful and fun.
Both Shark and The Dollhouse will have big Halloween parties, so make Cowboy the place to start or finish your night and make the Shark Halloween party your first stop.