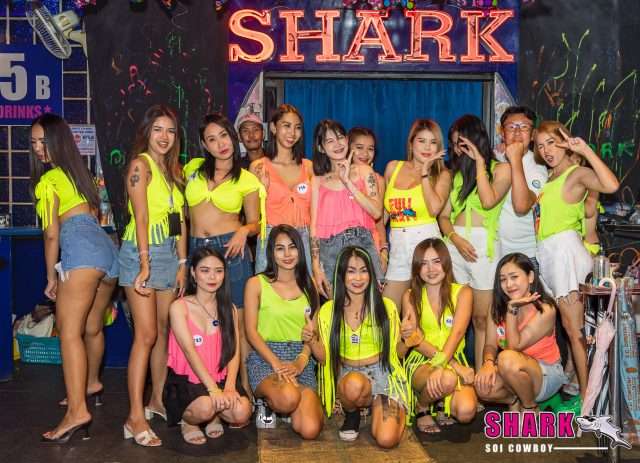 Shark Club on Soi Cowboy has a lot of sexy PR girls. How many? This many Shark PR girls!
The group photo of the Shark PR girls was taken Thursday at Shark's monthly Full Moon Party . Every party features Day-Glo costumes, black lights, glowbands, body paint and lots of drunken fun!
Thursday – the first day back from the Buddhist holidays – should have been a bumper night for Bangkok's bars, but Mother Nature had other plans. Heavy rain throughout the afternoon dripped into the evening hours with umbrellas needed until almost 9 p.m.
Shark PR Girls
For Soi Cowboy, that washed out a lot of the crowd. That is everywhere except Shark Club, which threw its monthly Full Moon Party. Shark was packed from early on until after 10 p.m. and there was a large crop of girls for the party. Those who had started their night at Shark and then went elsewhere were a bit shocked at how slow every other bar seemed to be in comparison.
Dolly of the Day photos like this of the Shark PR girls are shot by Digital-a-Go-Go, Bangkok's No. 1 photography and marketing agency for the nightlife industry. Follow them on Facebook, Twitter & Instagram.
And, remember, you can get photos of Dave's Dolly of the Day on Instagram. Just follow the image stream here.