A joint police task force two Soi Cowboy raids on go-go bars late Wednesday, highlighting the ongoing struggle against drug use and illicit activities in Thailand's popular tourist hubs.
Soi Cowboy Raids Hit 2 Bars
The new Rainbow and Spice Girl were the focus of the 11:30 p.m. Soi Cowboy raids. A team of 20 officers from the Thonglor Police Station and Narcotics Control Board officials manned the operation with 123 individuals, including 29 foreign tourists, were subjected to urine drug tests.
Police were looking for drugs, human trafficking, guns and other contraband, as well as prostitution. No prostitution was found.
Also, no other items were found, but two employees – one from each bar – tested positive for methamphetamine use. The tests serve as a stark reminder of the ongoing drug issues facing Thailand, despite stringent laws against drug trafficking and use.
Rehabilitation and Legal Procedures Follow Raids
In response, the two employees who tested positive for ya ba use voluntarily agreed to enter a rehabilitation program, with legal proceedings set to follow, according to Thai-language news media.
Police officials said the Soi Cowoby raids reinforced authorities' commitment to law enforcement and safety for both residents and tourists in Soi Cowboy. As the district continues to attract foreign tourists with its vibrant nightlife, these regular inspections are crucial to maintaining its reputation and security, they claimed.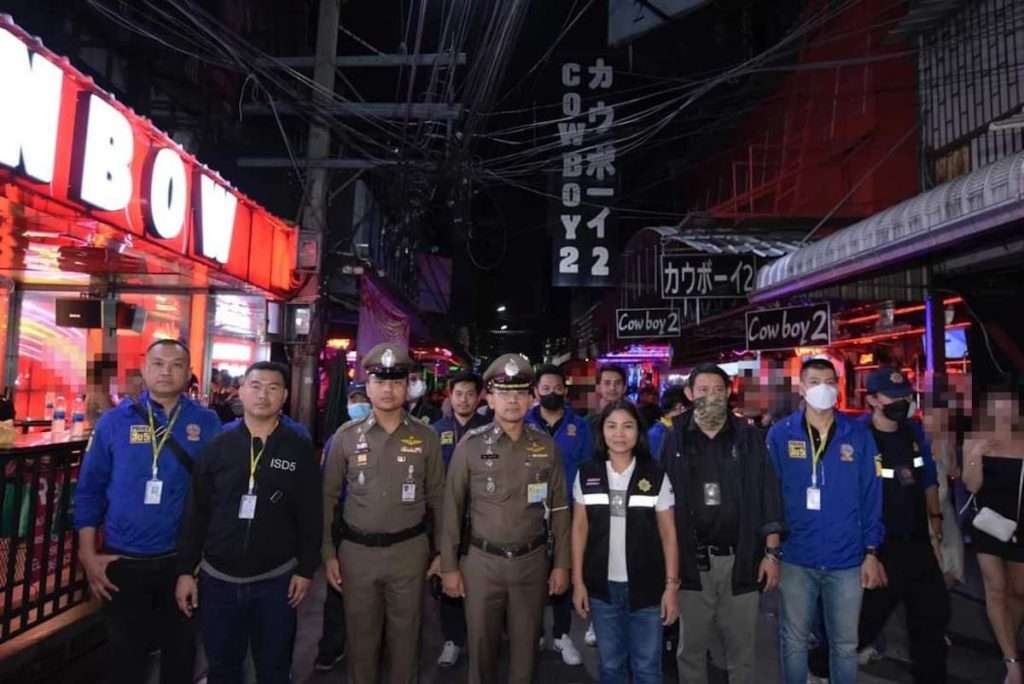 This Soi Cowboy raids are part of a wider effort to tackle challenges like human trafficking, child labor, and drug trafficking that often shadow the tourism industry in regions like Soi Cowboy.
The situation also shines a light on the complex issues of drug use and prostitution, which are often present yet hidden in certain areas of Bangkok, despite attempts to reform the country's image.
Such "inspections" are a common practice in Nana Plaza and often are done on busy nights, disrupting fun for everyone. But Soi Cowboy rarely sees such raids, perhaps because it falls under a different police district than Nana Plaza, which is overseen by the Lumpini Police Station.
That Rainbow – which "shuttles" girls around between their various bars and establishments in Patpong, which is infamous for allowing underage girls to work in bars there – was targeted had some people nodding their heads. Spice Girls, more of a front for other businesses than a legitimate go-go bar, also made it a ripe target for police looking for corruption and other illegal activities.