BANGKOK MOURNS DEADLY PROTEST AMID A SUBDUED SONGKRAN
Even though the antigovernment protests by the 'Reds' has dragged on for a month, for the best part it remained peaceful…
That was until last Saturday (April 10th), when violence suddenly erupted on Bangkok's streets.  Tension mounted to an uncontrollable level and then, inevitably the bubble burst.  Thais on both sides were victims, as a moment of madness exploded with deadly consequences.  Furthermore, over 800 people were injured and a number of those wounded are still in hospital.  Some people said this was predictable, which it sadly was, but it was no less shocking.  Tragically, among the victims was Hiro Muramoto, a Japanese national who was shot and killed.  Hiro Muramoto worked for Reuters as a TV cameraman for 15 years.  Hiro Muramoto's extraordinary film footage of the deadly protests is probably his last, whilst he filmed in the heart of the violence.  Tokyo has urged for an inquiry into Hiro Muramoto's death.
Remarkably, the world famous Thai New Year celebrations referred to as 'Songkran' went ahead on April 12th in Kao San Road.  This is just two days after parts of Bangkok, which included Kao San Road, became a battlefield.  The shooting continues in Bangkok, but you can relax, because it is water guns!  The Songkran celebrations have arrived once again, but the volume of those participating is greatly reduced.  Not surprisingly, this year Songkran in Bangkok is very much a subdued affair.  I travelled from Ratchada to lower Sukhumvit prepared for a soaking, and there was only the odd sprinkle of water here and there.  Following the violence on Saturday, which is still fresh in people's minds, Bangkok's roads and streets are quiet.  Every Songkran a number of people escape from Bangkok, especially resident expats.  However, this year it really is a mass exodus of both Thais and foreigners.  It is not good for business, but Bangkok probably needs a break to regroup, while the dust settles.  If you do not like big crowds, then it is a good time to visit Bangkok.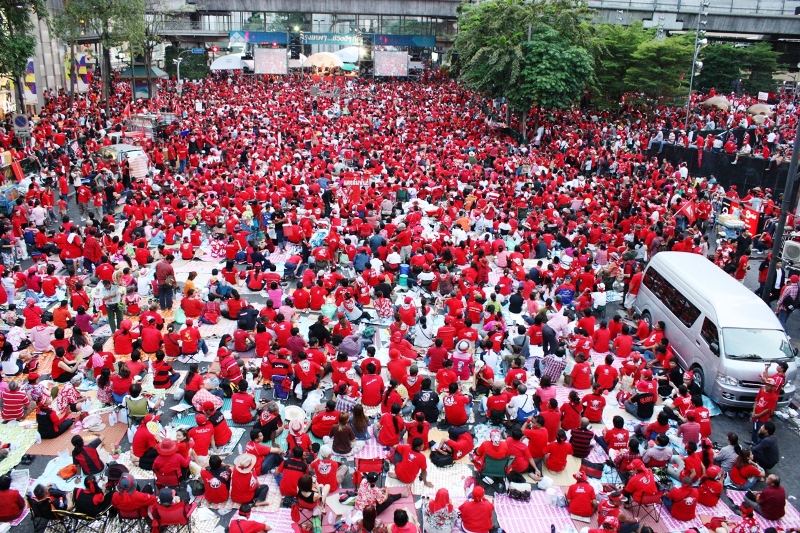 DON'T CANCEL YOUR TRIP – Despite sensationalised media reports and broken record travel warnings, it is now safe to visit Thailand.  Furthermore, you can take that from somebody who lives here.  I can understand some people avoiding Bangkok right now, but it does not make sense to cancel your trip to Thailand.  Instead, if you are unsure just go to one of Thailand's beach resorts, or idylic islands. 

HOT IN THE CITY – One other reason for the exodus in Bangkok might be due to the intense heat.  At times, the temperature soars to the intensity of an angry furnace.  When I walk around Bangkok taking photos, I feel like the incredible melting man! 
RED ALERT – You could say I have been on 'Red Alert' this week.  I have been constantly monitoring media reports and gathering information from within Bangkok about the escalating antigovernment protests.  This emergency has taken up a lot of my time and effort.  Therefore, there is little other news and updates due to this situation.  I am not going to lie and say that everything is normal in Bangkok, but there is no reason to be frightened of your own shadow either.  During 'The Troubles' in Northern Ireland, shootings and bombings were a regular occurrence in Belfast, and even in London.  In those days, the world was not told, 'Don't go to Britain.'  I am not making light of what has happened, but in countries like Thailand, you have to expect the unexpected.  We are not at the stage of a classic scene from Dad's Army, 'Don't panic, don't panic!'

FACEBOOK – Join me and follow my updates here –  'Dave Rave' on Facebook. 
AFTER DARK ASIA – Buy the After Dark Asia 2010 Calendar and you will get a FREE copy of After Dark Asia magazine.  The After Dark Asia Calendar is now available for HALF PRICE at ONLY 150 baht.  Note that this offer is only available from Angelwitch Go-Go Bar in Nana Plaza.
THAILAND TONIGHT & DAVES RAVES – My weekly Thailand nightlife column Thailand Tonight is now published on Wednesdays.  In addition, Daves Raves and other articles will be published throughout the week.  Check the Side Bar on the right-hand side below Review Pages and you will find my daily updates.
JOIN MY EMAIL LIST – Sign up for my New Email Service and be the first to receive Thailand Nightlife Updates.  The sign up box is at the top right corner of the Home Page.  Join today!

Reporting live from the neon jungles of Thailand… 
Join me again soon, thanks for visiting!
BANGKOK VIDEO – Hiro Muramoto's last film footage is reported by SKY NEWS  
SEEING RED – This story was extensively covered by STICKMAN
DO YOU WANNA GO HOME?  RETURN TO THE HOME PAGE