WISHING YOU A MERRY CHRISTMAS FROM BANGKOK
Seasons greetings!  Once again Christmas is just around the corner and so, yet another year has almost ended.  I don't know about you, but 2009 has raced by for me.  This leads me to think, where has the year gone?  I must be having a mini middle-age crisis!  Nonetheless, I wish you all a very Merry Christmas.  Happy Holidays!
If you are in Bangkok, it is time to decide where you want to eat your Christmas dinner.  In the previous two articles, I have posted the Christmas menus for Woodstock Bar & Grill and Bourbon Street Restaurant.  Woodstock and Bourbon Street are both excellent establishments that I have experienced personally over the past decade.  You are perhaps not aware that Bourbon Street has won more awards than any other restaurant in the American category.  Therefore, the American food in Bourbon Street is simply the best in Thailand.  In addition, Woodstock Bar & Grill is an institution here in Bangkok and it has won the 'Best Burger In Bangkok' award several times.  Woodstock is famous for being one of the coolest music pubs in Thailand.
Two other pubs that I frequent and therefore, recommend are Finnegan's Irish Pub in Soi Nana and Soi 8 Pub in Sukhumvit Soi 8 on the left-hand side as you enter the Soi.  There is no doubt that Finnegan's Pub will throw a good Christmas Party, with giveaways throughout the night.  One of my favourite pubs in Thailand is Soi 8 Pub.  Now this really is a terrific pub – modern and stylish, very clean, two pool tables, friendly service girls, excellent food, several screens for live sports, wide range of beers and spirits, and overall one of the very best pubs in Thailand.

JOIN QUEEN VICTORIA FOR CHRISTMAS OR SHE WILL NOT BE AMUSED
The Queen Victoria is a traditional English pub, which is hosted by veteran pub manager Peter Street.  Peter has done a great job of establishing the Queen Victoria amid this economic downturn.  Starting from December 20th until December 25th, the Queen Victoria Pub (located on Sukhumvit Soi 23), offer a traditional turkey set meal for 875 baht.  Alternatively, you can mix 'n' match separate items from the Christmas menu.  For just 399 baht you get roast turkey and roast pork with all the trimmings (starter and desert are not included).  For bookings please call Peter Street on 02-661-7417

CHRISTMAS DAY FESTIVE FEAST IN BULLY'S PUB
Bully's Pub is a modern, international pub situated next to the JW Marriott on Sukhumvit Road.  On Friday, December 25th (1:00pm until 10:00pm), Bully's Pub offers a grand 'all you can eat buffet' for a reasonable price of 650 baht.  The festive feast, which is more like 'Bully's Banquet' has a broad range of delicious delights.
SUBSRIBE TO AFTER DARK ASIA AND GET A FREE 2010 CALENDAR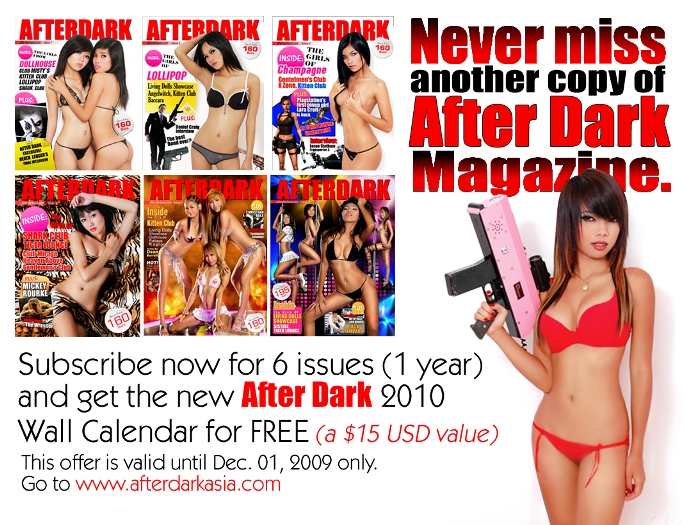 WISHING YOU A SPORTY CHRISTMAS IN CHEQUERS PUB
Chequers Pub has been hosting expats and tourists alike for over a decade.  Owned and run by the amicable Nick, this is one of the best pubs to relax and enjoy a wide range of live sports.  Chequers Pub offers Christmas dinners from December 21st for an all inclusive price of 850 baht.  I have eaten in Chequers and I recommend the pub grub.
BIRTHDAY BASH AT THE BIG MANGO BAR
If you were not aware, the Big Mango Bar relocated inside the small lane opposite the Rajah Hotel car park.  The lane starts at the corner where Jools Bar is located down in Soi Nana.  The manager of the Big Mango is the friendly Englishman Nigel.  Tonight it is Nigel's Birthday Bash and the party will kick off around 6:00pm.  There is an incredible drinks deal with draught beer going for just 20 baht…  Yes, you read correctly ONLY 20 baht per glass.  I would guess that between 6:00pm and 8:00pm would be the best time to ensure you don't miss the cheap beer.  Oh yes, before I forget, Happy Birthday Nige!