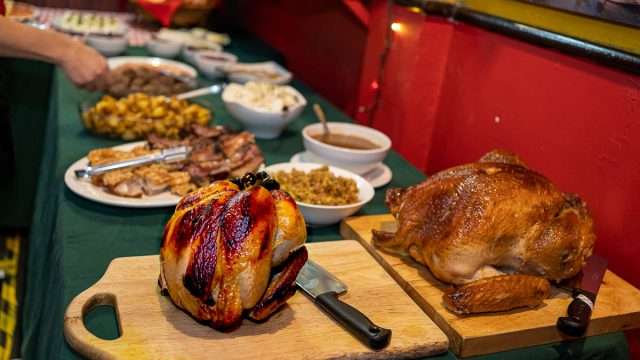 A good Bangkok Thanksgiving dinner is hard to find. They're either too expensive, too skimpy or inauthentic.
Thanksgiving, of course, is not officially observed in Thailand, the expat community and tourists alike embrace the Bangkok Thanksgiving tradition and there's no better place to do that this year than at Buddy's Bar & Grill.
Three Buddy's locations — Soi 8, Soi 20, and Soi 89 — are preparing to host a Bangkok Thanksgiving dinner that promises to deliver a slice of Americana to those far from home. The event, scheduled for Nov. 23, invites guests to indulge in a sumptuous spread of roast turkey and all the trimmings for only 350 baht, starting from 7:30 p.m.
A Bangkok Thanksgiving
Bangkok, a city known for its vibrant cultural tapestry and culinary diversity, has become a hub for international holidays, with many restaurants and bars catering to a diverse clientele that includes American expats and Thais with an appetite for cultural experiences. For those unable to travel to their homeland during the holidays, Buddy's offers a taste of tradition that is both comforting and celebratory.
Buddy's: A Culinary Melting Pot
Buddy's itself is an institution that mirrors the multicultural fabric of Bangkok. Known for its friendly atmosphere and a menu that spans the globe, Buddy's is a place where both locals and travelers can enjoy a wide range of dishes, from classic Thai favorites to American diner staples. The Bangkok Thanksgiving dinner is just one of many themed events that Buddy's hosts throughout the year, showcasing its commitment to being a culinary melting pot.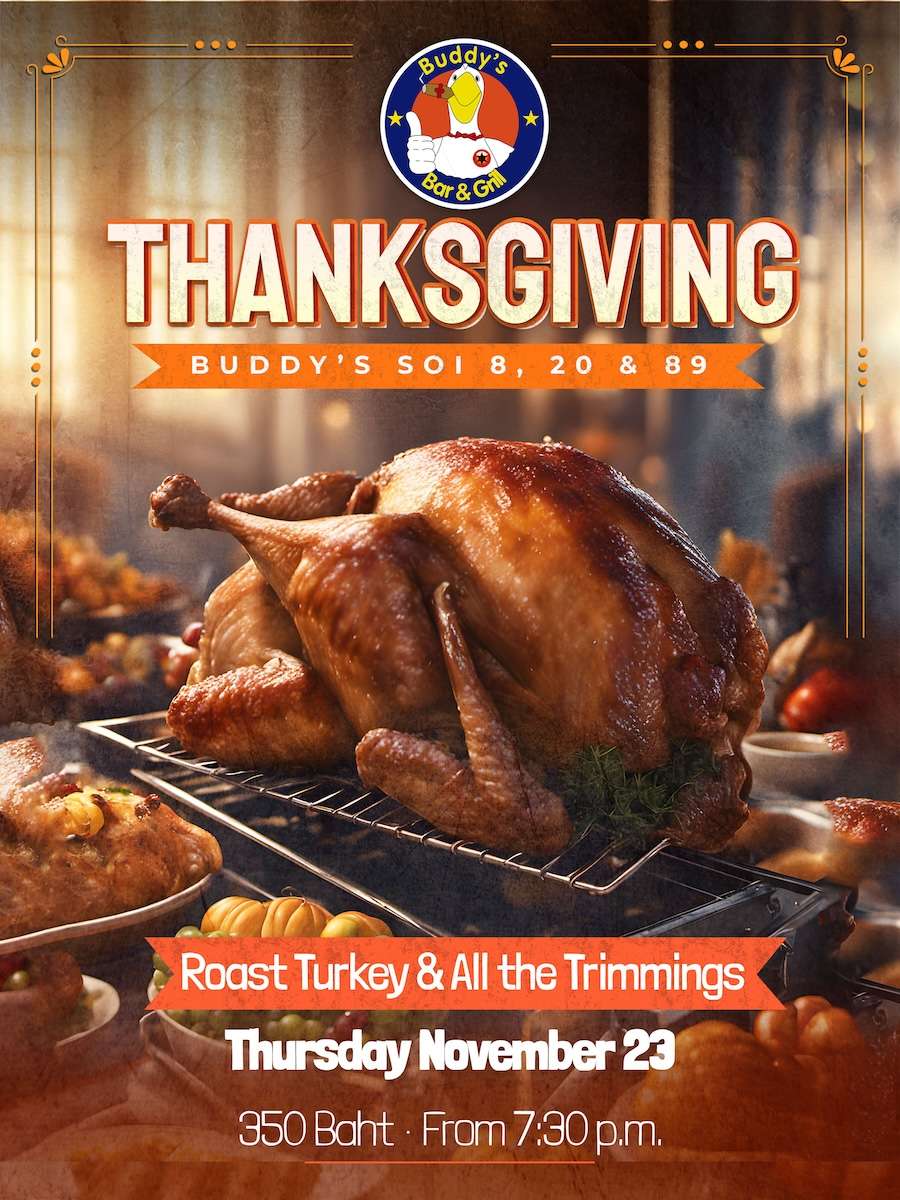 The Thanksgiving dinner at Buddy's is not only a feast for the palate but also for the soul. It's an opportunity for people from all walks of life to come together and share a moment of gratitude, unity, and of course, great food. The event is open to everyone — American or not — who wishes to experience the warmth and joy of a Bangkok Thanksgiving.
Embracing Thanksgiving Traditions
Thanksgiving, a time-honored tradition celebrated predominantly in the United States, is a day for giving thanks for the blessing of the harvest and of the preceding year.  It is usually marked with a feast among family and friends, featuring the iconic roast turkey as the centerpiece.
For many, the highlight of the dinner will undoubtedly be the roast turkey, a symbol of abundance and generosity. But the "all the trimmings" part of the meal is equally important, representing the variety and richness of the harvest. Buddy's ensures that every detail of the traditional Thanksgiving meal is honored, from the succulent turkey to the savory sides and sweet pies that round off the feast.
A Bangkok Thanksgiving at Buddy's is more than just a promotional event; it's a cultural bridge, an invitation to experience and share in the traditions of another land.
As Bangkok continues to evolve as a city that embraces global cultures, Buddy's Bar & Grill stands out as a destination where the spirit of Thanksgiving is alive and well, welcoming all to gather and give thanks, regardless of where they're from.
Join the Celebration
Whether you're an American in need of a taste of home or a curious local eager to partake in new traditions, Buddy's Thanksgiving dinner is an event not to be missed. So, mark your calendars for Nov. 23, and make your way to Buddy's at Soi 8, Soi 20, or Soi 89 to join in a celebration that transcends borders and brings people together around the table.
After all, Bangkok Thanksgiving is about community, and at Buddy's, everyone is family.