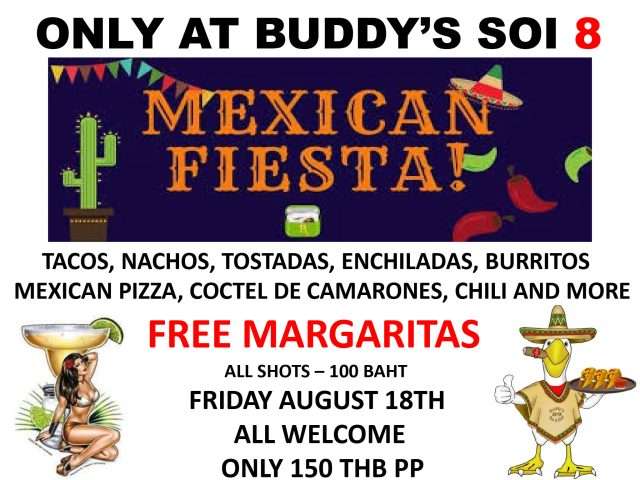 It's a week of eating and drinking at Buddy's Bar & Grill has the popular Bangkok chain hosts two big parties.
At Buddy's Soi 8, Friday will be the big day with a Mexican-style Fiesta. The buffet will be stocked with tacos, nachos, tostadas, enchiladas, burritos, Mexican pizza, chili and "coctel de camarones", Spanish for prawn cocktail. The price for al lthat food? A crazy 150 baht!
Making it an even better night: Free margaritas! These are the shaken, not stirred variety, and they pack a punch: The Buddy's ladies don't go light on the tequila! Speaking of the Devil's Nectar, tequila – and all other shots – will be just 100 baht all night, which begins at 7:30 p.m. Aug. 18.
Buddy's Bokkie Braai
Across town on Saturday at Buddy's Soi 89, the Rugby World Cup warmup match between South Africa and Wales will be on the big screens and a full-on braai on the grill. With help from South African Saffa Kitchen, Buddy's will be serving up boerewors, Aussie ribeye roast, barbecue ribs, chicken drumsticks, salads, pap, chakalaka, braaibroodjies and Rooibos ice tea from 7:30 p.m.
The price for all that again is a crazy low 350 baht, booked in advance, or 380 baht at the door. That price includes one pint of draft beer. There also will be free snacks from 4:30 p.m.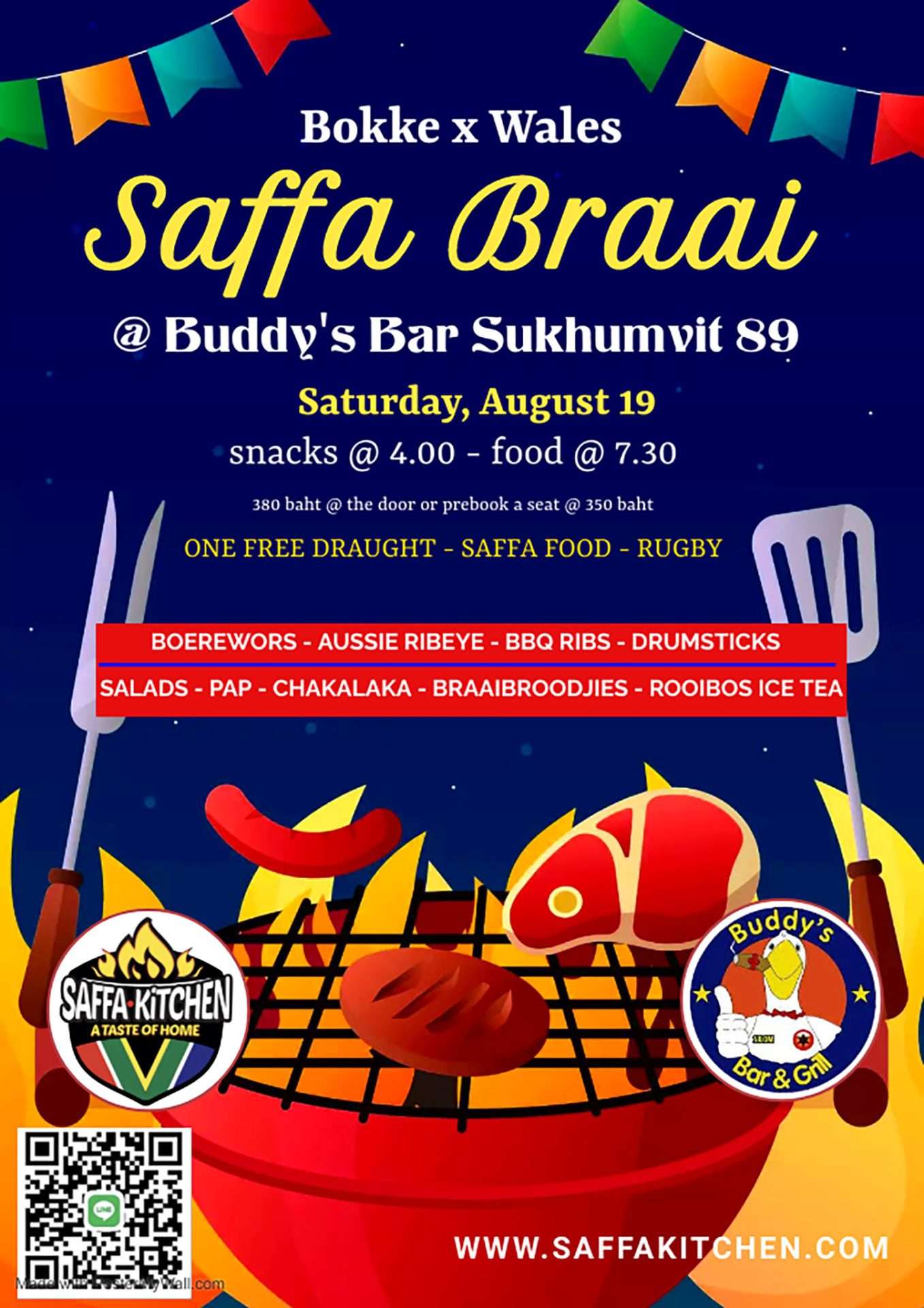 Rugby World Cup
The South Africa-Wales warmup comes before the Rugby World Cup begins on Sept. 9.
The 2023 Rugby World Cup is being hosted by France from Sept. Sept. 9- Oct. 29. Matches will be held in nine cities across France: Paris, Marseille, Nice, Bordeaux, Toulouse, Lille, Lyon, Saint-Denis and Nantes.
It will be the tenth edition of the tournament and will feature 20 teams competing for the Webb Ellis trophy.