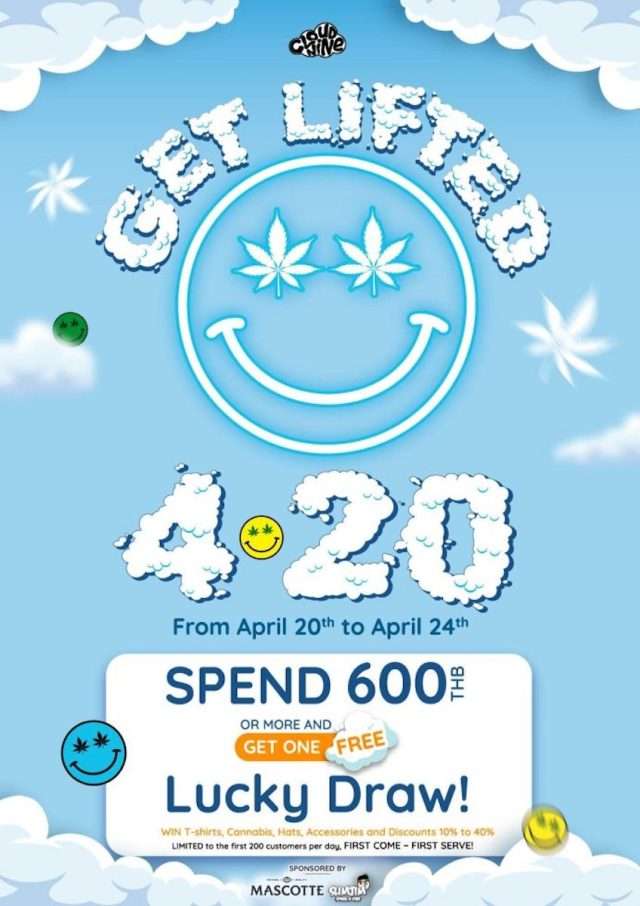 OG Canna Co. is celebrating the first legal Thailand 420 day at all their cannabis dispensaries.
The Thailand 420 giveaways will happen April 20-24 at Mary Jane, Cloud Nine, Juicy Buds, Lucky Luke's Tiki Bar and Kush House.
During the event, OG Canna will be giving away thousands of prizes to lucky customers who spend a minimum of 600 baht. Prizes include discounts ranging from 10-40%, hats, shirts, rolling papers, grinders and more.
The company has partnered with Slim Jim and Mascotte to make the Thailand 420 giveaways possible.
"We're thrilled to be hosting this event to celebrate the first Thailand 420 with legal cannabis," said Benjamin Baskins, CEO of OG Canna. "This is our way of giving back to the cannabis community in Thailand and we can't wait to see everyone come out and join us."
Thailand 420
420 (or 4:20 or 4/20) is cannabis-culture slang for marijuana and hashish consumption. April 20 has since become an international counterculture holiday based on the celebration and consumption of cannabis.
OG Canna is committed to providing high-quality cannabis products and a welcoming environment for cannabis enthusiasts throughout Thailand. The 420 event is just one example of the company's dedication to our customers and the cannabis community.
For more information about the event, please visit any of the participating dispensaries or contact OG Canna by email.