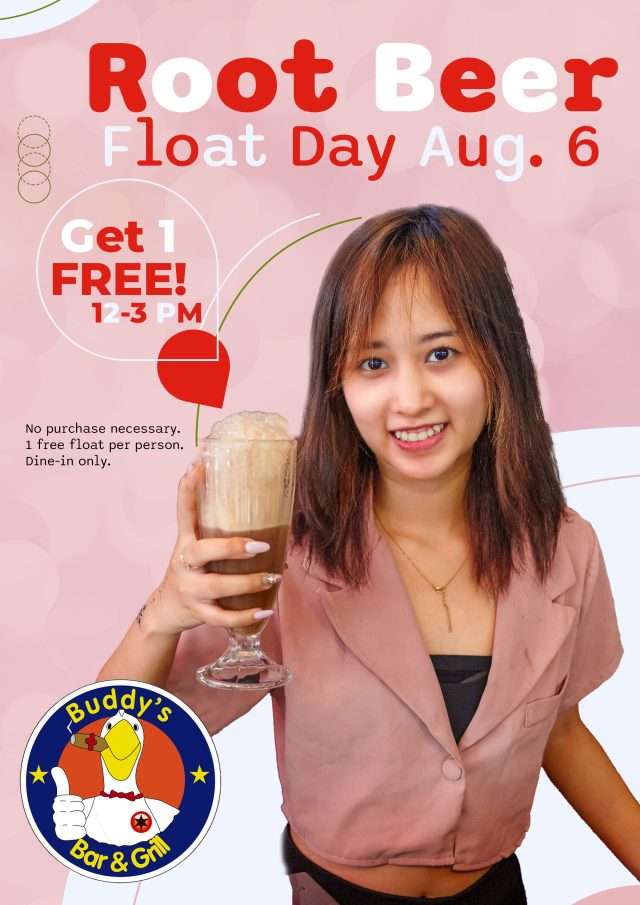 Sunday marks the celebration of a classic American treat that has weathered the test of time: National Root Beer Float Day.
In Bangkok, the beloved tradition has been kept alive by Buddy's Bar & Grill. As the only place where you can still get an authentic American-style root beer float after A&W's closure, Buddy's has announced a free giveaway to commemorate the day.
Free Root Beer Floats for All This Sunday at Buddy's
On Aug. 6 from 12-3 p.m., root beer enthusiasts are invited to Buddy's Bar & Grill to enjoy a complimentary root beer float.
This free treat comes with no strings attached: No purchase is necessary. Whether you're a long-time fan or a newbie to this fizzy delight, everyone is welcome to partake in the festivities. However, keep in mind that the root beer floats are limited to one a person and are available for dine-in guests only.
The History of the Root Beer Float
Also known as "Black Cows," root beer floats trace their origin back to the late 19th century. The first root beer float was believed to have been created by Frank J. Wisner of Cripple Creek, Colorado.
Legend has it that one moonlit night in August 1893, Wisner was inspired by the snow-covered Cow Mountain and decided to create a dessert that resembled the snow-capped peak. He took vanilla ice cream, which represented the snow, and combined it with root beer, signifying the mountain.
This fizzy, creamy concoction was an instant hit, and the recipe quickly spread across America, eventually making its way across the globe.
Root beer itself, a soda traditionally made with sassafras root or bark, has a rich history dating back to indigenous tribes in North America, making this treat a perfect blend of tradition and innovation.
#RootBeerFloat Day Promotion at Buddy's Bar & Grill
Buddy's is stepping up to preserve this slice of Americana in Bangkok. While A&W, the former haven for float lovers, has closed its doors in Thailand, Buddy's continues to fill the gap, ensuring that the citizens of Bangkok can still enjoy this iconic treat.
To mark National Root Beer Float Day, Buddy's is not just serving this American classic; they're giving it away for free. This promotion is part of a broader strategy to connect with the community and share the joy of this special day with everyone.
By aligning with the #RootBeerFloat Day campaign, Buddy's Bar & Grill aims to give back to its patrons and further establish itself as the go-to place for authentic American cuisine in Bangkok.
The free root beer float giveaway is a reminder that even in a cosmopolitan city like Bangkok, you can still find a piece of nostalgic Americana tucked away in a friendly neighborhood bar and grill.
Root beer floats symbolize a timeless love for simple pleasures. Buddy's Bar & Grill's free giveaway this Sunday celebrates not just the beverage but the spirit it embodies – a love for tradition, a sense of community, and a penchant for sweet, fizzy delights.
Whether you're reminiscing about childhood summers or discovering the joy of root beer floats for the first time, there's no better place to be this Sunday than Buddy's Bar & Grill.
By recognizing National Root Beer Float Day, Buddy's invites everyone to be part of a worldwide tradition. So mark your calendars, make your way to Buddy's, and raise a frothy glass to the enduring legacy of the root beer float. There's no sweeter way to celebrate this iconic day.