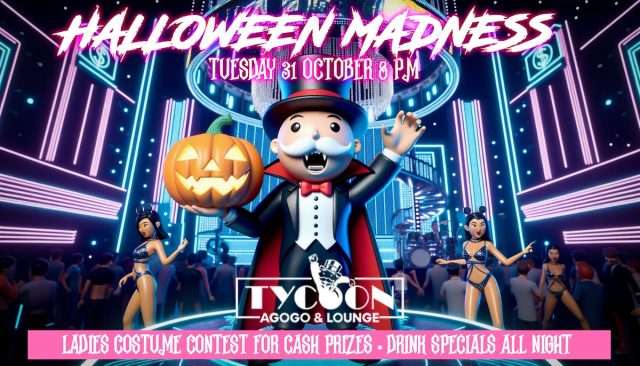 It's shaping up to be an epic Halloween in Bangkok's red-light areas with more bars throwing Halloween parties than even before the coronavirus pandemic. The latest to throw its hat into the ring is Tycoon Halloween Madness in Nana Plaza.
Tycoon, on the "Stairway to Heaven" on the top floor, will ensure its dozens of sexy ladies are in the Halloween spirit by throwing a staff costume contest with cash prizes for the best three getups.
Tycoon Halloween Deals
Customers also are encouraged to come to Tycoon Halloween Madness in costume Oct. 31, although they'll have to settle for discounted drinks instead of cash prizes.
Tycoon, located in the spot that for so long was Erotica, has emerged as one of Nana Plaza's top go-go bars, inheriting the lovliest ladies from the now-departed Whiskey & Go-Go. The stage features about three dozen dancing damsels, the interior design is among the top in the Plaza, and American manager Rudy is the plaza's most amiable host.
It will be a busy Halloween in Nana Plaza with Angelwitch, Red Dragon and Mandarin, Billboard and Butterflies all announcing Halloween plans.
Down the road in Soi Cowboy, Shark Club also will do back to back parties, with a Haunted Full Moon Party on Monday Oct. 30 before the Halloween haunt on Tuesday.