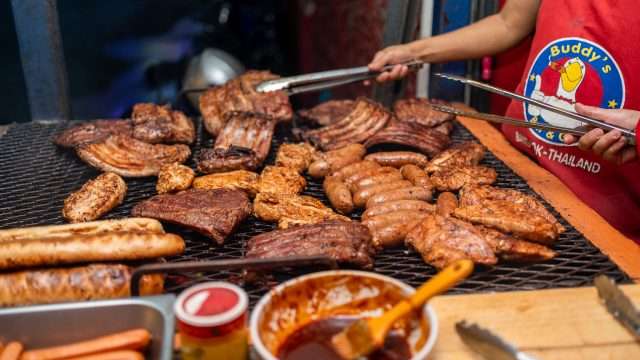 Buddy's Bar & Grill is known across Bangkok for offering good food at a great value. And there's no better example of that than a Buddy's BBQ.
As is tradition, the chain's Soi 22 location will host its end-of-month Buddy's BBQ April 28 at 7:30 p.m.
For those who've not savored the pleasure of a Buddy's BBQ, it's an all-you-can-eat buffet of Buddy's BBQ pork ribs, Buddy's BBQ chicken, ribeye roast, spicy Italian sausage, hot dogs, chili, potato salad, hash browns, garlic bread and corn on the cob.
The crazy part? All of that is just 350 baht!
Of course, you have to buy your own drinks, but beers and spirits (and soft drinks) are very reasonably priced. There's also a bottle or two of Norwegian Akvavit, that popular herb-flavored grain/potato-alcohol that will leave you wondering where you left your wallet, phone and house keys!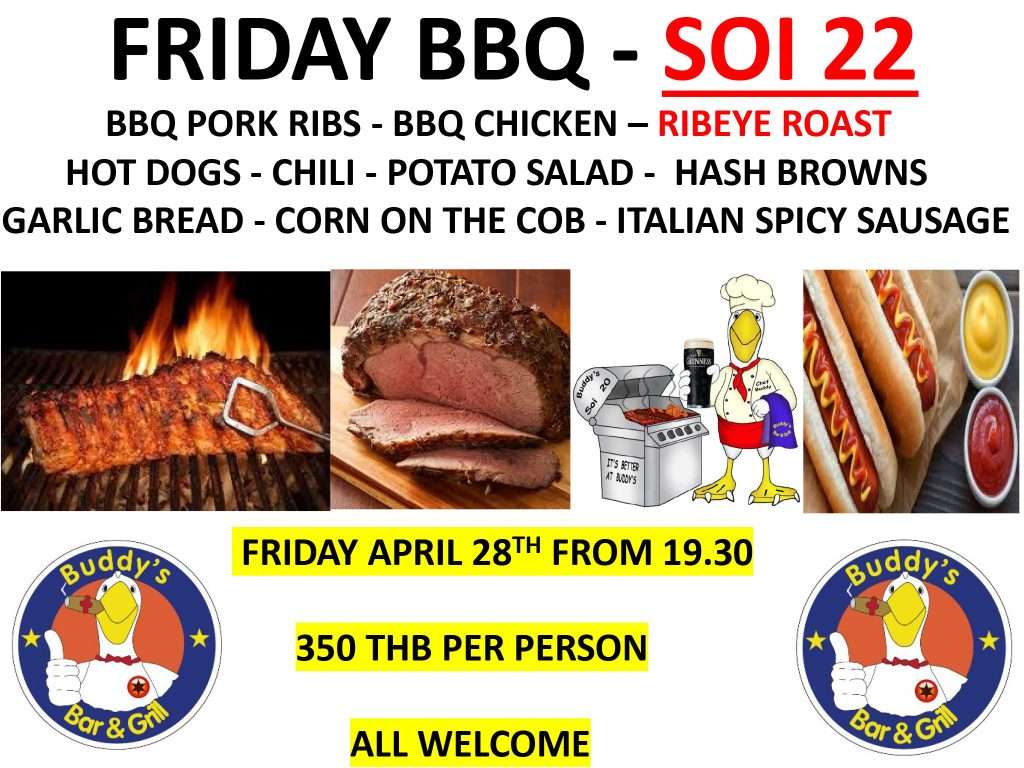 Buddy's BBQ Not the Only Event
Buddy's Bar & Grill has five locations in Bangkok: Sukhumvit Soi 8, 20, 22 and 89, as well as Silom Road on the way to Chong Nonsi.
Soi 8 opened late last year, becoming the chain's fifth location in Bangkok.
The Buddy's Soi 89 location recently doubled in size, taking over a shophouse next door and adding a game room. And Buddy's Silom is tripling in size, with its extension now all but complete.
All Buddy's locations have a huge menu of American and European food, from burgers to Texas chili to pizza to Mexican fare to Swedish meatballs. There also is a huge breakfast menu and, at Soi 20, a custom hot dogs menu where you can build your own dog from a variety of sausages and toppings.
Every bar also has something special to offer on the drink front. Soi 8 has Carlsberg on tap while Silom now has Stella Artois on draft.
Follow Buddy's Bar & Grill on its website, Twitter or Instagram. There are separate Facebook pages for each location.